Belated News: Heilongjiang Man Traumatized by Police Raids for His Faith, Dies Years Later
April 27, 2020 | By a Minghui correspondent in Heilongjiang Province, China
(Minghui.org) A married couple in Jiamusi City, Heilongjiang Province were repeatedly arrested, harassed and had their homes ransacked, for upholding their faith in Falun Gong.
Mr. Ding Jikai became bedridden. His health continued to deteriorate as the police kept coming back at them. He passed away on February 11, 2019, at the age of 69.
Falun Gong, also known as Falun Dafa, is an ancient spiritual and meditation discipline that has been persecuted by the Chinese Communist Party since 1999.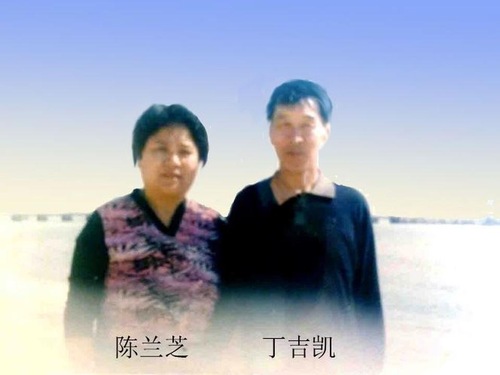 Ms. Chen Lanzhi and her husband, Mr. Ding Jikai
The Persecution
Both Mr. Ding and his wife, Ms. Chen Lanzhi, used to work at the Jiamusi Aluminum Factory. They took up Falun Gong in May 1996 and soon saw their ailments, including Ms. Chen's vertigo, disappear. 
After the communist regime launched the persecution of Falun Gong, Ms. Chen was arrested in July 1999 and held in custody briefly for appealing for Falun Gong at the provincial government. 
She was arrested in March and July 2002 and detained 15 and 66 days, respectively. Mr. Ding was arrested together with her in July 2002, but he was released two hours later after his supervisor went to the local police station to demand his release. Ms. Chen wasn't released until 66 days later when their family was forced to pay the police more than 10,000 yuan.
During Ms. Chen's months-long detention, her younger son postponed his wedding to try to seek his mother's release.
A group of officers broke into Ms. Chen and Mr. Ding's home when they were studying Falun Gong teachings on March 9, 2016. The officers ransacked the place and confiscated their Falun Gong books, computer, and even the fish their son bought them. 
Mr. Ding was infuriated to see the items bought with his savings taken away by the police, yet he couldn't do anything about it. He was consumed by fear and was unable to live a normal life. His health deteriorated. He lost some of his mobility and couldn't go downstairs by himself. Whenever he heard knocks on the door, he began to tremble.
The couple later moved to another location to avoid the harassment. Yet the police went to their original residence and harassed the tenants who rented their home. Their tenants were terrified and revealed information about them to the police.
It didn't take the police long to find them. A few months later, the police ransacked their new residence and seized their Falun Gong books and the computer they had just bought. The police returned after the raid and intimidated them again.
Mr. Ding was so terrified that he became incontinent during the police raid. He became paralyzed and bedridden in the summer of 2017.
The police returned on September 25 and again on November 7, 2017. While Ms. Chen wasn't home, the person she hired to care for Mr. Ding opened the door for the police. They confiscated their new computers and Falun Gong books both times, leaving the vulnerable man in tremendous fear.
His health declined even further afterwards and he passed away on February 11, 2019.