Renowned Human Rights Lawyer: "We Are Suffering the Consequences of Turning a Blind Eye to China's Human Rights Abuses"
April 26, 2020 | By a Minghui correspondent in Toronto, Canada
(Minghui.org) The CCP virus (COVID-19) raged through the world in no time because the Chinese Communist Party (CCP) deliberately hid crucial information from the world since the beginning. David Matas, a human rights lawyer based in Canada, believes that this catastrophe that has touched everyone and caused devastation in every corner of the world could have been avoided.
In a recent interview with a Minghui correspondent, Mr. Matas said, "If the rest of the world had been more aggressive in combating all this misrepresentation and cover-up and denial and counter factual narrative in dealing with organ transplant abuse; if the global system had insisted on transparency and accountability in dealing with organ transplant abuse; and if China had [faced] global pressure for transparency and accountability in its health system in dealing with organ transplant abuse, we wouldn't have this coronavirus now. And we are suffering the consequences now of turning a blind eye to organ transplant abuse."
Mr. Matas was referring to the CCP's crime of harvesting organs from prisoners of conscience (the majority of whom have been Falun Gong practitioners). Matas, with former Canadian Secretary of State for the Asia-Pacific Region, David Kilgour, have carried out extensive investigations into allegations that the Chinese government has been actively involved in state-sanctioned organ harvesting from prisoners of conscience. Their findings were published in a major 2006 report titled, "Bloody Harvest: the killing of Falun Gong for their organs." In 2016, Matas, Kilgour, and journalist Ethan Gutmann published "Bloody Harvest / The Slaughter: An Update" based on their ongoing investigation into the CCP's organ harvesting atrocities.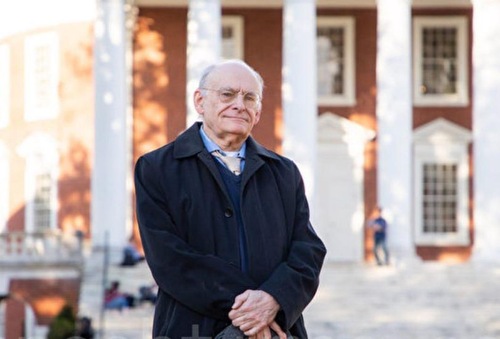 Human rights attorney David Matas
The Lying Nature of the CCP
David Matas believes that the fundamental problem is the CCP's lying nature. From the organ harvesting atrocities to the SARS outbreak, the CCP has never changed its lying behavior in its attempt to cover up its crimes and to make itself look good in the international community.
There is no difference this time with the CCP virus outbreak, Mr. Matas believes, which he said is "just typical Chinese communist behavior" in terms of how the virus originated, the way it spread, and how the CCP reacted to it.
"I think we have got to be on the alert about the Chinese government health system – the Chinese government narrative, that we can't rely on their data, we can't rely on their pronouncements."
In dealings with China, Matas suggested to not trust the CCP in most cases. He used Taiwan and its success in combating the virus as an example. "If we had the same distrust of the Communist Party of China as that the Taiwanese government does and has had, we would be a lot better off globally than we are now. The Taiwanese know the Communist Party better than anybody, and we should be following their lead.
"It was the realization by the Taiwanese that this was happening and it was real and it was dangerous. That made all the difference."
Consequences of Being Indifferent to Organ Harvesting
Matas and David Kilgour are two of the leading figures investigating and exposing organ transplant abuse in China. Despite the tremendous work they've done over the past decade, Matas still thinks that enough hasn't been done toward ending the atrocities perpetuated by the Chinese communist regime.
"It certainly hasn't reached the governmental and inter-governmental level the way it should have done. And the reason is that we're dealing with a geopolitical power, an economically powerful, politically powerful, who is not just throwing its weight around in China to keep its position secure in China, but it's throwing its weight around globally to propagandize, to pressure, to intimidate, using economic and political leverage to cover up, deny, obfuscate, present a counter factual narrative.
"For far too many people around the world, it's just been politically and economically convenient to go along."
Mr. Matas believes that if China had faced global pressure for transparency and accountability in its health system in dealing with organ transplant abuses, "we wouldn't have this coronavirus now. And we are suffering the consequences now of turning a blind eye to organ transplant abuse."
He suggests that the lesson to learn is that people shouldn't tolerate and ignore human rights violations. "There may have been a tendency to think we can ignore organ transplant abuse in China, because it's happening only in China, and it's not happening to us in Canada and the U.S. and so on, but the coronavirus is an answer to that."
He continued, "One can assume the Chinese Communist Party did not intend to cause the spread of the coronavirus, but what they have been actively engaged in is willful blindness. And I would say that the rest of the world also has joined them in this willful blindness. And we are now all suffering its consequence."
The "Nuremberg Trial" and "Justice for Victims of COVID-19 Act"
Matas also welcomed the "Justice for Victims of COVID-19 Act" introduced by U.S. Senator Josh Hawley earlier this month. If passed, the bill would eliminate China's sovereign immunity and create a private right of action against the Chinese government for silencing whistleblowers and withholding critical information regarding the coronavirus.
Mr. Matas commented, "I think it's important to have culpability for human rights violations, and part of criminal culpability is willful blindness.
"There was this type of medical dispute and medical problem in the Nuremberg trials. And one of the Nuremberg trials was the trials of the Nazi doctors. And many of them said, because many of them were brought to trial on a typical defense, that they didn't know what was going on, that they knew what they themselves were doing, but they had no idea where the bodies were coming from or the specimens they were dealing with, and so on. And the Nuremberg court at the end still sentenced some of them to death, based on this doctrine of willful blindness.
"The reason they didn't know was they didn't ask, they didn't care, they didn't pay attention. They could have found out, but they [didn't] bother to look.
"And I think that is equally true for the coronavirus, that the immediate concern of the Communist Party was not 'Is this happening?' but 'We don't care whether this is happening; what's important is how it looks politically.' And so it was refusal to deal with the underlying seriousness of the virus that causes the problem and also leads to culpability, potential criminal culpability, international criminal culpability."
Designate the CCP as a Terrorist Group and Sanction Officials
Mr. Matas suggested setting up a system to make civil liability possible.
"Whether the type of bill introduced in the U.S., whether a designation of China under the exceptions that now exist in terms of criminal liability, I think we need to invoke the mechanisms that are now in place. Because in most countries in the world, it is possible to prosecute under universal jurisdiction systems for crimes against humanity. And these systems need to be invoked, so that Chinese officials responsible would think twice about doing these things."
"Right now, Canada, the US, and many countries have universal jurisdiction legislation which allows for prosecution for crimes against humanity, for anybody of any nationality, as long as they show up in the country."
Matas also brought up the Magnitsky Act as a possible type of legislation, which names the offenders. The Magnitsky Act, signed into law in 2012, authorizes the US government to sanction those who it sees as human rights offenders, freeze their assets, and ban them from entering the U.S. Mr. Matas said, "We have that legislation in Canada, the U.S., the U.K., and we could be naming people under that legislation. And I would suggest we should be naming them."
Mr. Matas said that China could be designated as engaging in state sponsored terrorism. "Obviously, the coronavirus has caused widespread fear and has generated terror," he added.
About David Matas
David Matas graduated from Oxford University, England, and is a legal expert specializing in refugee, immigration and human rights law. In July 2006, he and David Kilgour, through independent investigations, published "Report into Allegations of Organ Harvesting of Falun Gong Practitioners in China." The work won Matas and Kilgour the 2009 Human Rights Award from the German-based International Society for Human Rights (IGFM) and they were nominated for the 2010 Nobel Peace Prize.
Over the past decade, Matas and Kilgour have traveled to more than 40 countries to raise awareness of China's forced organ harvesting from living prisoners of conscience, especially Falun Gong practitioners. The documentary film of their investigation into China's systemic crime, "Human Harvest," won the 2015 Peabody Award.