Heilongjiang Province: A Woman's Three-and-a-Half Year Ordeal in Prison
April 22, 2020 | By a Minghui correspondent in Heilongjiang Province, China
(Minghui.org) A Heilongjiang woman began to practice Falun Gong (aka Falun Dafa) in 2002, despite the risk of being persecuted. She was imprisoned for three-and-a-half years for clarifying the truth about Falun Dafa.
Falun Dafa is a mind-body practice that has been persecuted in China by the Chinese Communist Party (CCP) since 1999.
Mrs. Zuo Xiuwen, 69, is a resident of Huachuan County, Jiamusi City. After she began to practice Falun Gong in 2002, she recovered from all of her illnesses. But, she was illegally arrested twice for her faith, and served her prison term in Heilongjiang Province Women's Prison, where she was subjected to brainwashing and torture.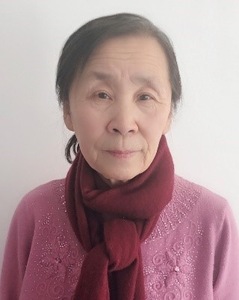 Ms. Zuo Xiuwen
Good Life Destroyed by Life's Miseries
My name is Zuo Xiuwen. I was born in July 1951. I live in Hengtoushan Town, Huachuan County, Jiamusi City.
My husband was diagnosed with a brain hemorrhage in 2002. In order to find a cure for him, I began to learn Falun Dafa and became a practitioner on October 25, 2002.
I had a good marriage. My husband has always been very kind to me. Before he had the brain hemorrhage, I took a long term leave from my job, and we moved to the countryside. We raised more than 40 pigs and we did well in our business. We decided to open a restaurant.
When our business was flourishing and we were enjoying our lives, my husband suddenly suffered a brain hemorrhage and was hospitalized. Our life changed, and most importantly I could not look after our business.
After staying in the hospital for two months, my husband remained in a coma and showed no improvement. His hospital bills ate up almost all of our savings. I had to check him out of the hospital. I continued to seek a cure for him but to no avail.
Dafa Came Into our Life
Just when I was most desperate, my neighbor told me about Falun Dafa. She asked me to keep reciting "Falun Dafa is good" to my husband. He was not fully conscious at the time, and couldn't speak, but sometimes he nodded in response. She also gave me the book Zhuan Falun, the main book of Falun Dafa, and suggested I read it to him. While reading it to my husband, I gradually understood many principles of life. Although he didn't recover, I decided to practice Dafa.
After a few months of practicing Dafa I recovered from all my illnesses, such as insufficient blood supply to the brain, inflammation of the gallbladder, and heart disease.
Although the severe persecution of Falun Dafa was still going on, I was determined to persist in practicing it, since I personally benefited, and I knew that Falun Dafa is good.
First Arrest: Two Weeks of Detention
I went to a village in our county with another Falun Dafa practitioner to give out Dafa calendars on January 6, 2009. When we visited the home of the village head, a clerk from the town government was there, and he reported us to the police.
Police from Huachuan County Police Department arrested us. The village head asked the police to spare us since both of us were over 60 years old. But, the police took us to a detention center.
My daughter and son-in-law and their child came to visit me in the detention center. She cried nonstop. I comforted her, "Don't cry, your mother didn't commit a crime." I was released two weeks later.
Since then, the police often came to my house to harass me. They even jumped over the fence of our yard to check on me during the 2010 summer nights.
Second Arrest: Sentenced to a Three-and-a-half Year Prison Term
The police from the Huachuan Domestic Security Division broke into my house on December 13, 2010, when I was reading Falun Dafa books with three practitioners. Without showing their identification, nor a search warrant, they ransacked my home and confiscated many Falun Dafa materials, a computer notebook, a printer, and other equipment.
When I saw them confiscating the poster with the image of the Falun Dafa founder, I immediately ran over to grab it from their hands. Dong Hongsheng, the director of the Huachuan Domestic Security Division saw this, and kicked me with his thick leather boots. I almost fell. After they searched every corner of my house, they arrested the four of us.
We were interrogated in the Huachuan County Police Department the next day. Then, we were taken to the detention center in the evening. I was frisked on arrival in the detention center. The guards even cut off the buttons on my clothes and pants. The four of us decided to go on a hunger strike to protest our detention.
During the 10 some days of our hunger strike, we were monitored by inmates. They insulted us all the time. We were interrogated every other day, but we refused to answer their questions or give our fingerprints. The police became angry.
Once during the interrogation, a police officer in his 40s told me that he was a very good friend of one of my relatives, and tried to bring us closer. He also talked about the young practitioner Wang, one of the four of us. He said that Wang's life would be ruined if she would be sentenced at such a young age. He attempted to have me provide information about other Falun Dafa practitioners – unsuccessful. I told him that Wang was not involved in anything, and they should let her go.
I had more than 200 yuan on me when I was arrested, which was confiscated. My daughter was summoned to the detention center and forced to deposit 1,000 yuan as my allowance. Another time, my family came to visit me, but they were not allowed to see me until they deposited another 500 yuan – money I never saw.
On the day of my trial, the police put handcuffs and shackles on Wang and me and covered our heads on the way. All police officers in the county were dispatched. During the trial, a deputy prosecutor yelled at me for not renouncing Falun Dafa.
I was sentenced to three-and-a-half years in prison, Wang three years, Wang's mother who was also one of the four of us, two years. The fourth practitioner was injected with unknown drugs while detained in the detention center and became paralyzed.
Imprisoned at Heilongjiang Province Women's Prison
I was transferred to the Heilongjiang Province Women's Prison on June 15, 2011. My luggage and belongings were searched upon arrival. I was forced to throw away a few clothes.
There were nine people in my cell. Eight criminal inmates were ordered to monitor me around the clock. They did not allow me to have contact with anyone. Only when nobody was in the restrooms or the corridor was I allowed to use the toilet.
I had no freedom and had no one to talk to. I felt lonely and depressed, was tormented mentally and physically, and felt miserable every second.
Forced to Sit on Small Stool and Watch Brainwashing Videos
For a period of time, I was forced to get up at 5:00 a.m. every day and then sit still on a small stool with my hands on my knees. I had to watch videos slandering Falun Dafa.
If the inmates noticed me moving a bit or closing my eyes, they yelled at me. They took turns monitoring me until 11:00 p.m. I was forced to face the wall during sleep. The inmates even checked on me during my sleep.
The flesh of my bottom broke due to a long-time sitting on the small stool. The pain was unbearable.
The inmates always took advantage of me. After I purchased new things, they took them and replaced them with their old ones. During mealtime, they took the good items from my plate, and only left a small amount of less favorable food for me. I was given little time to eat; sometimes I had no time to finish my meals.
After a long time of torment, my endurance was about to reach its limit. Once during a brainwashing session, my mind became unclear. I felt so dreadful that I signed the letter of repentance that they prepared for me.
However, when I realized that I had signed a repentance statement, I wrote a solemn statement, stating that this statement was null and void, signed it, and handed it to a guard. The guard was very furious. She ordered the inmates to watch me closely. Four inmates followed me closely and did not let me go anywhere by myself.
I was tormented mentally and physically and felt miserable every second. Sometimes, I felt like I was on the verge of collapse and was barely able to breathe.
Forced Labor
For some time, I was forced to perform work every day. I worked on packing toothpicks or cotton balls. Due to my health condition, I could only finish half of the quota.
To prevent practitioners from passing Falun Dafa scriptures between each other, the guards searched us before and after work. At the workshop, they suddenly blew the whistle and demanded that we line up to be searched. The guards also searched our cells frequently.
Many practitioners still managed to pass scriptures between each other. Once I obtained a copy. I was excited, but also nervous all day long, afraid of the scripture being discovered. By the end of the day, I had the chance to read it under my bed cover.
One of the lead guards asked me why I did not apply for a term reduction since many inmates filed the application. I told him that I did not commit a crime, and I was not a criminal. Simply because of that, I was later transferred to the strictly managed team. Five inmates monitored me, and one gave me brainwashing lessons every day.
Mother Gone and Home Desolate
My mother was also a Falun Dafa practitioner. She was devastated after my arrest and sentence. With constant pressure and worries over my safety, she passed away at the end of 2006.
When I was released in 2013, I came back to an empty home. The refrigerator was soaking in water in the yard. Even though the front and yard door had been locked, the locks on the house, the storage room, and the cabinets in the rooms were all pried open, and all of my belongings, from bedding to cooking utensils, were stolen.