Latest Report Provides More Evidence of the CCP's Ongoing Atrocities
(Minghui.org) The policy forum, "Organ Procurement and Extrajudicial Killing in China," was held in the U.S. Capitol Visitor Center on March 10, 2020, and was presented by The Victims of Communism Memorial Foundation headquartered in Washington DC.
Matthew P. Robertson, China Studies Research Fellow with the Victims of Communism Memorial Foundation, presented his latest research report, "Organ Procurement and Extrajudicial Execution in China: A Review of the Evidence" during the forum.
The report is a compilation of relevant data from more than 300 hospitals in China, internal speeches and notifications from the Chinese Communist Party (CCP), and clinical medical papers. It examines the Chinese authorities' blood and medical tests of Falun Gong practitioners and Uighurs held in custody.
The report concludes that extrajudicial organ sourcing from Falun Gong practitioners and other prisoners of conscience is the most plausible and parsimonious explanation for the large number of organ transplants in China.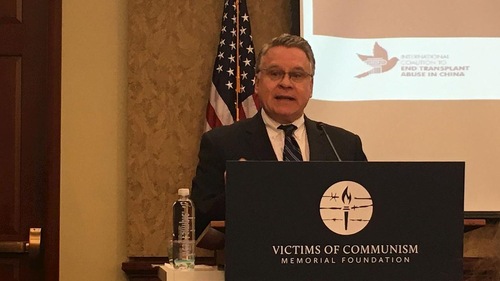 Congressman Chris Smith condemned the CCP for its forced organ harvesting from prisoners of conscience during a forum held in Washington DC on March 10, 2020.
Congressman Chris Smith, George Washington University law professor Donald Clark, and others also attended the forum. They called on the United States and other governments, medical institutions, and human rights organizations, to launch comprehensive investigations and actions to end the crime of forced organ harvesting in China.
Congressman Smith said that Robertson's report was based on careful investigation, was informative, and provided a fulcrum for the issue of forced organ harvesting in China.
He said the CCP's appalling Nazi-style behavior is mainstream in China. Dissidents and those that the Party does not like, such as Falun Gong practitioners and Uighurs, are the victims.
Nadine Maenza, Deputy Chairman of the US International Committee on Religious Freedom, said that since 2007, the committee has mentioned China's organ harvesting in its annual report every year. She pointed out that Robertson's report provides new evidence of the CCP's violation of freedom of belief.
Ms. Maenza said that we knew for decades that the CCP regime took organs from Falun Gong practitioners and prisoners of conscience. She called on the U.S. government to investigate all allegations completely and thoroughly. In the 21st century, forced organ harvesting should not exist.
As early as June 2019, the China Tribunal, established by the International Coalition to End Transplant Abuse in China (ETAC), issued the verdict, "Forced organ harvesting has been committed for years throughout China on a significant scale and that Falun Gong practitioners have been one – and probably the main – source of organ supply."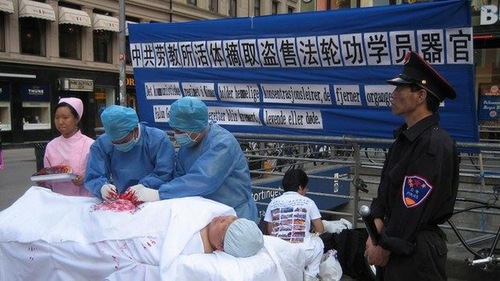 Falun Gong practitioners reenact forced organ harvesting in Oslo, Norway.
Organ Donation Skyrockets After Abolishing Organ Harvesting from Death-Row Inmates?
It is estimated that the annual commercial organ harvesting in China ranges from 60,000 to 100,000, whereas only about 100,000 organ transplants are carried out across the world through legal medical means.
Robertson found that after 2000, organ transplantation in China began to increase at an incredible rate. In the words of a surgeon at a military medical university in southwestern China, it was "growing like mushrooms."
In just four years from 2000 to 2004, kidney transplantation in China increased by nearly five times; liver transplantation increased by nearly twenty times; heart transplantation increased by more than ten times; and the number of lung transplantation increased by nearly twenty-five times.
The 10 hospitals surveyed by Robertson can perform more than 14,000 organ transplants every year. But there are 173 similar facilities in China.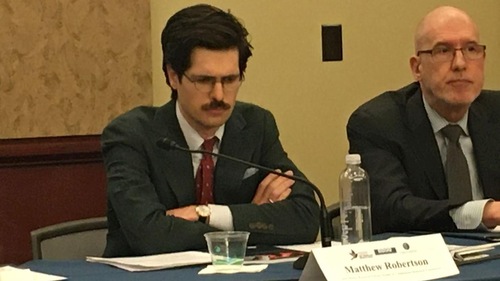 Matthew Robertson, China Studies Research Fellow with the Victims of Communism Memorial Foundation, addresses the forum held in Washington DC on March 10, 2020.
The Chinese authorities' explanations for this issue are nebulous. Prior to 2006, the CCP insisted that organ donation was only from volunteers. Later, it changed to legally executed capital offenders.
As judicial reform continued to reduce the number of death penalty prisoners in China, the CCP authorities officially announced to abolish the use of organs from death-row inmates in 2015 and to use organs from voluntary citizen donations as the main source of organ transplants.
Official figures from the CCP show that in 2015, the first year that organs from death penalty prisoners were banned, the number of organ donations from Chinese citizens rose from 1,500 in 2014 to 2,766. It increased to 4,080 cases in 2016, 5,146 cases in 2017, and 6,302 cases in 2018.
Robertson conducted a statistical analysis of the relevant data and concluded that the official data of the CCP are artificial numbers forged according to a mathematical model, and there must be a second hidden organ source.
In addition, livers can be urgently transplanted in China within 24 to 72 hours, or only a few days or weeks in some cases. This implies that China has a living liver bank classified by blood type, which can be obtained according to the needs of patients.
Representative Smith thought that the huge scale of organ transplants cannot be separated from policy support of the highest level of CCP officials.
He said that the huge infrastructure and medical staffing for organ transplants were set up long before China planned to use the voluntary donation system. It seems that this system is evil and premeditated. This death system seems to enjoy China's highest support.
Falun Gong Practitioners Are Living Organ Banks
Robertson said that although petitioners and beggars have been subjected to forced organ harvesting, the largest and most vulnerable group is prisoners of conscience, including Falun Gong practitioners and Uighurs.
Zheng Shusen and Wang Lijun, both senior CCP officials who persecuted Falun Gong practitioners, boasted about their achievements in organ transplant research.
Congressman Smith said that the statements of witnesses, the large number of transplants, and short wait time clearly show that Chinese organs are taken from living people. They are treated like livestock, holding their breath until a matching is successful.
He pointed out that prisoners with spiritual beliefs are ideal organ donors because of their healthy lifestyle. A prison guard witness cited in the China Tribunal report mentioned that illness was the only way one Falun Gong practitioner avoided being selected as a "donor". Twenty-five healthier practitioners were all killed for their organs.