Persecution of Falun Gong Mentioned Numerous Times in U.S. State Department's Annual Human Rights Report
March 14, 2020 | By Minghui correspondent Wang Ying
(Minghui.org) On March 11, 2020, the U.S. State Department released the 2019 Country Reports on Human Rights Practices, which mentioned the persecution of Falun Gong and human rights lawyers in China numerous times.
"We're blessed that the unalienable rights are secure here at home. But we all know the rights of life and liberty and the pursuit of happiness don't just belong to Americans, they belong to everyone everywhere," said Secretary of State Michael Pompeo during the press conference on March 11. He then highlighted human rights violations in China, Iran, Venezuela, and Cuba.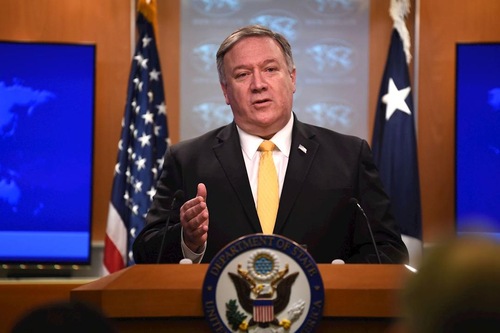 Michael Pompeo, Secretary of State, spoke on the 2019 Country Reports on Human Rights Practices during a press conference on March 11, 2020.
Falun Gong, also known as Falun Dafa, is a meditation system based on the principles of Truthfulness-Compassion-Forbearance. The Chinese Communist Party (CCP) has been persecuting the group since July 1999, resulting in a large number of practitioners detained, imprisoned, and tortured for their belief.
Forced Organ Harvesting
"Some activists and organizations continued to accuse the government of involuntarily harvesting organs from prisoners of conscience, especially members of Falun Gong," described the report in the section related to China.
Citing one study on official statistics of organ donations by the Australian National University, the report said there was "highly compelling evidence" based on statistical forensics that the data was "falsified." Moreover, the research paper argued that the government's organ transplant program involved donations from "nonvoluntary donors who are marked down as 'citizen donors.'"
"In June the nongovernmental Independent Tribunal into Forced Organ Harvesting of Prisoners of Conscience in China released a report which found 'direct and indirect evidence of forced organ harvesting' in China, citing 'extraordinarily short waiting times' and 'massive infrastructure development of facilities and medical personnel for organ transplant operations'," wrote the report.
Detention of Practitioners and Human Rights Lawyers
Administrative detention has often been used by Chinese officials to intimidate political and religious advocates and to prevent public demonstrations. The report wrote, "Forms of administrative detention included ... 'legal education' centers for political activists and religious adherents, particularly Falun Gong practitioners."
Falun Gong practitioners Bian Lichao and Ma Zhenyu are still detained. Similarly, human rights lawyers Wang Quanzhang, Gao Zhisheng, Yu Wensheng, and Jiang Tianyong remain in custody.
Suppressing Human Rights Lawyers
Numerous cases occurred in which human rights lawyers were suppressed.
"In October Guangxi secret police detained Qin Yongpei on charges of 'inciting subversion of state power,' then formally arrested him in December. He remained in Nanning No. 1 Detention Center without access to lawyers at year's end," the report said, adding that Qin had worked on several human rights cases, including Falun Gong practitioners and the "709 incident" (in which about 100 human rights lawyers and advocates were arrested in China on July 9, 2015). Qin was disbarred in May 2018 after practicing law for about 20 years.
The report said the Chinese government suspended or revoked the business licenses or law licenses of some lawyers who took on sensitive cases, such as pro-democracy dissidents, house-church activists, or Falun Gong practitioners. "Authorities used the annual licensing review process administered by the All China Lawyers Association to withhold or delay the renewal of professional lawyers' licenses," it said in the report.
One example is Liu Zhengqing, a lawyer in Guangdong Province known for defending activists and Falun Gong practitioners. In January 2019, the Guangdong Department of Justice revoked Liu's license and charged him with "jeopardizing national security" when defending his clients in court.
"Other government tactics to intimidate or otherwise pressure human rights lawyers included unlawful detentions, vague 'investigations' of legal offices, disbarment, harassment, and physical intimidation, and denial of access to evidence and to clients," the report continued, "In February several lawyers wrote an open letter protesting the government's harassment of lawyers who took on human rights cases."
Surveillance and Harassment
Besides detention, the report noted that "authorities frequently subjected former political prisoners and their families to surveillance, telephone wiretaps, searches, and other forms of harassment or threats."
The Chinese government does not allow Falun Gong practitioners or political dissidents to return to China. Similarly, "families of the '709' lawyers faced difficulties applying for passports or were barred from leaving the country."
The report also listed many other types of mistreatment. For example, "arbitrary or unlawful killings by the government; forced disappearances by the government; torture by the government; arbitrary detention by the government; harsh and life-threatening prison and detention conditions; political prisoners; arbitrary interference with privacy; substantial problems with the independence of the judiciary; physical attacks on and criminal prosecution of journalists, lawyers, writers, bloggers, dissidents, petitioners, and others as well as their family members..."