Queensland: Rally Marks 350 Million Withdrawals from the Chinese Communist Party
February 08, 2020 | By a Minghui correspondent in Queensland, Australia
(Minghui.org) Falun Dafa practitioners in Queensland, Australia held a rally in Brisbane's Chinatown on Saturday, February 1, 2020, to mark 350 million withdrawals from the Chinese Communist Party (CCP) and its affiliated organizations.
Practitioners held large banners along walkways next to major roads and gave out information to passersby. Many local Chinese people, as well as tourists from China, were eager to hear about Falun Dafa.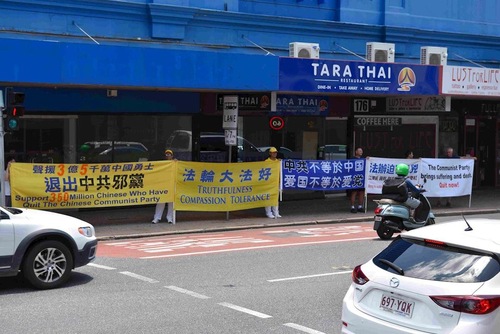 Falun Dafa practitioners in Queensland hold banners at Brisbane's Chinatown's major traffic intersections to celebrate 350 million withdrawals from the CCP.
Overseas Chinese Thank Practitioners
Reaching 350 million withdrawals is a special turning point for the volunteers who have persisted in exposing the communist regime's evil nature at tourist attractions, on the Internet, and throughout their local communities. Everyone was encouraged by the milestone to invest more effort in helping more Chinese citizens quit the Party.
Many local Chinese walked past the practitioners' activities in Chinatown. A medical student expressed admiration for practitioners' steadfast faith. A young woman stopped to listen as practitioners told her about the practice, and she agreed to quit the Party. She thanked the practitioners for their efforts to raise awareness of the persecution in China.
Tour Guide Shows Support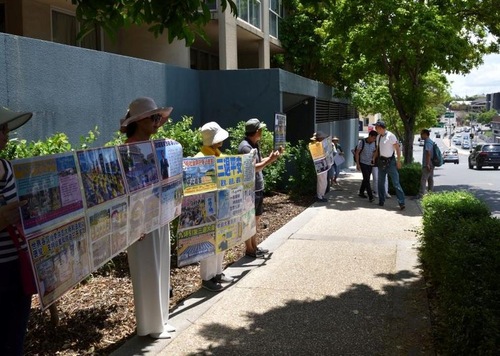 Tourists from China read information about Falun Dafa in Brisbane's Chinatown.
A bus load of tourists from China, on their last day of travel in Australia, came across the practitioners' activities in Chinatown. Before getting off their bus, many of the tourists nodded silently to practitioners to show support for their activities. Others quietly read the information about Falun Dafa for a long time. Before getting back on their bus after their visit, many made a point of pausing by practitioners to listen to information about Falun Dafa and the situation in China.
A tour guide with a southern Chinese accent, seeing so many practitioners of different ethnicities all together, could not hold back his amazement. "Falun Gong is truly amazing. You have so many people cultivating," he exclaimed.
He later chatted with practitioners while his group was off exploring the local streets. He couldn't hold back his admiration. He said, "I truly respect your persistent efforts all these years with the Chinese tourists."
When his group returned to the bus, he did not forget to remind the practitioners, "Quick, the tourists are here. Do your thing."
The Epoch Times published its series of articles, Nine Commentaries on the Communist Party in 2004. Since publication, an ever growing tide of Chinese citizens have renounced their memberships in the Party. More than 350 million Chinese have now quit the CCP and its two affiliated youth organizations, the Communist Youth League, and the Young Pioneers.