Incarcerated Three Times in Labor Camps, Woman Is Arrested Again for Her Faith
February 05, 2020 | By a Minghui correspondent in Hebei Province, China
(Minghui.org) After serving three terms of forced labor for practicing Falun Gong, a woman in her 60s was arrested for her faith again on December 28, 2019.
Falun Gong, also known as Falun Dafa, is a spiritual and meditation discipline that has been persecuted by the Chinese communist regime since 1999.
This was the second time that Ms. Tan Xiuying, a resident in Shijiazhuang City, Hebei Province, was arrested in 2019. She had been arrested earlier on May 14 after being reported for talking to people about Falun Gong.
Ms. Tan has been detained at Shijiazhuang Detention Center following her latest arrest in December 2019, also for talking to people about Falun Gong.
In the past 20 years of persecution, Ms. Tan was incarcerated for more than four years in the labor camps, where she was subjected to constant physical and mental abuse.
The authorities attempted to force Ms. Tan to give up Falun Gong by threatening to force her husband out of a job and blocking her son from attending college. Unable to bear the pressure, her husband divorced her. She was also fired from her workplace, a tractor manufacturing company.
First Labor Camp Term: 3 Years
Ms. Tan was first arrested in 2000 by several officers from Qingyuan Street Police Station when she was doing Falun Gong exercises in public. She was given three years at Shijiazhuang Labor Camp.
The guards beat her and shocked her with electric batons. They also tied her up and forced her to stand or squat for long hours.
Ms. Tan and other nineteen Falun Gong practitioners were transferred to Gaoyang Labor Camp in March 2001.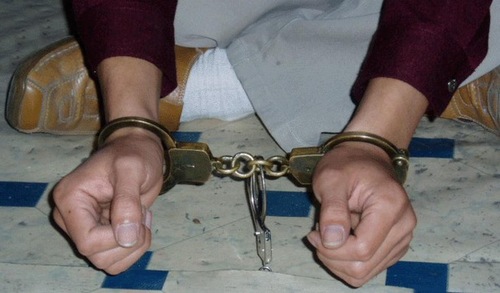 Torture Reenactment: Cuffing to Fixed Iron Rings
Several inmates verbally abused the practitioners upon their arrival. Then they transferred the practitioners to an old factory and cuffed their hands to the iron rings affixed to the ground. The practitioners were unable to stand up or sit down. If they moved at all, the inmates would beat them.
Another practitioner, Ms. Liu Haiqin, protested the persecution and was carried out by the inmates. It was confirmed years later that she became mentally incapacitated indefinitely after being tortured.
Ms. Tan went on a hunger strike to protest the torture. She was force fed with feces and developed high fever. Unable to bear the physical and mental torture, she wrote a statement to renounce Falun Gong against her will. She became extremely depressed afterwards. Her memory was significantly reduced and she became demented.
The Gaoyang Labor Camp extorted a lot of money from her family before releasing her. She was treated in the hospital, but to no avail. With the help of other local Falun Gong practitioners, she resumed practicing Falun Gong and slowly recovered.
Second Labor Camp Term: Length Unknown
Ms. Tan was arrested again in April 2003 when she was posting Falun Gong flyers. She was detained in Shijiazhuang No. 1 Detention Center and then taken to Hebei Women's Labor Camp, for an unknown period of time.
Third Labor Camp Term: 1.5 Years
Ms. Tan was arrested for the third time in August 2007 for talking to people about Falun Gong. She was interrogated twice while being held at Shijiazhuang No. 2 Detention Center. In order to stop Ms. Tan from shouting "Falun Dafa is good," the guard pinched her cheeks, making her face red and swollen.
During the second interrogation, a guard hit her chin and it turned blue and purple. Her mouth also bled from the beating. She passed out and tumbled to the ground.
She was given 1.5 years of forced labor three weeks later and served time at Hebei Women's Labor Camp.
When Ms. Tan's family visited her on March 5, 2008, they were saddened to see that Ms. Tan was mentally disoriented again.
On the day of her release on December 23, 2008, Ms. Tan and two other practitioners who went to welcome her home were all taken to Yuxing Police Station and detained for 15 days.
Personnel responsible for the persecution:Yu Weijun (于卫军), chief, Hongqi Police Station: +86-311-83827679Zhou Yuegang (周月刚), policeman, Hongqi Police Station: +86-13582333122
Related reports:
Practitioners Ms. Tan Xiuying and Ms. Zhang Haiqin from Shijiazhuang City, Hebei Province Fell Victim to Trickery and Were Arrested by Communist Regime Spies
Brutal Tortures in Gaoyang Forced Labor Camp in Hebei Province