Toronto, Canada: Rally Calls for Immediate Release of Falun Gong Practitioner Detained in China
Feb. 24, 2020 | By a Minghui correspondent in Toronto
(Minghui.org) Falun Gong practitioners held a press conference in front of the Chinese Consulate in Toronto on February 20, 2020. They called for the immediate release of Mr. Chen Xingbo, who is detained in the Number One Detention Center in Xingtai City, Hebei Province. His sister, Chen Xuemin, lives in Toronto.
Mr. Chen Xingbo, 67, a retired chief editor of Xingtai Radio Station, was taken away by several police officers under the direction of Song Jiaxi, captain of the National Security Brigade, Qiaoxi Public Security Branch, Xingtai City, on November 24, 2019. His home was ransacked.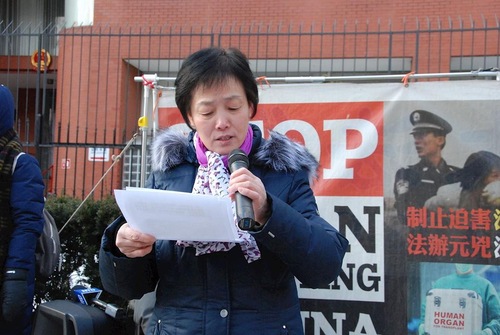 Ms. Chen Xuemin of Toronto demands the immediate release of her brother Chen Xingbo during a rally in front of the Chinese Consulate on February 20, 2020.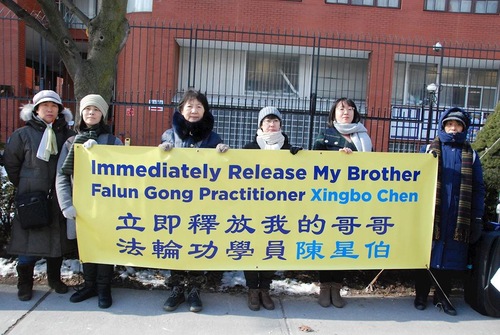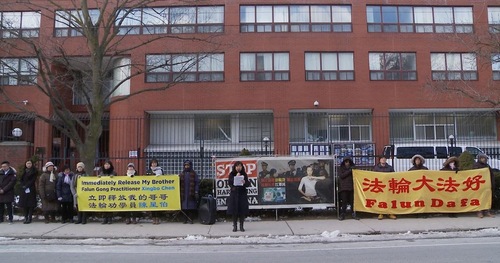 Falun Gong practitioners held a press conference in front of the Chinese Consulate on February 20 to call for Chen Xingbo's immediate release.
"My brother Chen Xingbo practices Falun Gong and follows the principles of Truthfulness-Compassion-Forbearance," Chen Xuemin said in her speech.
She explained that her brother became a better person after he began practicing Falun Gong and gave examples. Her brother gave up the opportunity to move into a larger apartment when his work unit allocated them so his colleagues could get the better apartment.
Once when he found a purse on the ground, he waited for the owner for three hours. He did not accept any reward or tell the owner his name.
Mr. Chen is 67 years old. Before he retired, he was the chief editor of Xingtai Radio Broadcasting Station and the deputy director of the special topics department. In May 1990, he was awarded the title of Excellent Worker for Children's Programs in Hebei Province.
More than 12 programs he compiled and edited won first, second, and third prizes in the national competition for outstanding radio programs over the years. In 1990 and 1994, he was twice awarded a salary promotion by the Xingtai Municipal Government. In May 1997, the Xingtai Municipal Government recognized him with awards for outstanding professionalism and technical talent for his outstanding contributions.
His story was featured in newspapers and radio stations. Mr. Chen worked around the clock and developed heart disease with tricuspid incomplete closure, right ventricular hypertrophy, and fifth-degree murmurs of the heart. He also developed systemic edema and other health problems. He sought treatment in many hospitals but nothing helped. After he started practicing Falun Gong, all his ailments disappeared.
Song Jiaxi, captain of the National Security Brigade, took a special interest in Mr. Chen and monitored him for two months before arresting him. Song reported the case to his supervisors and convinced them to treat this as an urgent and high-priority case.
Mr. Chen Xingbo's family hired a lawyer who filed documents to revoke the case and a request for bail. The lawyer's request was ignored.
Counselor Zhu Xijiang of the National Security Brigade invited Mr. Chen's wife Sun Lanping for dinner. "He told my sister-in-law that if she continued to use this lawyer, he would make things worse for her husband," said Chen Xuemin. "Under pressure, my sister-in-law dismissed the good lawyer and hired the lawyer the police suggested.
"Obviously, Song Jiaxi was worried that the original lawyer would use the law to prove that abducting my brother was illegal. That's why he pressured my sister-in-law to switch lawyers to one he could control.
"My brother has been detained for nearly three months," Ms. Chen said. "Because I was detained and tortured myself, I'm worried about him. He is innocent. It's illegal to coerce a defendant's family to agree to a false accusation. I demand the immediate release of my brother."
Ms. Chen pointed out that those involved in the persecution have violated Articles 35, 36, 37, 38, and 39 of the Constitution of China. Among the many laws they have broken, they continue to deprive citizens of freedom of belief, illegally detain them, defame them, search their homes without a warrant, and falsely accuse them.