Broken Families Reunited Through the Practice of Falun Dafa
February 23, 2020 | By a Minghui correspondent in Germany
(Minghui.org) Leo Tolstoy, often referred to as one of the greatest authors of all time, once wrote, "All happy families are alike; each unhappy family is unhappy in their own way." Many people have found this sentence thought provoking, as they could relate it to their own lives.
The following are stories about several German families, which, for one reason or another, were broken or nearly broken. After one member of the family began to practice Falun Dafa, however, the principles of Truthfulness-Compassion-Forbearance resolved family feuds and harmonized the family relationships.
Mother and Son United after Eight Years
Milena recounted, "For quite some time, I was a single mother, and my family meant my son and me." Milena lives near Düsseldorf, Germany. Her life was again shattered when her son was in his 30s.
"He had a new girlfriend," she said, "and I met her three times. Then one day, without any warning, my son announced that he would disassociate from me. That broke my heart. I became very angry and hoped that prayers would help—but nothing worked. Since then he disappeared from my life, not even returning my greetings for birthday or Christmas."
"That time was extremely painful," Milena added. Several years later, she became severely ill and was worried if the poor health would cost her her job. Seeing her frustration and despair, a friend recommended that she try the cultivation practice Falun Dafa (aka Falun Gong).
The practice not only miraculously improved her health but also changed her outlook on life.
She explained, "I was no longer bitter about my son. From Falun Dafa I learned about karmic relationship and no longer wanted to argue who was right and who was wrong. After all, these things happened because of my karma, and it is most important to keep improving myself."
Given these newly gained insights, Milena became more open-minded. She started to introduce the practice to others hoping they could benefit from it just like her. "One day as I was talking with someone about Falun Dafa, I suddenly thought of my son. By then, we had been out of contact for eight years already," she said, "Right now, I can easily recommend something so good to my friends and strangers. But, someone closest to me in my life still knows nothing about this—there is something wrong with this."
Milena decided to give it a try. She knew that her son established a website which had his contact information, although she never visited the web page, worrying doing so would just add more pain. This time, however, the sense of responsibility defeated her fear, and she picked up the phone.
"To my surprise, everything went well afterward. My son was excited to hear my voice again, and we chatted for over two hours," Milena said. During later conversations, she found that her son had felt guilty all these years. He was also surprised that his mother did not blame him for abandoning her back then, and instead connected with him again.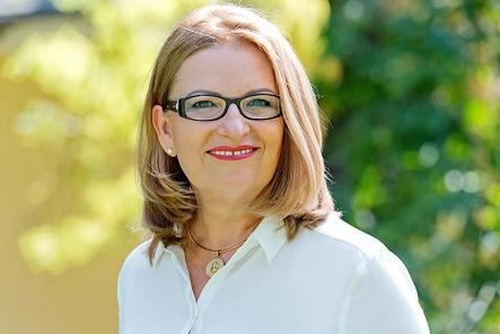 Practicing Falun Dafa helped Milena reunite with her son after eight years.
Upon hearing this change was due to Falun Dafa, he was very curious to find out more about it. Several weeks later, he came to know many practitioners during a Falun Dafa event, and he was proud his mother was a practitioner too. "Although my son is already in his 40s, he hugged me tightly like a young boy and called out loudly, 'This is my mom!'" said Milena, "I was so touched, because I never dreamed that we could reestablish our relationship."
Arguments Between Siblings Appeased
Lorenz, the oldest among his siblings, has one young brother and four younger sisters. When his parents planned to move their land and farmhouse to his name at a low price, all siblings were fine except for one, who strongly opposed this.
"Had I not practiced Falun Dafa, I would have been very angry, because that was a decision made by my parents, and it worked for me as well," Lorenz said. But Falun Dafa has taught him to look at issues from a different angle, and be considerate of others. That sister listed several strange reasons, trying to block the transaction, while other siblings said they should just listen to their parents.
Lorenz withdrew the transfer contract and told others he would wait until there was no objection from the family. He said he would lead a normal life regardless of that asset. Plus, he remembered well the teachings from Falun Dafa,
"If something is yours, you will not lose it. If something is not yours, you will not have it even if you fight for it." (Lecture Seven, Zhuan Falun)
That sister did not speak with Lorenz for a long time, but later on they were able to get along well as usual. Other family members—all Christians—were also surprised Falun Dafa could change him so much. Without it, they knew he might have hired a lawyer to fight for this. This made them interested in what Lorenz is studying, so they read Falun Dafa informational materials.
Change of an Alcoholic Husband
Ursula from central Germany used to be depressed because her husband had a bad temper, and he also fought with others. "Every time when going out with him, I was always nervous," she recalled. This is because if her husband drank too much and fought with others, there would be no way she could stop that. "The only thing I could do was wait for him to sober up and talk with him," she said. Because of this, the couple often argued with each other.
Ursula heard about and began to practice Falun Gong. It was the onset of the persecution by the Chinese Communist Party (CCP) in China. Noticing many German newspapers published negative reports about Falun Gong, using information provided by CCP media sources, her husband started to worry. One day when he tried to stop her from attending a Falun Dafa event, Ursula took out two lectures by Mr. Li Hongzhi, the founder of the practice: Teaching the Fa at the Conference in Europe and Teaching the Fa at the Conference in Switzerland. "Read these and then we will talk about this," she suggested.
After reading the lectures, her husband knew the CCP's propaganda about Falun Gong were lies. Curious about what else Ursula was studying, he began to read Zhuan Falun, the main teachings of Falun Gong. One day when going on vacation during the weekend, he saw a giant Buddha on the top of pine tree woods, about 30 meters tall. Growing up in a Catholic family, it was only then that he knew Buddhas do exist.
Having read Zhuan Falun three times, he agrees with the principles of Truthfulness-Compassion-Forbearance, and has stopped fighting with others. "I also feel so sorry for those I have beaten up in the past," he said. Ursula, too, is relieved, because they no longer fight.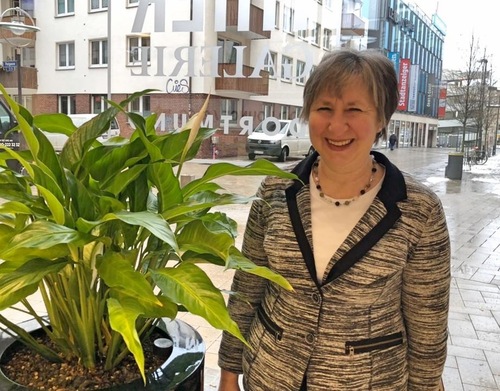 Ursula is very thankful that Falun Dafa gave her a happy life.
Melting 15-Year-Old Ice
Sonja from Austria disassociated from her father 15 years ago. Since childhood, everything she remembered about him was his getting drunk and violent. When she was 14, her mother filed for a divorce and took her away from the traumatizing environment.
After growing up, Sonja heard about Falun Dafa from her friend and began to practice it. With a better understanding of karmic debts, she realized the suffering she experienced during her childhood could be related to her karma. Not only was she able to leave those painful memories behind, she also tried to forgive her father. As a result, she became relaxed and happy.
One day, she thought of her father and decided to meet him. "After all, I am now a practitioner, and I should tell him how wonderful Dafa is," she told herself. She drove to the place where she used to live, but the trip was not so straightforward. "It was as if all the terrifying days I had left behind were coming back to me," she said.
Nevertheless she managed to arrive there. As usual, her father did not apologize for the past. Sonja found herself still upset with him. The feeling was so strong that she almost wanted to argue with him about that. "As a practitioner, however, I know I need to forebear. It was not easy—but I was able to do it," she explained.
Since then, Sonja visited her father on a regular basis and shared her joy of practicing Falun Dafa. Her father also changed a lot and could get along better with family members. "Whenever I went there, he always looked very happy to see me," added Sonja.
Remembering those years, and the recent progress she has made, she is very grateful. "As a Falun Dafa practitioner, I have found a key that can resolve family issues," she said, "That is, following the principles of Truthfulness-Compassion-Forbearance and truly being considerate of others."