Sweden: People Express Support and Condemn the CCP During Practitioners' Weekly Activities at Parliament House
Dec. 9, 2020 | By a Minghui correspondent in Stockholm, Sweden
(Minghui.org) Sweden did not implement a complete lockdown when the CCP virus (coronavirus) broke out. Instead, it adopted a range of measures to limit its spread. Compared to other European countries, Sweden is less regulated.
Falun Dafa practitioners especially treasure this opportunity to raise awareness about the ongoing persecution in China. They hold activities next to the Parliament House every Tuesday, Friday, and Saturday, rain or shine, to introduce people to the spiritual discipline as well as to let them know about the CCP's (Chinese Communist Party) atrocities.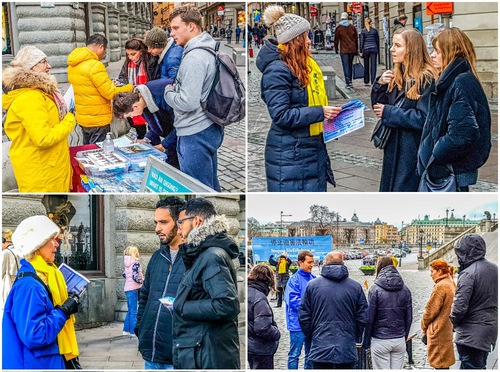 Practitioners hold activities next to Parliament House three times a week to inform people about the persecution in China.
Locals Touched by Practitioners' Peaceful Resistance
The temperature dipped on November 20, 2020. Despite the wind and rain, practitioners set up next to Parliament House as usual. They covered their display boards, brochures, and other things with plastic sheets and carried on. Some of them demonstrated the exercises in the rain while others gave out information and explained things to passersby.
Practitioners demonstrated the exercises in the rain on November 20, 2020.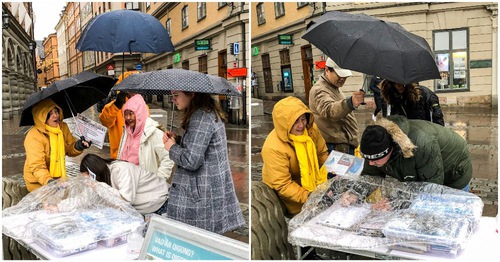 Locals brave the rain to sign the petition calling for an end to the brutalities in China.
Several passersby were drawn by the calm and peaceful scene and stopped to learn more about Falun Dafa. Jenny and her friend were curious about the practitioners' activity. When they learned that practitioners in China are incarcerated and their organs are removed without consent, Jenny exclaimed, "How can such a thing happen?" After signing the petition, she said, "I knew that people in Xinjiang, Tibet, and Hong Kong were brutally persecuted by the CCP. I didn't think the regime would do something as terrible as organ harvesting. You are remarkable to brave the rain and speak out for these victims in China! I support you for sure!"
A middle-aged man stopped and read the displays. When asked if he'd ever heard about Falun Dafa, he replied, "I have been paying attention to this. You have done very well. I support you." When asked if he would like to sign the petition, he said that, due to his job, he could not sign anything. He encouraged the practitioners to keep going and said they would succeed.
Two men asked about the persecution. One of them immediately signed the petition. Seeing his friend hesitate, he said, "Sign it. This is for all of us. We must support these people."
Another man offered to make a donation to show his support. When practitioners politely turned him down, they suggested that he share the information about the persecution instead. He was moved, saying, "What you are doing cannot be bought. It is a great endeavor."
Five young tourists from England stood in a row at the table, waiting to sign the petition. They were drenched as they did not have an umbrella. Three of them were originally from Hong Kong. All of them expressed admiration for practitioners' efforts to raise awareness even in the rain.
The security guard from Parliament House also came over to give practitioners a thumbs up. "You are still out here in such a heavy downpour. Falun Dafa is the best! I hope this persecution will end soon."
This Persecution Based on Deceit Must End
Charlotte Krook and her friend passed by Parliament House on Saturday, November 14, 2020. This was the first time she'd seen practitioners doing the exercises and wanted to experience it for herself. She was surprised to feel a strong energy field. After learning the exercises, she signed the petition.

Charlotte Krook, a Swedish artist, enjoyed doing the exercises. She knew about the persecution from the Internet. She and her friend signed the petition.
Charlotte said she was an actor and an artist. She said, "I have been looking for you. I finally saw you here today." She told practitioners she tried many spiritual practices and is especially interested in traditional Eastern culture. "I have been following Falun Dafa on the Internet for many years. Recently I thought of giving it a try. Then I found you today. I just tried the second exercise and it feels amazing," she said.
She thinks the persecution that is based on lies and deceit must end. She admires practitioners for quietly and peacefully resisting the persecution for 21 years. "Such an evil suppression. Yet so many people are doing this around the world. It goes to show how extraordinary this is."
You Must Let Everyone in the World Know
A man from Poland, his wife, and three children listened to practitioners explain the persecution on Saturday, November 28. After learning about the organ harvesting, he said, "I know that the CCP is a dictatorship. It doesn't tolerate differing views and there is no freedom of belief. It has gone so far as to adopt such brutal means, organ harvesting, to murder innocent people. This is outrageous. The CCP is a demon. I support you in resisting this persecution." His wife and children signed the petition.
Practitioners found a brochure in Polish and he quickly passed it to his family to read. "This is excellent! We will read this when we get home," he said.
Two men from Austria were shocked when they learned about the torture and organ harvesting that Falun Gong practitioners in China are subjected to for following the principles of Truthfulness, Compassion, and Forbearance. They said, "You are doing a very important thing. You must expose the CCP's evil deeds and let people see how evil it is."
Two people chatted with a practitioner in German for a long time. One of them said, "The CCP only cares about economic benefits. They kill people for their organs for money. They are not content with ruling Asia and occupying Europe. They want to control the entire world. We must not let the CCP succeed. You are doing a great job. You must let the whole world know the CCP is a demon."