Germany: People Sign Petition to End the CCP During Activities in Wuppertal
Dec. 7, 2020 | By a Minghui correspondent in Germany
(Minghui.org) Falun Dafa practitioners in Germany held a large-scale activity in Wuppertal on November 28, 2020 to tell people about Falun Dafa and raise awareness of the persecution in China. Despite the autumn chill, the sun shone brightly and many people were out enjoying the weekend. 
Practitioners set up booths and banners on the square in front of the train station. They demonstrated the Falun Dafa exercises, gave waist drum performances and told people about the true nature of the Chinese Communist Party (CCP). Many people stopped to learn more and signed the petition that calls for an end to organ harvesting and for the disintegration of the CCP.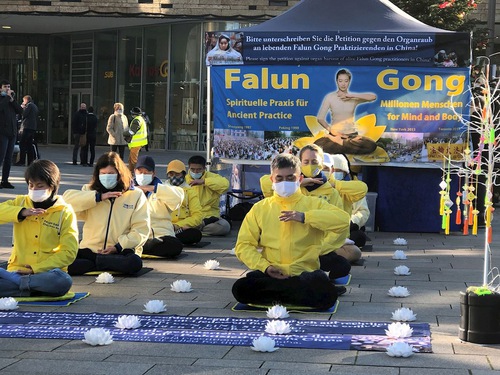 Practitioners demonstrated the Falun Dafa exercises during day-long activities in Wuppertal on November 28, 2020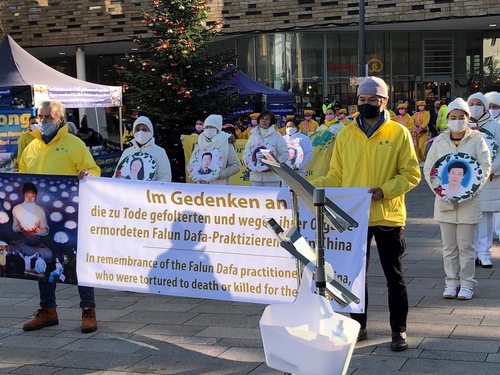 Female practitioners dressed in white mourn their fellow practitioners who lost their lives in the persecution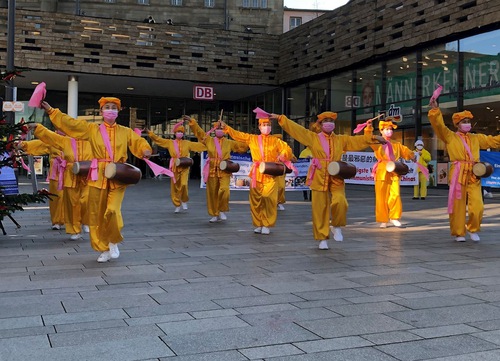 The waist drum team gives a rousing performance.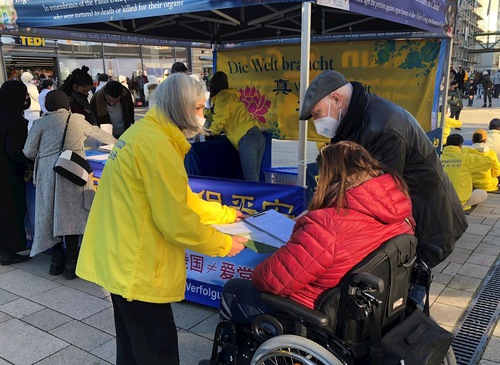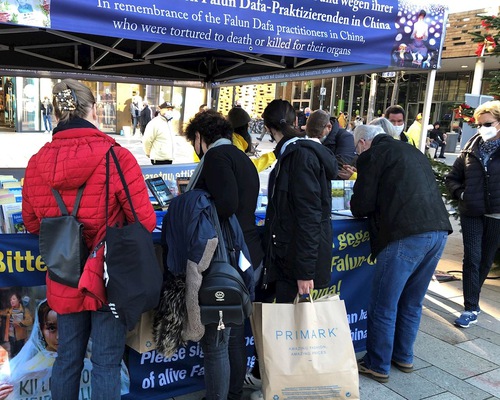 Several people signed a petition calling for an end to organ harvesting and condemning the CCP's crimes
A passing bicyclist stops to talk with a practitioner about the persecution.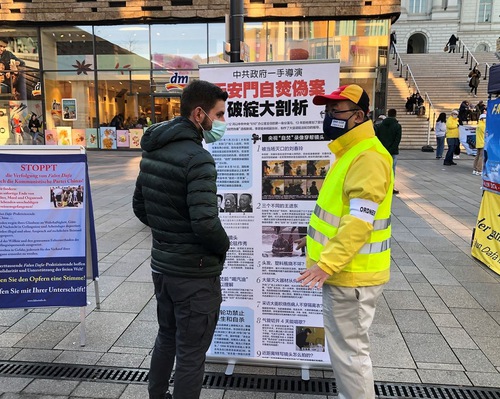 A passerby listens as a practitioner clarifies the truth.
Many people were out shopping on Saturday. One man said that when he noticed the ladies in white quietly standing, holding photos of those practitioners who were persecuted to death, he could feel their sadness and was about to cry.
A doctor said that she had only heard about organ trafficking being done by people in the underworld. She told a practitioner that she would tell the people about the CCP's atrocities. 
Several people thanked practitioners for sharing the information and signed the petitions calling for an end to organ harvesting.
"The CCP Cannot Be Trusted"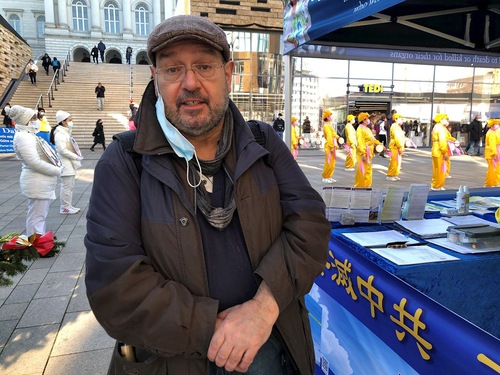 Ingo believes that the CCP is by no means a trustworthy partner
Ingo, 63, lives in Wuppertal. He stayed at the practitioners' event for more than an hour. He signed the petition and then said to a practitioner, "I heard the music as soon as I walked out of the train station, so I came over. The people who meditated (Falun Dafa practitioners) attracted me the most. I can feel their inner peace."
He said when he read the display boards about organ harvesting, his first reaction was that it was unbelievable. "What regime would regard such people, the people who peacefully meditate, as enemies? Then I thought about the cruel persecution that Jews suffered in Wuppertal (during World War II). I told myself that as a person who understands history, I know that the CCP's live organ harvesting can happen."
When Ingo learned that the CCP began to persecute Falun Dafa in 1999, he immediately said, "That was ten years after the CCP's bloody suppression of the students' movement. This regime has never changed. I know Falun Dafa practitioners did not realize that one day they would have to stand up to the CCP—but this regime is too stupid. It has turned everything into its own enemy."
Speaking of Germany's attitude towards the CCP, Ingo said that he believes that people should not consider only economic interests. "If the CCP can treat Chinese people so cruelly—such a government cannot be trusted."
German People Happy to Sign the Petitions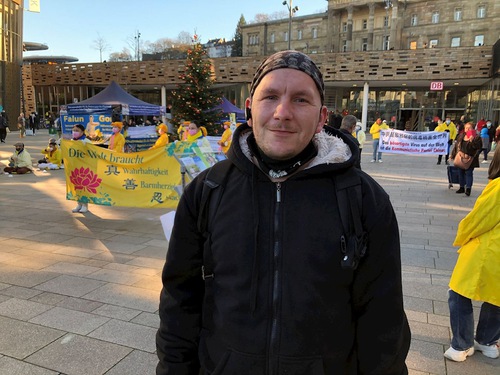 Kevin was very happy to sign the petition and expressed his support for Falun Dafa
Kevin listened as practitioners provided background about the CCP's persecution over loudspeakers. He said, "I know German history very well. I have many friends in the former East Germany. Some of them were imprisoned for speaking the truth. So when I hear about the CCP's persecution of Falun Dafa, I believe you."
He said he heard that practitioners held an event in Wuppertal before, "I am very happy to see you here today and I express my support by signing the petitions."
Kevin read an introductory flyer about Falun Dafa and said, "I am a devout Catholic. I believe that people can improve their body and mind through faith and meditation." 
Iraqi Student Sympathizes with Falun Dafa Practitioners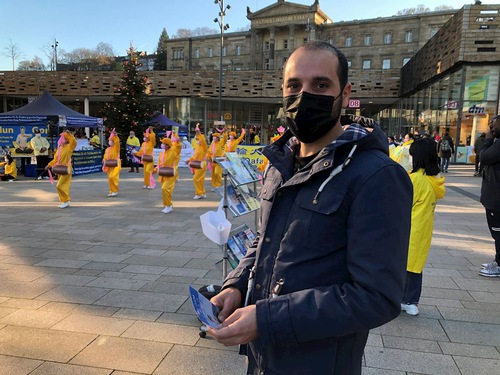 Sharan is a university student from Iraq
Sharan is a university student from Iraq and has lived in Germany for four years. He found a flyer in Arabic at the booth and read it attentively.
He said that he's seen people suffering under a dictatorship, and he sympathizes with persecuted Falun Dafa practitioners. He was very interested in learning Falun Dafa. He said, " I have a lot pressure from my studies. Maybe I can learn the Falun Dafa exercises."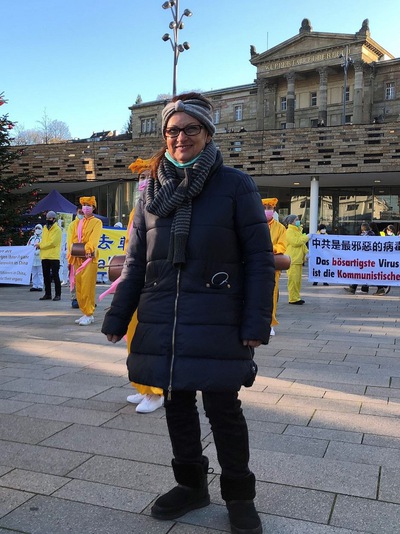 Milena, one of the organizers of the event
Falun Dafa practitioner Milena helped organized the event, and said, "Engels (a socialist writer who helped write the Communist Manifesto) was born in this city two hundred years ago. Wuppertal and several Chinese cities are sister cities, and several Chinese companies are located here. We are hosting this large-scale activity to expose the true nature of the CCP and draw support to help end the persecution of Falun Dafa."