New Zealand: Falun Dafa Practitioners Bring Diversity to Four Christmas Parades Throughout Auckland
Dec. 4, 2020 | By a Minghui correspondent in New Zealand
(Minghui.org) Falun Dafa practitioners participated in four parades from November 21-28, 2020, in three districts in Auckland: Onehunga, Orewa, Manurewa and Whangarei. They also received the "Best Parade Organization" award in Whangarei City.
Situated in the Southern Hemisphere, New Zealand enjoys pleasant, springlike weather in late November. Every city, town, and community begins holding their annual Christmas parades.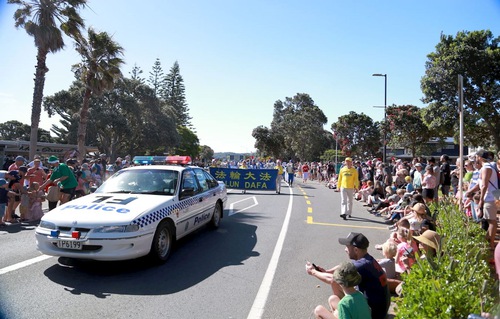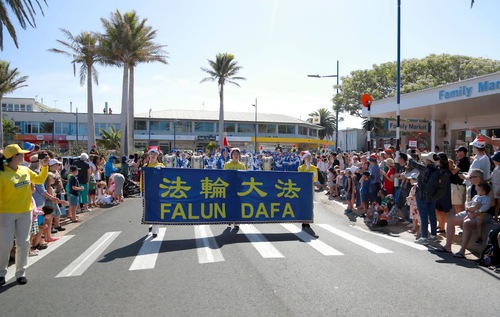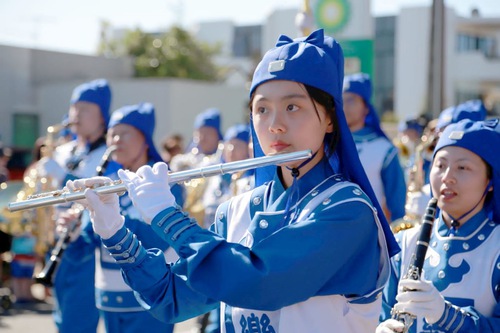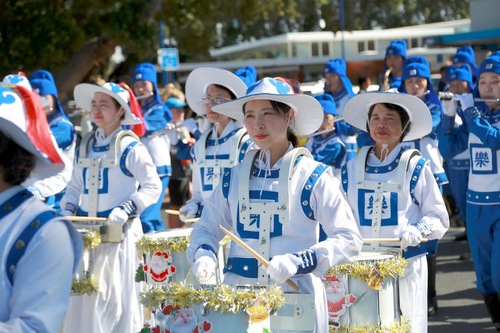 The Tian Guo Marching Band performed at four Christmas parades in Auckland, November 21-28, 2020.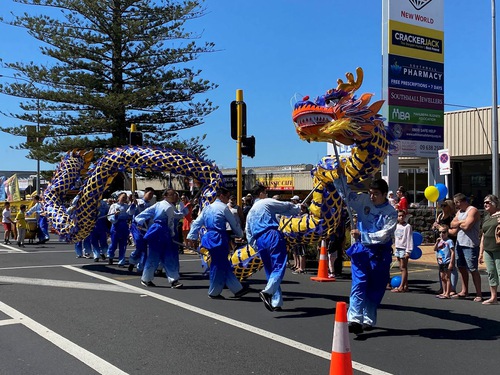 The popular dragon dance was part of practitioners' entry.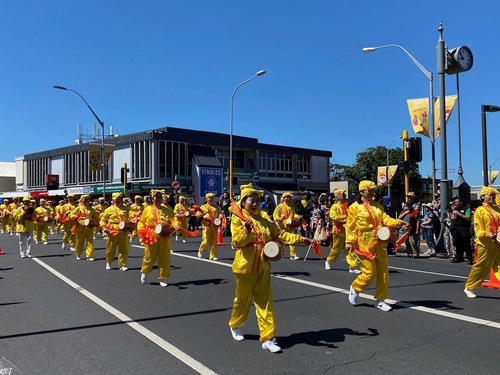 Traditional Chinese waist drum team.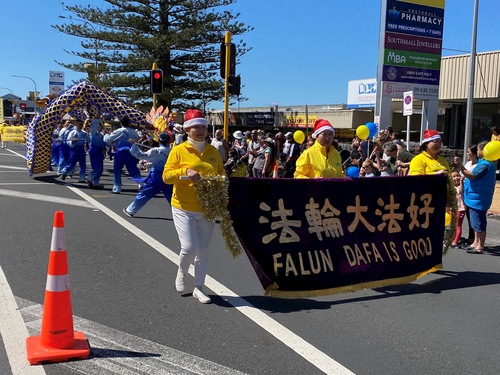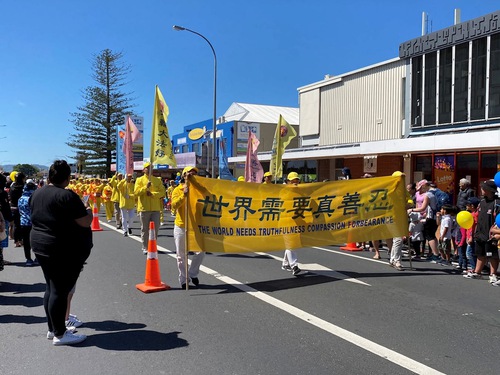 Practitioners participated in four annual Christmas parades throughout Auckland.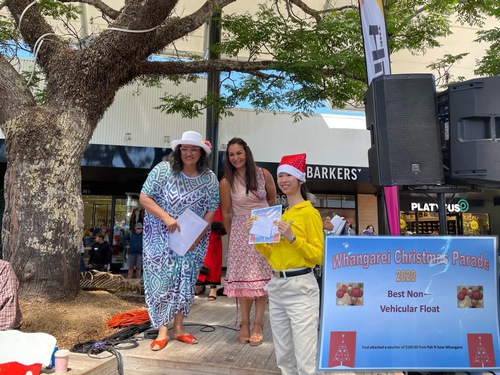 Falun Dafa practitioners' entry received an award for their entry in Whangarei City.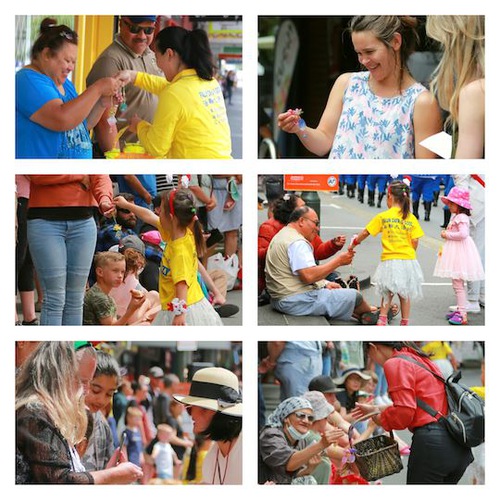 Spectators were overjoyed to receive small lotus flowers with information about Falun Dafa.
Spectators applauded warmly as soon as they spotted the practitioners' entry. It consisted of the Tian Guo Marching Band, a traditional Chinese waist drum team and dragon dance performances as well as banners with messages such as: "Falun Dafa is Wonderful" and "The World Needs Truthfulness, Compassion, Forbearance."
Several people commented that the Falun Dafa entry was the most outstanding group. One spectator said, "Their costumes remind me of scenes in ancient battles."
"Tian Guo Marching Band's Performance Is Amazing"
Not only is Priyanca Radhakrishnan a Member of Parliament, she's also Minister for the Community and Voluntary Sector, Minister for Diversity, Inclusion and Ethnic Communities and Minister for Youth. She said, "The performance by the Tian Guo Marching Band is amazing! I love their costumes—everything is beautiful! As the minister for ethnic communities, I am delighted to see diverse cultural and ethnic groups take part in local events."
When she learned that the Tian Guo Marching Band was formed by Falun Dafa practitioners, she wished them all the best.
Truthfulness, Compassion, Forbearance Are Strong and Powerful Values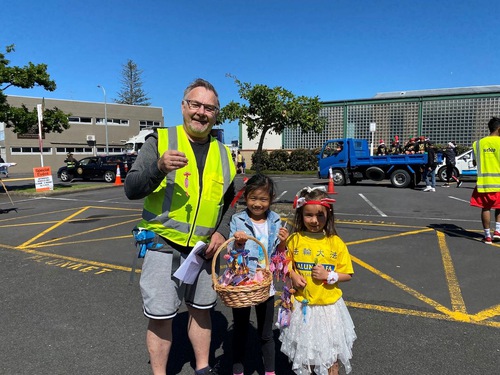 Murray Broadmore takes a photo with young practitioners.
Murray Broadmore, one of the organizers of the parade in the Manurewa district is also a manager in a foreign exchange company. He said, "The Falun Dafa entry has the richest colors and is the largest group in today's parade. It is great that we have such a group in our community. I'm thrilled to meet them!"
"When I saw the words Truthfulness, Compassion and Forbearance on their banners, I thought this is wonderful, I absolutely agree with this. It is so important, especially in today's world. Look at how many problems there are. Truthfulness is lost in many places. We need compassion and forbearance all the more in today's world plagued by the Chinese Communist Party (CCP) virus. Of course, it's much more than that. These are strong and powerful values. Everyone should follow them in their daily lives," he said.
If Everyone Follows These Principles, the World Would Be a Much Better Place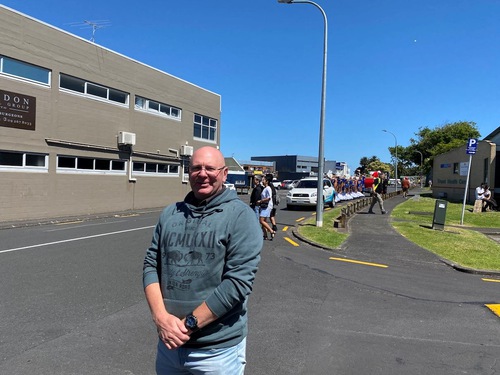 Wesley agrees with Falun Dafa's principles.
Wesley, a police officer, could not stop complimenting practitioners' dragon dance and waist drum performances. He said, "This is a rich and colorful performance. It has brought diversity to Manurewa district's Christmas parade. I am elated to see so many people of different ethnic backgrounds celebrating Christmas together. It is remarkable in light of the CCP virus this year."
When Wesley learned that Falun Dafa practitioners follow the principles of Truthfulness, Compassion and Forbearance, he said, "These are excellent. They should become the daily criterion for people. If everyone follows these principles, the world would be a much better place. There will be no more wars and perhaps we wouldn't need so many policemen."
Keep Fighting for Justice
John a manager in the local government stopped to chat with members of the Tian Guo Marching Band before the parade began.
When he learned that the band was formed by Falun Dafa practitioners, he said, "I know about Falun Dafa. I read a lot of information and I know quite a bit of what's happening. It is terrible that the Communist regime is persecuting Falun Dafa. It is not difficult to distinguish what's right and wrong. Obviously, the world has not exerted enough pressure on the CCP. Keep up a good fight!"
"It is wonderful to see you guys in such a large public event. You are so mobilized. The band has a complete range of instruments. You have such powerful energy."