Chinese Government and Military Officials Wish Master Li Hongzhi a Happy New Year
(Minghui.org) With the 2021 New Year fast approaching, Falun Dafa practitioners are sending their heartfelt greetings to the founder of the practice, Master Li Hongzhi, to wish him a Happy New Year.
In this report, we present greetings from practitioners who work in government agencies and the military forces in China. Having gone through an eventful and turbulent 2020, many of these practitioners have expressed gratitude for the protection and blessings they've received from Falun Dafa. They cherish the sacred opportunity to practice the great Way of Falun Dafa, vow to be more diligent in improving themselves in the upcoming New Year and to raise awareness about the persecution that is still going on in China. They look forward to the day when they can reunite with Master in China.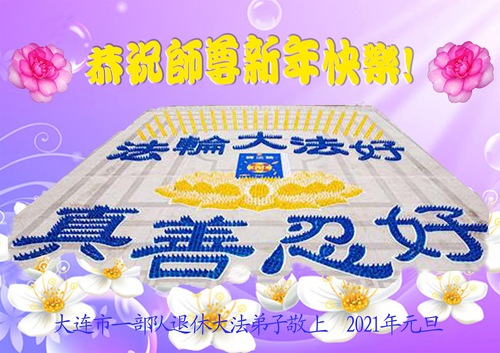 A practitioner who works in the political and judiciary system in Guangdong Province said, "Every time I open Zhuan Falun (the main text of Falun Dafa), I feel so dear and bright. I feel that Master is with me all the time. Thank you, Master, for your protection and encouragement!"
A military officer said, "Dafa helps me understand that the real purpose of coming to this world is to return to one's true, original self. With Dafa's teachings, I'm constantly reflecting on myself and purifying my thoughts. This is a kind of happiness I've never had before!"
Another practitioner who works in the land management bureau in Shandong Province wrote, "I feel the solemn responsibility on my shoulders. I believe justice will soon be restored for Falun Dafa. But before that, I will try my best to spread information about Dafa and wake up those who have been deceived by the communist regime."
"In the upcoming new year, no matter what happens, I will continue fulfilling my vows with steadfast resolution and an unwavering mind," wrote a practitioner who works in a government agency in Guangdong Province.
A retired military officer in Changzhi City, Shanxi Province said, "There is no way for me to repay Master's immense grace! In the limited time left, I will follow Master's teachings, stay firm in my conviction, work with other practitioners to raise awareness about Falun Dafa, and help sentient beings to understand the facts and choose a bright future for themselves."
"With more and more people waking up and stepping up to condemn the communist regime, I believe justice will soon be restored in China!" said another retired military officer in Nanjing City, Jiangsu Province.
Other greetings hail from: 
Judiciary systems in Sanmenxia City, Henan Province; Heilongjiang Province; Jiangsu Province; Beijing; and Harbin City, Heilongjiang Province
Government agencies in Kaijiang County, Sichuan Province; Qiqihar City, Heilongjiang Province; Hebei Province; Jilin Province; Shandong Province; Wenan County, Hebei Province; Tianjin; Bin County, Heilongjiang Province; Liaoning Province; Shijiazhuang City, Hebei Province; and Hubei Province
Military officers in active duty and veterans in Zhenjiang City, Jiangsu Province; Guangzhou City, Guangdong Province; Dalian City, Liaoning Province; Xi'an City, Shaanxi Province; Beijing; Weifang City, Shandong Province; Nanjing City, Jiangsu Province; and Xinjiang
Public security system in Heihe City, Heilongjiang Province; Nanjing City, Jiangsu Province; and Liaoning Province
Political and judiciary system in Liaoning Province and Shandong Province
Public Security Fire Department
Military Colleges
Hunan Military Hospital
A retired police officer in Zhaoyuan City, Shandong Province