Saipan, U.S.A.: Signature Collection and Car Parade Raise Awareness of the Persecution of Falun Gong in China
Dec. 30, 2020 | By a Falun Gong practitioner in Saipan
(Minghui.org) Falun Gong practitioners in Saipan have held a car parade to raise awareness of the Chinese Communist Party's (CCP) persecution every weekend since mid-November. Practitioners have also conducted signature collection drives across the island for nearly four months, calling for an end to the persecution. 
The people of Saipan are kindhearted. Falun Gong practitioners have held activities to promote Falun Gong in Saipan for more than 20 years. Local people have commended Falun Gong's beneficial effects on health and its universal values of Truthfulness-Compassion-Forbearance. 
Saipan residents encouraged and showed their support for the car parade by waving, pressing both hands in front of their chest, or giving a thumbs up. Some people expressed interest in learning Falun Gong. 
The car parades and signature drives are conducted simultaneously. Some Saipan residents asked the practitioners collecting signatures what the CCP stands for and what it has done. Practitioners explained how the CCP persecutes people of belief and tramples human rights, and how it conducts state-sanctioned organ harvesting from living Falun Gong practitioners and other prisoners of conscience for huge profits. 
Practitioners also told people about the CCP's killing of millions of Chinese people in its countless political campaigns ever since it took power. The CCP virus (coronavirus) pandemic, has caused the deaths of more than 1 million people globally, and people everywhere are thinking this over. 
Many people signed the petition after learning about the CCP's crimes. Some practitioners narrated their experiences of fleeing China to avoid persecution. People who heard these stories asked the practitioners what they could do to help.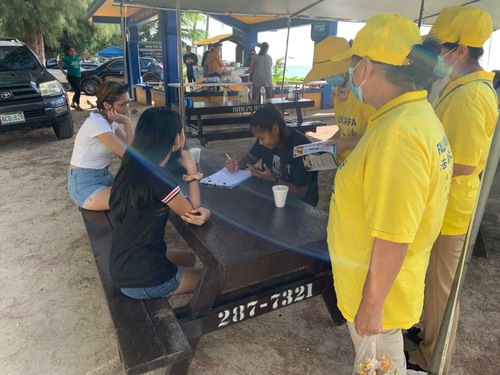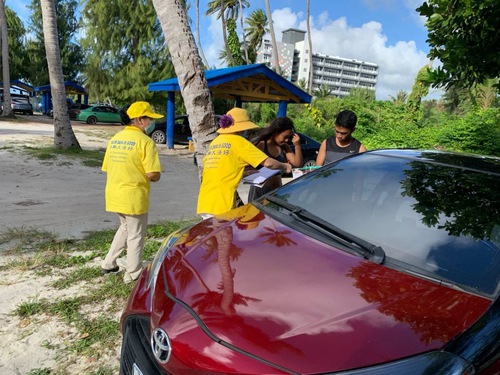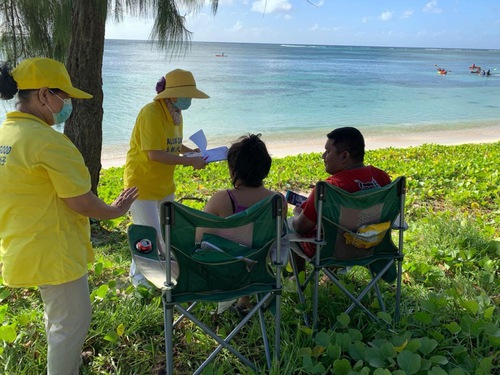 Falun Dafa practitioners in Saipan conduct a signature campaign and raise awareness of the persecution in China.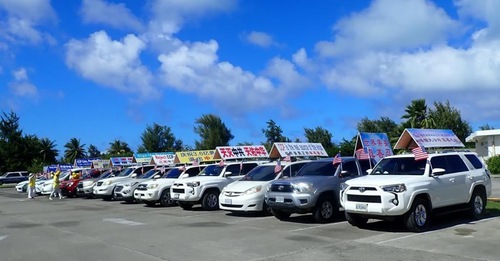 Car parade draws attention to the crimes of the CCP.