Widowed Man Secretly Sentenced in the Same Persecution That Had Claimed His Wife's Life (Graphic Photo)
Dec. 15, 2020 | By a Minghui correspondent in Jiangxi Province, China
(Minghui.org) Having lost his wife to the persecution of their shared faith in Falun Gong, a Xinyu City, Jiangxi Province resident was recently confirmed to have been secretly sentenced to prison in June 2020.
Falun Gong, also known as Falun Dafa, is an ancient spiritual and meditation discipline that has been persecuted by the Chinese communist regime since 1999.
Mr. Cai Jianyu, in his 50s, went missing in September 2019. After more than a year of asking around, his family just learned of his prison sentence. They only managed to find out that he had been taken to a prison in Nanchang City, and they still have no information about the prison or the length of his sentence as the authorities have not notified them of anything about his case since the family lost contact with Mr. Cai more than a year ago.
Ms. Li Liefeng
Mr. Cai and his late wife Ms. Li Liefeng's ordeal started when Ms. Li was arrested in August 1999 after she went to Beijing to appeal for the right to practice Falun Gong. After she was taken back to Xinyu, she was kept in custody at Mr. Cai's workplace, and Mr. Cai himself was reprimanded by his manager.
The police arrested Ms. Li again in October 2000 and ransacked their home. She was given a three-year term in a forced labor camp after 15 days of detention.
While Ms. Li was released early in October 2001, she was arrested again in January 2002. When Mr. Cai tried to stop the police from beating Ms. Li, he was arrested himself and also given a three-year term at Bajing Town Forced Labor Camp, where he was severely tortured for upholding his faith.
Ms. Li was arrested again on March 20, 2007 and sentenced to three years on August 20, 2008. The police called Mr. Cai and demanded that he threaten Ms. Li with divorce in order to force her to give up Falun Gong, but he refused.
When Ms. Li was released on March 10, 2010, many of her organs had been injured, especially her lungs, leaving her dependent on oxygen at all times. She was emaciated, had trouble walking, and had frequent coughs. Her body was swollen and always in pain. Mr. Cai took meticulous care of her, but she never recovered and died four years later on July 10, 2014.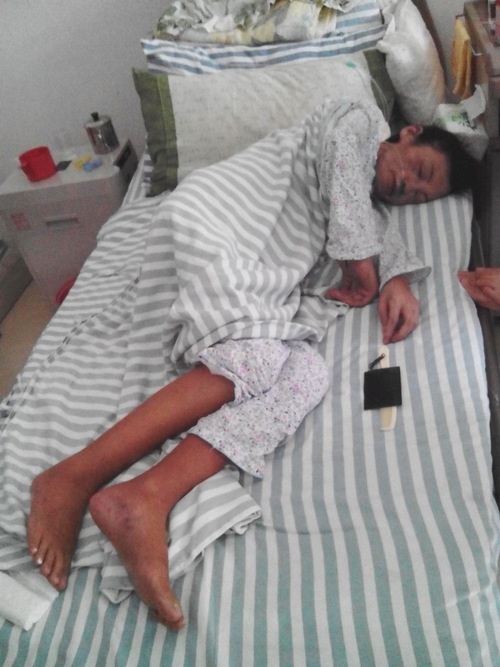 Ms. Li on the verge of death
Ms. Li's younger sister, Ms. Li Chunfeng, has also served time for practicing Falun Gong.
The younger Ms. Li was held at Jiangxi Province Women's Forced Labor Camp between 2000 and 2001. She was put in solitary confinement, tortured with intensive physical training, and forced to do unpaid labor.
She moved from Wuhan City, Hubei Province to Nanchang City, Jiangxi Province in 2006 to avoid persecution, only to be arrested in March 2007 after the police found out about her making informational materials about Falun Gong. She was tortured and interrogated in the police station before being taken to the Nanchang City No.1 Detention Center. She was sentenced to Jiangxi Province Women's Prison in August 2008.
Related report: