Canada: Elected Officials and Dignitaries Support Falun Dafa and Object to the Persecution on Human Rights Day (2)
Dec. 15, 2020 | By Minghui correspondent Zhang Yun
(Minghui.org) On the eve of Human Rights Day, December 10, many Members of Parliament (MP), lawyers, and representatives of non-governmental organizations expressed their admiration for Falun Dafa (also known as Falun Gong) practitioners and condemned the Chinese Communist Party's (CCP) persecution.
The Canada Falun Dafa Association and the Raoul Wallenberg Centre for Human Rights jointly held an online forum to commemorate International Human Rights Day on December 9, 2020. Several MPs and lawyers participated and spoke in the forum.
MP Garnett Genuis: Falun Gong Practitioners Lead the Effort against the Persecution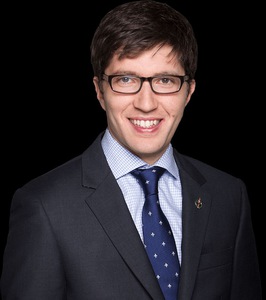 MP Garnett Genuis, Shadow Minister for Multiculturalism.
MP Genuis, a conservative critic of international development and human rights, proposed Bill S-204 to combat organ trafficking.
He said he had noted in the past several years, "...a really strong sense of collaboration and solidarity between different groups who are victims of state action by the Chinese Communist Party."
"People recognize the experience of Falun Gong and the leadership of the global Falun Gong community on a broad range of issues. I want to just recognize the experience of and the work in the leadership of people from the Falun Gong community. They highlight issues of the persecution of Falun Gong practitioners and the need for a response to that. They are also leading in helping other communities and collaborating with other communities of victims, Tibetans, Uyghurs and other Muslims, and people from Hong Kong."
He gave an example, "The dialogue happening between Uyghurs and Falun Gong practitioners on the issue of organ harvesting, recognizing that organ harvesting is something that has been going on for a long time targeting Falun Gong practitioners. There are increasing concerns about organ harvesting targeting Uyghurs now as well."
Bill Against Organ Trafficking Protects Canadian Values
"One of the things that is striking to me as well as the five years of being a member of parliament, is that when I started, there was a lot of discussion about human rights in China. And absolutely that continues to be part of the discussion, at least in the circles I'm in," MP Genuis said.
He pointed out people involved in this kind of advocacy face the CCP's threats. The Party seeks to intimidate and threaten Canadians on Canadian soil when they speak out about human rights issues.
"So that is an emerging issue that we need to be very much aware of and responding to," he said, "It is not only about projecting our values around the world, but about protecting our values here at home."
"Now, I wanted to just highlight a number of parliamentary issues to encourage your ongoing advocacy on these issues. It is well known to many of you. We are working on Bill S-204. This was the bill in the last parliament. It is a bill inspired by the work of Mr. Kilgour and Mr. Matas who did the groundbreaking work on organ harvesting and trafficking in China. These two great Canadians have done this great research."
"And other countries have taken up the charge to pass legislation on organ harvesting and trafficking," he said, "And yet here in Canada, the country from which the researchers came, has not stepped up.
"So we have this legislation that would make a big difference. It would make it a criminal offense for a person to go abroad and receive an organ, where there hadn't been consent, and also create a mechanism by which someone could be made inadmissible to Canada.
"If they had been involved in forced organ harvesting and trafficking, it's a strong mechanism to ensure that Canada would not be complicit in organ harvesting and trafficking."
MP Genuis said he hoped to get the bill passed in both houses. He said he would try to encourage the government to put forward a government bill, because passing a bill from a private member is much more difficult due to limited time and channels, and there is a long line. If the government made this a government bill, it would go through much faster and be sure to be effectively placed at the front of the line.
Leader of the Official Opposition of Canada: Canadians Always Stand Up for Human Rights and Religious Freedom
Video from MP Erin O'Toole, leader of the Official Opposition of Canada and leader of the Conservative Party of Canada. (download 18 MB)
MP Erin O'Toole sent a video greeting. He said, "I'm honored to commemorate International Human Rights Day with you." He said that MP Peter Kent "had been a tremendous advocate for human rights, and especially those who practice Falun Gong. I'm grateful to have worked with him in the House of Commons."
"Friends, freedom of worship is a pillar of our democracy. It's a natural extension of Canadian values. It's why I have promoted religious freedom in my entire parliamentary career. Canada must defend religious freedom around the world, including standing up for the Falun Gong.
"This year it's been 21 years since the start of China's illegal and violent persecution of those who practice your faith. Hundreds of thousands have suffered forced labor, torture, and execution since 1999 without any cause or justification.
"And here in Canada Chinese agents have posed as students, tourists, and workers in order to get into our country and threaten those who practice Falun Gong. This is absolutely unacceptable to me and must end immediately.
"We successfully passed a motion in parliament on November 18. It called for the government to combat China's increasing intimidation of Canadian citizens on Canadian soil. We will also re-open Canada's Office of Religious Freedom so that the right for religious freedom is a crucial part of our foreign policy."
Canada's Office of Religious Freedom was set up in the Ministry of Foreign Affairs on February 19, 2013 by former Prime Minister Harper. Canada was the second country to establish this office after the United States.
"Friends, I say this with conviction and pride, at home and abroad. We will always stand up for human rights and religious freedom, including the protection of those who practice Falun Gong."
He said in conclusion, "It's at the core of who we are. As Canadians, we will never back down from calling out those that threaten the freedom of worship."