U.S. State Department Tightens Visa Restrictions on CCP Members and United Front Officials
Dec. 13, 2020 | By Minghui correspondents Wang Ying, Ying Zi, and Li Yanbai
(Minghui.org) U.S. Secretary of State Mike Pompeo announced on December 4 that the State Department would impose visa restrictions on Chinese Communist Party (CCP) United Front Department officials, especially those who have threatened organizations or individuals outside of China.
This is part of a series of actions that the State Department has taken to curb the CCP's infiltration of the U.S. The department had confirmed on December 3 that visa terms would be tightened for CCP members and their family members.
Since September 2020, U.S. officials have stepped up border controls and increased scrutiny of CCP affiliation of crew members on ships and planes from China. Furthermore, a notice from U.S. Citizenship and Immigration Services (USCIS) on October 2 reiterated that CCP members would be ineligible for U.S. visa. A recent resolution proposed in the House of Representatives would designate the CCP as a Transnational Organized Crime Group if passed.
Sanctions on CCP Officials for "Coercive Influence Activities"
"The Chinese Communist Party (CCP) has long sought to spread Marxist-Leninist ideology and exert its influence all over the world. The CCP's United Front Work Department funds and supports overseas organizations to spread propaganda and coerces and bullies those who would oppose Beijing's policies," said the press statement from Pompeo on December 4.
"The United Front frequently intimidates members of academia, businesses, civil society groups, and Chinese diaspora communities, including members of ethnic and religious minority communities who speak out against horrific human rights abuses taking place in Xinjiang, Tibet, and elsewhere in China.
"Its coercive tactics target individuals viewed as working against CCP interests. These tactics include the release of personal details ('doxing') of their targets and even their family members online as a means of political intimidation," the statement continued.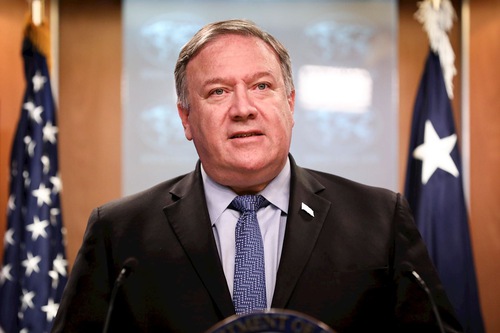 U.S. Secretary of State Mike Pompeo has announced sanctions of officials from the CCP's United Front Work Department
Under the authority listed in Section 212(a)(3)(C) of the Immigration and Nationality Act, visa restrictions were imposed on "PRC and CCP officials, or individuals active in United Front Work Department activities, who have engaged in the use or threat of physical violence, theft and release of private information, espionage, sabotage, or malicious interference in domestic political affairs, academic freedom, personal privacy, or business activity."
"These malign activities are intended to co-opt and coerce sub-national leaders, overseas Chinese communities, academia, and other civil society groups both in the United States and other countries in furtherance of the CCP's authoritarian narratives and policy preferences," the statement continued. "I will continue to implement such visa restrictions to make clear that those responsible for actions that contravene the rules-based international order are not welcome in the United States."
Reduced Visa Terms for CCP Members
A State Department spokesman confirmed on December 3 that a new policy had been issued to reduced B1/B2 visa terms from 10 years to one month for CCP members and their families. In addition, these individuals would now be given single-entry visas rather than multiple-entry ones.
This is part of "ongoing policy, regulatory, and law-enforcement action across the U.S. government to protect our nation from the CCP's malign influence," said the spokesman. "Through various entities, the CCP and its members actively work in the U.S. to influence Americans through propaganda, economic coercion, and other nefarious activities."
CCP Member Denied Immigration Visa and Entry
"The CCP also sends agents to the United States to unabashedly monitor, threaten, and report on Chinese nationals and Chinese-American groups engaging in legal, honest, and open activities that are protected under freedom of speech and freedom of assembly clauses," the spokesman added, adding the State Department argued that it has the authority to restrict visa terms of groups of individuals hostile to U.S. values under the Immigration and Nationality Act.
Based on a policy guidance issued by the USCIS on October 2, "In general, unless otherwise exempt, any immigrant who is or has been a member of or affiliated with the Communist or any other totalitarian party (or subdivision or affiliate), domestic or foreign, is inadmissible to the United States."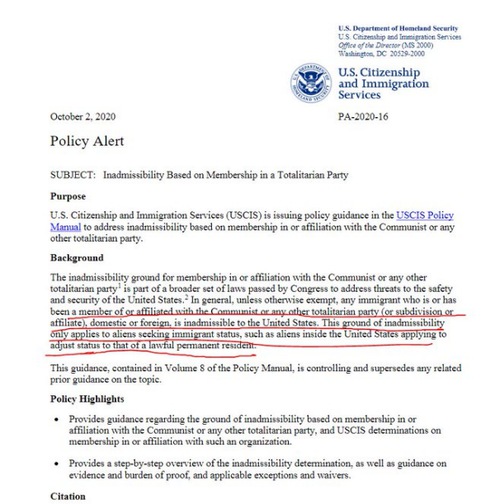 Policy update by the USCIS on October 2
According to the manual, the inadmissibility was established "to protect the United States against un-American and subversive activities that were considered threats to national security."
The CCP news media China Daily reported on November 30 that U.S. law enforcement agencies had intensified inspection of crew members on ships from China. More specifically, U.S. officials asked if the crew members were affiliated with the CCP and, if so, why they joined the organization. Between September and November 11, 21 ships and 16 planes were inspected in this way.
Zheng Cunzhu, a lawyer in Los Angeles, California, posted on Twitter on September 17 that the father of a Chinese American was denied an immigration visa due to his CCP membership. When he arrived in the U.S. on a tourist visa, he was also denied entry at Detroit. Zheng suggested that the father renounce his CCP membership and obtain a certificate of his withdrawal from the Communist Party before applying for immigration again.
An Effective Way of Countering Communism
"It would be an important step in the direction that Secretary of State Mike Pompeo has been going in the last few months, to delegitimize the Communist Party and its 90 million members," remarked Mike Pillsbury, director of the Center for Chinese Strategy at the Hudson Institute in Washington.
He said the visa ban is also an effective approach because the CCP has no similar measures to retaliate against the U.S.
Over 1,000 Researchers Related to Chinese Military Expelled
Other U.S. agencies have also taken initiatives to stop intellectual property theft by the CCP. John Demers, assistant attorney general for national security, said on December 2 that more than 1,000 Chinese researchers with connections to the Chinese military had been expelled from the U.S.
The U.S. Justice Department had arrested several people affiliated with the Chinese military this year who were studying or conducting research in the U.S. Because they did not disclose their relationships to the Chinese military when they applied for U.S. visas, they were charged with fraud. One of them was a female researcher who hid in the Chinese Consulate in San Francisco for weeks before being arrested in late July.
Referring to these cases as "just the tip of the iceberg," Demers said investigations by his agency had revealed a gigantic network of secret undercover agents in the U.S. from the Chinese military.
The U.S. Department of State has designated over 10 Chinese media outlets that operate in the U.S. as foreign missions due to their connection with the CCP. Furthermore, the U.S. Government closed the Chinese Consulate in Houston in July for its spying activities.
House Report: Communist Ideology Is Undermining Western Values
After several months of investigations, U.S. House Republicans released a report with a title of "US must act decisively" on October 1 detailing why the CCP poses a major risk to American safety and prosperity. Released by the China Task Force, the report listed 83 key findings and 430 policy recommendations on how the U.S. can counter these threats from the CCP.
"The PRC is undertaking aggressive military transformation to become a modernized force by 2035 and emerge as a world-class military by the end of 2049. The growing challenge posed by the CCP today is likely the military challenge of the century," wrote the report.
Among the 430 policy recommendations, 60% had bipartisan support. One-third of these proposals were passed in either the Senate or the House of Representatives.
Furthermore, H. R. 8491 was introduced in the U.S. House of Representatives to "designate the Chinese Communist Party (CCP) as a transnational organized crime group." This resolution referred to the Congressional-Executive Commission on China's (CECC)'s 2019 report, which "found that the human rights situation has worsened and the rule of law continues to deteriorate, as the Chinese Government and Party increasingly used regulations and laws to assert social and political control… The abuse of criminal law and police power to target rights advocates, religious believers, and ethnic minority groups also continues unabated, and reporting on such abuses became increasingly restricted."
"The criminally negligent actions taken by the CCP following their discovery of the coronavirus have contributed to the loss of millions of American jobs and the onset of a global recession," said the resolution.
Yi Rong from the Global Service Center for Quitting the CCP (Tuidang) said the Center has helped many Chinese to renounce their memberships in the CCP organizations, which also include the Communist Youth League and the Young Pioneers.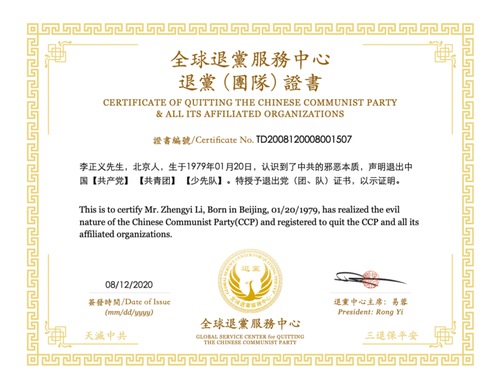 Example certificate of quitting the CCP from the Tuidang Center
"The CCP will face consequences for the crimes and harm it has caused to Chinese people and the world," Yi said. "Quitting the regime will help one head to a brighter future."
Related articles in Chinese: