Canada: Elected Officials and Dignitaries Support Falun Dafa and Object to the Persecution on Human Rights Day (1)
Dec. 12, 2020 | By Minghui correspondent Ying Xing
(Minghui.org) On the eve of Human Rights Day, December 10, many Members of Parliament (MP), lawyers, and representatives of non-governmental organizations expressed their admiration for Falun Dafa practitioners. They also condemned the Chinese Communist Party's (CCP) persecution.
"I Commend You for Your Truthfulness, Compassion, and Resolve."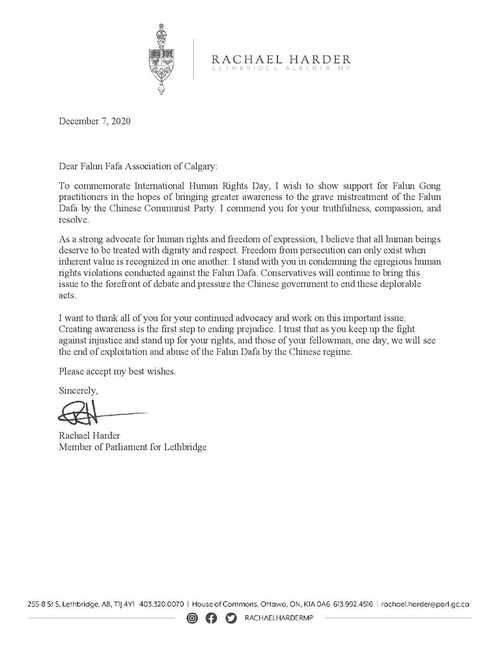 Letter from MP Rachael Harder
MP Rachael Harder wrote, "To commemorate International Human Rights Day, I wish to show support for Falun Gong practitioners in the hopes of bringing greater awareness to the grave mistreatment of the Falun Dafa by the Chinese Communist Party. I commend you for your truthfulness, compassion, and resolve."
She condemned the persecution, "I stand with you in condemning the egregious human rights violations conducted against the Falun Dafa. Conservatives will continue to bring this issue to the forefront of debate and pressure the Chinese government to end these deplorable acts."
"I want to thank all of you for your continued advocacy and work on this important issue. Creating awareness is the first step to ending prejudice. I trust that as you keep up the fight against injustice and stand up for your rights, and those of your fellow man, one day, we will see the end of exploitation and abuse of the Falun Dafa by the Chinese regime."
"Standing Against the Communist Party's Ongoing Atrocities"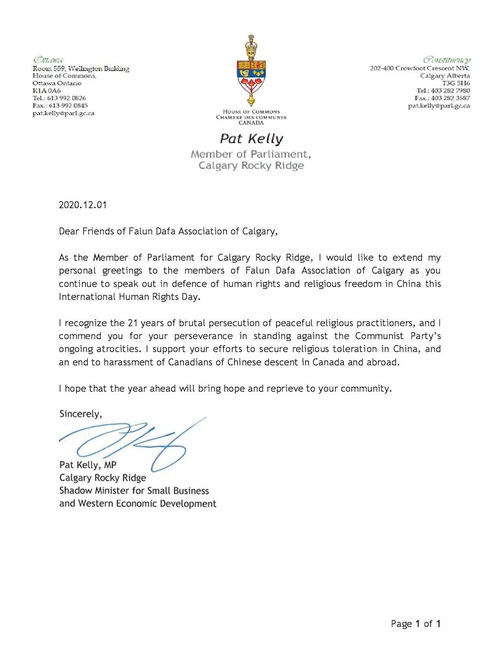 Letter from MP Pat Kelly
MP Pat Kelly stated in his letter, "I recognize the 21 years of brutal persecution of peaceful religious practitioners, and I commend you for your perseverance in standing against the Communist Party's ongoing atrocities. I support your efforts to secure religious toleration in China, and an end to harassment of Canadians of Chinese descent in Canada and abroad."
Promote Our Common Values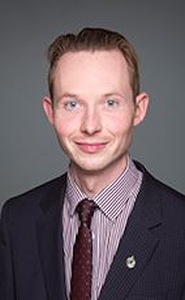 MP Michael Cooper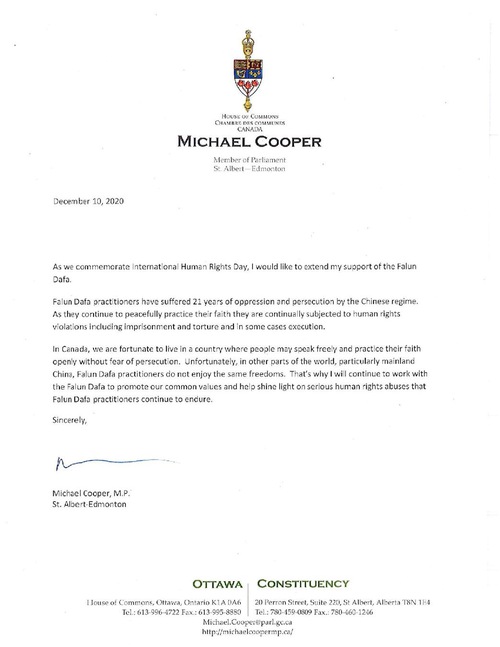 Letter from MP Michael Cooper
"Falun Dafa practitioners have suffered 21 years of oppression and persecution by the Chinese regime," stated MP Michael Cooper in his letter, "As they continue to peacefully practice their faith they are continually subjected to human rights violations including imprisonment and torture and in some cases execution."
"In Canada, we are fortunate to live in a country where people may speak freely and practice their faith openly without fear of persecution. Unfortunately, in other parts of the world, particularly mainland China, Falun Dafa practitioners do not enjoy the same freedoms. That's why I will continue to work with the Falun Dafa to promote our common values and help shine light on serious human rights abuses that Falun Dafa practitioners continue to endure."
Co-chair of Parliamentary Friends of Falun Gong: Justice and Human Rights Are Important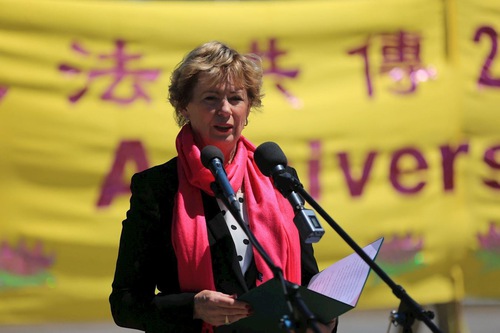 Liberal MP Judy Sgro, co-chair of Parliamentary Friends of Falun Gong (PFOFG)
Liberal MP Judy Sgro greeted each one celebrating the International Human Rights Day in her video. She said we celebrated all the forces that unite us together. We recognize that passion, justice and the (human rights) issues of our common concern bind us closely. Justice and human rights is of paramount importance to all of us.
She said that undeserved suffering and injustice are happening across the world. We will move forward to support those people whose human rights are infringed upon.
Former Senator: Falun Gong Practitioners Are Heroes in My Mind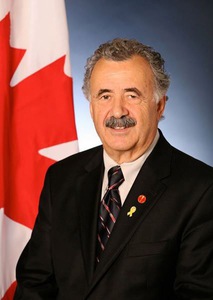 Former Senator Consiglio Di Nino
Former Senator Consiglio Di Nino said in his video greeting that he respected Falun Gong practitioners and commended their non-violent protest. He hoped Falun Gong practitioners will continue their efforts until they have freedom in China.
He condemned the CCP's persecution of millions of innocent Falun Gong practitioners who follow their belief in Truthfulness-Compassion-Forbearance.
He said Falun Gong practitioners and those objecting to the CCP's human rights violations are heroes. He expressed his support for them.