Director of National Intelligence: Communist China Is No. 1 Security Threat
Dec. 10, 2020 | By Minghui correspondent Wang Ying
(Minghui.org) John Ratcliffe, Director of U.S. National Intelligence, published an article in the Wall Street Journal on December 3 in which he stated, "Resisting Beijing's attempt to reshape and dominate the world is the challenge of our generation."
"The People's Republic of China poses the greatest threat to America today, and the greatest threat to democracy and freedom world-wide since World War II," he wrote in the article titled "China Is National Security Threat No. 1."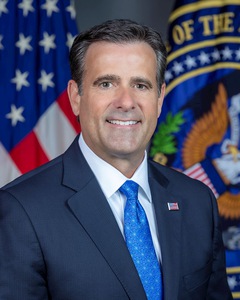 John Ratcliffe, Director of U.S. National Intelligence
"The intelligence is clear. Our response must be as well"
As Director of National Intelligence, Ratcliffe has access to more intelligence than any member of the U.S. government other than the president. While overseeing the intelligence agencies, his office produces the President's Daily Brief detailing the threats facing the country. Given his role, Ratcliffe said, "If I could communicate one thing to the American people from this unique vantage point, it is that the People's Republic of China poses the greatest threat to America today, and the greatest threat to democracy and freedom world-wide since World War II."
"The intelligence is clear: Beijing intends to dominate the U.S. and the rest of the planet economically, militarily and technologically," he continued. "Many of China's major public initiatives and prominent companies offer only a layer of camouflage to the activities of the Chinese Communist Party."
Ratcliffe called this approach of economic espionage "rob, replicate and replace." "China robs U.S. companies of their intellectual property, replicates the technology, and then replaces the U.S. firms in the global marketplace," he explained.
China is also advancing world-class capabilities in emerging technologies. "Its intelligence services use their access to tech firms such as Huawei to enable malicious activities, including the introduction of vulnerabilities into software and equipment," he added. The consequences are serious because it increases "Beijing's opportunities to collect intelligence, disrupt communications and threaten user privacy world-wide." 
Ratcliffe gave an example how communist China influences U.S. legislature through union leaders at its firms in the U.S. "Our intelligence shows that Beijing regularly directs this type of influence operation in the U.S. I briefed the House and Senate Intelligence committees that China is targeting members of Congress with six times the frequency of Russia and 12 times the frequency of Iran," he explained. 
The FBI has made many arrests of Chinese nationals for stealing research-and-development secrets. "Penalties were imposed but the damage was done," he remarked. "The U.S. government estimates that China's intellectual-property theft costs America as much as $500 billion a year, or between $4,000 and $6,000 per U.S. household."
Beijing is preparing for an open-ended period of confrontation with the U.S. and the world. "Washington should also be prepared. Leaders must work across partisan divides to understand the threat, speak about it openly, and take action to address it," he concluded. "This generation will be judged by its response to China's effort to reshape the world in its own image and replace America as the dominant superpower. The intelligence is clear. Our response must be as well."
Senate Committee on Intelligence: "Beijing's Infiltration of U.S. Society Has Been Deliberate and Insidious"
Marco Rubio and Mark Warner, Acting Chairman and Vice Chairman of the Senate Select Committee on Intelligence, respectively, released a joint statement on December 4. "We agree with DNI Ratcliffe that China poses the greatest national security threat to the United States. Our intelligence is clear: the Chinese Communist Party will stop at nothing to exert its global dominance," they said in the statement, available on the Senate website.
"Beijing's infiltration of U.S. society has been deliberate and insidious as they use every instrument of influence available to accelerate their rise at America's expense," the statement continued. "Our democratic values are threatened by China's attempts to supplant American leadership and remake the international community in their image." 
The impact is deep and wide. "The Chinese Communist Party's authoritarian leaders seek to threaten our free speech, politics, technology, economy, military, and even our drive to counter the COVID-19 pandemic," explained the statement. "Unfortunately, the United States' challenge with China is not unique as Beijing seeks to infiltrate and subvert other nations around the world, including our allies."
"This is our watershed moment and we must stand our ground," the statement concluded. "The message to Beijing and the world is that China's behavior will not be tolerated and will be contested by democratic values, in close partnership with our allies and partners."
Foreign Inference in Election Not to Be Tolerated
According to "Executive Order on Imposing Certain Sanctions in the Event of Foreign Interference in a United States Election" issued by Donald Trump on September 12, 2018, "Not later than 45 days after the conclusion of a United States election, the Director of National Intelligence, in consultation with the heads of any other appropriate executive departments and agencies (agencies), shall conduct an assessment of any information indicating that a foreign government, or any person acting as an agent of or on behalf of a foreign government, has acted with the intent or purpose of interfering in that election."
Through the Secretary of the Treasury, the Secretary of State, the Attorney General, and the Secretary of Homeland Security, individuals and organizations involved in foreign interference in a U.S. election are subject to sanctions. 
In a speech delivered on October 21, Ratcliffe also said that foreign interference in a U.S. election is not to be tolerated.