Practitioners in Montreal Call for the CCP's Disintegration
Nov. 3, 2020 | By a Minghui Correspondent in Quebec, Canada
(Minghui.org) Falun Gong practitioners called for the disintegration of the Chinese Communist Party (CCP) in front of the Chinese consulate in Montreal on October 27, 2020.
Their calls were in response to the 21-year-long brutal persecution of Falun Gong in China and the harm the CCP has caused the world. Practitioners who collected signatures on a petition calling to end the CCP received great support from the public. Many practitioners felt that the pandemic has awakened more people to the threat posed by the CCP to the world.
Practitioners lined up along the road outside the Chinese consulate and held large French, English, and Chinese banners that read, "Falun Dafa Is Good," "Stop the Persecution of Falun Gong," "Stop Organ Harvesting," "The CCP Lies, People Die," "CCP is the Root of the Pandemic," and "Quit the CCP to be Safe." A parade of cars also circled the streets near the Chinese consulate spreading these messages.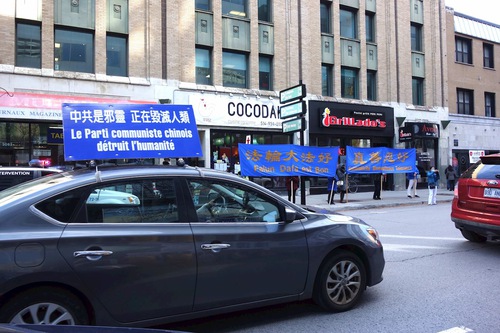 Car tour in front of the Chinese consulate in Montreal. The message on top of the car in Chinese reads, "The Communist Party is evil, it is destroying humanity."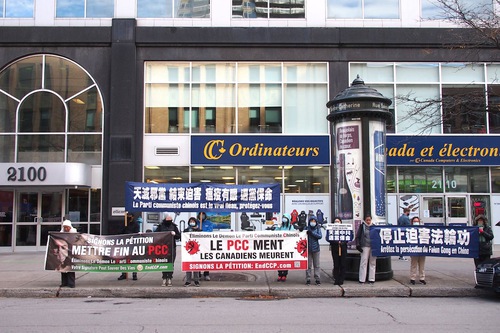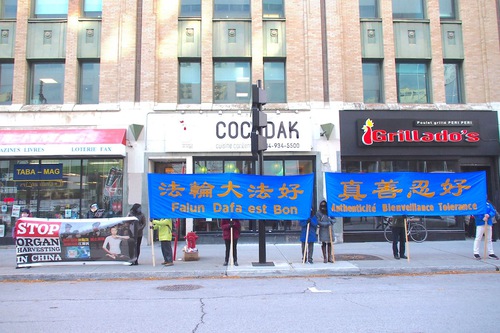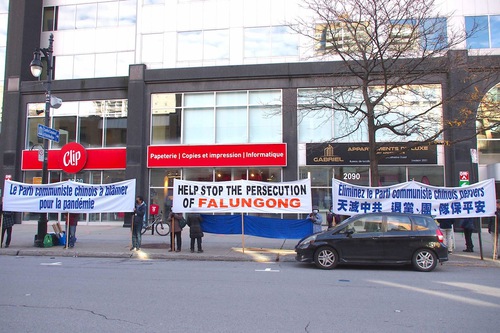 Falun Gong practitioners hold banners in front of the Chinese consulate in Montreal.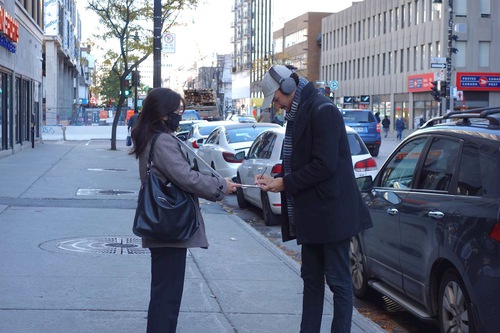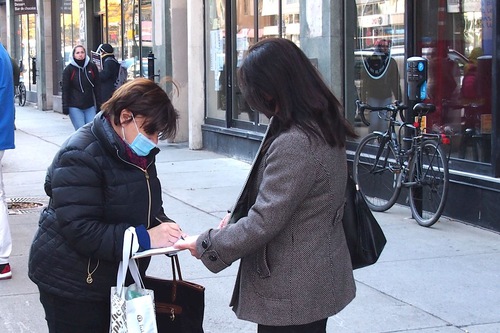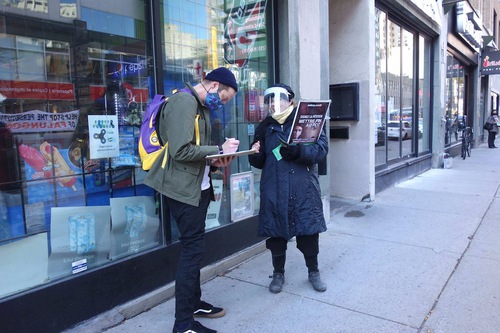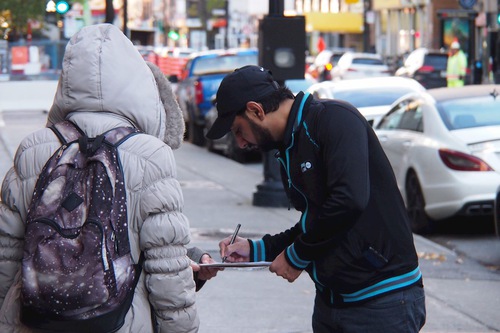 People in Quebec sign a petition calling to end the CCP.
Many people stopped to read the banners and take pictures. Some thanked practitioners and encouraged them to keep up the great work. Many people were very supportive of the petition to end the CCP. One person said, "What you are doing is right!" Another person said, "Of course I would like to sign!" And another said, "Thank you for speaking my mind."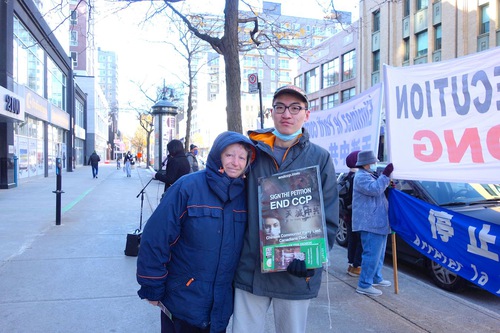 Galina thanks Falun Gong practitioners for stepping out to spread the truth.
A woman named Galina told a practitioner that she was touched by the practitioners' great deeds, because she was from the former Soviet Union, and knew the evil and deceptive nature of the Communist Party. "All of the Communist Party's words are lies. It's great you are telling people about it. Your activities are significant. We must block the Communist Party's influence," she said.
Bishakh, a student at McGill University, was happy to see the signature collection. He had lived in Taiwan and knew about the CCP's cruel persecution of Falun Gong. He hoped to see all Western countries unite to resist the CCP. "What the CCP has done is threatening the whole world. If all people in Western countries could take action and resist the CCP, the world will head in a better direction," he said.
Practitioners also called on employees of the Chinese consulate to make the right choice for their futures and renounce the CCP and its affiliated youth organizations. A practitioner named Ms. Yang said in her speech during a rally in front of the consulate, "You are in a free land where you are able to watch the news without censorship. You know the CCP's collapse is inevitable. Those who quit the CCP will be blessed. Hurry up to cast away the CCP! I wish you a bright future. It's the wish of all Falun Gong practitioners!"