My Daughter Helped Me Get Rid of My Human Notions and Clarify the Truth to Neighbors
Nov. 11, 2020 | By a western Falun Dafa practitioner in France
(Minghui.org) My eight-year-old daughter, Mayla, was on school break. One morning after we meditated she said, "Mom, after doing my homework today, I'd like to deliver 'Rejecting the Chinese Communist Party (CCP)' flyers to our neighbors."
I said, "Sure, but it's better that I go with you."
She said, "If I just put the flyer in the mailbox, I'm afraid they won't understand what it's for. It's better if I knock on the door and explain to them."
I said, "Sounds good. Let's do it."
She also asked me to bring petition forms. I was surprised and delighted that everything came together so smoothly.
But, I had many notions. Our neighborhood is relatively high-end, and people keep their distance. I rarely talked with my neighbors. Since it was a weekday and almost noon when we set out I thought that few neighbors would be home. If it was just me, I probably wouldn't have tried to talk to them in person. But, my daughter's innocence made me see my notions. I started to send righteous thoughts to get rid of my negative thoughts.
My daughter finished her homework, and quickly prepared the materials. She said, "Let's go now. I want to bring some little lotus flowers too."
We spent over 2 hours delivering flyers to all of our neighbors. We talked to 67 households. Now, about 95% of our neighbors know how the CCP lied and covered up the coronavirus situation in China. We also explained to them the persecution of Falun Dafa and told them to reject the CCP.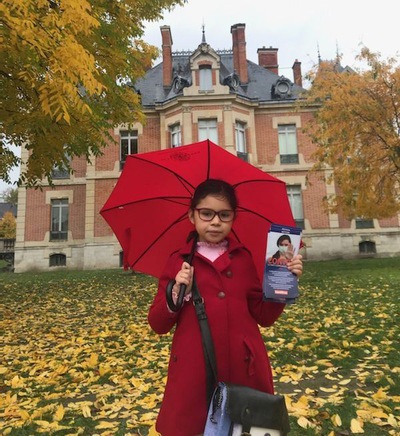 Mayla, eight-year-old Falun Dafa practitioner
Many neighbors thanked us and said that we were doing a good thing. They agreed to sign the petition. Some read through the flyer very carefully. Some even wanted to join our group meditation. Our conversations were very positive and effective.
People feel that one neighbor Marshall, is mean and unfriendly. The children are afraid of him. His car is always very clean, and he yells at them when they play near it. He often looks angry and doesn't acknowledge me when I politely greet him. He was standing in his doorway when we approached his house. To my surprise, when I told him about the CCP's crimes, he said, "That's horrible. I agree that we should reject the CCP." We chatted with him for over 20 minutes. He even encouraged us to continue what we were doing, and said he'd like to talk to us more in the future.
On the way home, my daughter ran into her friend, and said, "Guess what? We talked to Marshall!" Her friend said, "What! You can't talk to him, because he's too scary!" My daughter said, "That's not true. He's actually very kind."
My daughter and I were very happy. I told her, "Next, we should go to the downtown area." She said, "That would be great!" I promised to do it with her later this week.
The experience makes me realize that I shouldn't be stopped by my notions. We should just simply go out and save people – as children would.