Taiwan: Nine-Day Falun Gong Seminar Held in Taichung
Oct. 4, 2020 | By Minghui correspondent Hsi Yun
(Minghui.org) A nine-day Falun Gong seminar was held at Chung Hsing University on September 21-29, 2020. The event was sponsored by the Falun Dafa Club at Chung Hsing University. The classroom was filled to capacity with new and veteran Falun Gong practitioners. Some shared their experiences after the seminar.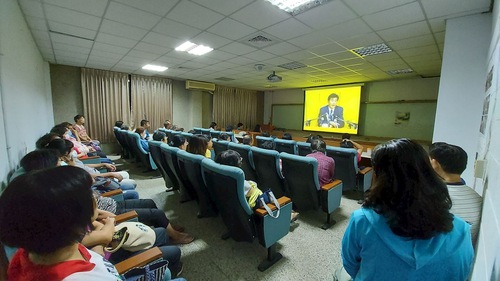 Falun Gong seminar at Chung Hsing University
This was the second seminar held in Taichung. The first was held in Taiping District, Taichung on September 1-9. Over 40 people participated in that seminar. The attendees watched the video of Master Li's lecture. New practitioners learned the exercises by following the Falun Gong exercise instruction video. Veteran practitioners helped correct the hand gestures for the new practitioners.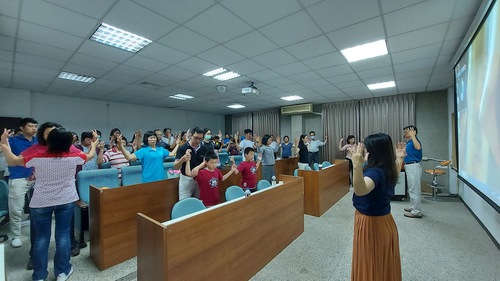 Falun Gong seminar at Taiping District, Taichung
Teaching Good Moral Character
Chia Hung brought his two children to attend the seminar. He said that after learning Falun Gong he understood that "Truthfulness-Compassion-Forbearance is precious and benefits human beings throughout the world."
He said that Falun Dafa (also called Falun Gong) is without doubt the best moral education for children. He said he hopes his children will learn and practice Falun Gong.
"I said to my wife and mother that moral education is more important than learning knowledge and technology," Chia Hung said, "No matter how good one's skills are and how much money one can make, if one is of bad character, one has no future."
He noted that moral education was not stressed in schools. So he helped his children learn Falun Dafa to understand the importance of being of a good character.
Practitioners Share their Understandings
Chia liked the sitting meditation and found Falun Gong online. He then learned it from watching it online. He said that from reading Zhuan Falun, the main book of Falun Gong, he learned what cultivation was all about. He shared that he had new enlightenment once in a while, and believed that it was an improvement to raise ones realm. He realized it was true cultivation.
Practitioner Hsia has lived in Germany for 40 years and started learning Falun Gong recently. He said that he liked watching NTD television programs in Germany, and already knew of Falun Gong. He said he was delighted when first reading Zhuan Falun. He studied other cultivation schools for over 20 years and knew that Master Li taught the principles that no others have taught throughout this world.
He encouraged other new practitioners to read Dafa books besides practicing the exercises. He shared his thoughts about Zhuan Falun and Master's principles, "They look simple when you read them at the beginning. You will find that they are not that simple after a while. You may have a different understanding even after reading the book twice."
Hsuan Bao and his wife Lian Mei participated in the nine-day seminar. He had learned Falun Gong at a Chung Hsing University practice site seven years ago. He stopped practicing due to a busy work and study schedule. He felt his health deteriorating recently, and thus decided to participate in the seminar. He was determined to cultivate diligently from then on.
"I have a predestined relationship with Falun Gong," new practitioner Feng said when talking about his learning of Falun Gong. He said he knew of Falun Gong from watching NTD television, and wished to buy Falun Gong books. After reading the books, he noted that Falun Gong required xinxing improvement, which is rare in qigong. He thought that the spiritual cultivation was more comprehensive and pragmatic, even leading to a change in one's fate.
Chia Ru learned Falun Gong in 2001, and participated in the nine-day seminar again. He said he had new enlightenment in bearing hardship, but still felt like a beginner.
"I was delighted when I began to practice Falun Gong," he said, "It was possibly due to inborn quality that I felt cultivation was easy. But along with practicing and passing time, I felt I had to improve my xinxing, and enlarge my capacity of bearing hardships. Given that, cultivation is hard."
Chia shared that Master said that a cultivator needs to bear hardships and let go of the attachments to fame, personal interest, and sentimentality. He said he became more capable of bearing hardship and letting go after attending the nine-day seminar.