Vatican City: U.S. Secretary of State Urges Faith Leaders to Counter the CCP for Religious Freedom
Oct. 4, 2020 | By Minghui correspondent Wang Ying
(Minghui.org) United States Secretary of State Mike Pompeo recently visited Vatican City. Although unable to meet Pope Francis, he gave a speech at a religious freedom forum on September 30 urging faith leaders, including the Holy See, to stand up against the Chinese Communist Party's (CCP) tyranny and defend human dignity.
Hosted by the U.S. Embassy to the Holy See, the forum was titled "Advancing and Defending International Religious Freedom through Diplomacy." During his visit, Pompeo also met with Vatican Secretary of State Cardinal Pietro Parolin and Secretary for Relations with States Archbishop Paul Gallagher to discuss advancement of peace, freedom, and human dignity through collaborations between the U.S. and the Holy See.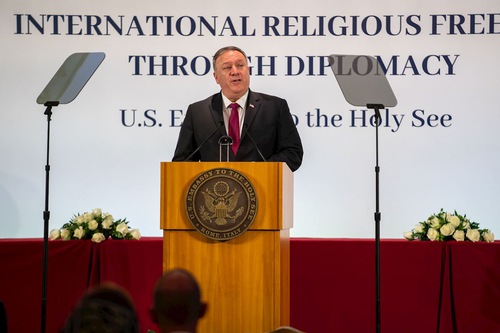 Mike Pompeo, the United States Secretary of State, spoke in Vatican City on September 30 about religious freedom challenges caused by the Chinese Communist Party (CCP).
The Dire Situation in China
In the speech titled "Moral Witness and Religious Freedom," Pompeo said that 75 years had passed since World War II ended in Europe, but that people still remember well those people who confronted the Nazi regime with conscience. One example was Father Bernhard Lichtenberg, a priest in Berlin who tirelessly helped Jews and prayed for their safety.
Such courage is fundamentally consistent with the U.S. founding principles. "Our founders regarded religious freedom as an absolutely essential right of mankind and central to our founding," he explained. He said this is critical because authoritarian regimes nowadays are undermining religious freedom around the world.
Among them, the worst one is the CCP. "Nowhere is religious freedom under assault more than it is inside of China today," he continued, "That's because, as with all communist regimes, the Chinese Communist Party deems itself the ultimate moral authority." In addition, "An increasingly repressive CCP, frightened by its own lack of democratic legitimacy, works day and night to snuff out the lamp of freedom, especially religious freedom, on a horrifying scale."
Pompeo pointed out that, "The Chinese Communist Party has battered every religious community in China: Protestant house churches, Tibetan Buddhists, Falun Gong devotees, and more."
"We must support those demanding freedoms in our time"
"We must support those demanding freedoms in our time, like Father Lichtenberg did," Pompeo proposed. He said that the U.S. Government has worked hard on this, but like in other nation-states, not all leaders are able to place it as a top priority. "Countries must sometimes make compromises to advance good ends, leaders come and go, and indeed priorities change."
Faith leaders, on the other hand, are in a different position. He added, "Earthly considerations shouldn't discourage principled stances based on eternal truths." In history, Catholics played a critical role defending human dignity. For example, he said, "French Catholic philosopher Jacques Maritain helped lay the intellectual foundation for the Universal Declaration of Human Rights in 1948."
Similarly, Pope John Paul II was a key driver of conscience that brought down the Iron Curtain to end the Cold War. Pope Emeritus Benedict also emphasized religious freedom as "an essential element of a constitutional state" as well as "the litmus test for the respect of all human rights."
All these have set good examples for the faith leaders today. "As Christians, we all know we live in a fallen world. That means that those who have responsibility for the common good must sometimes deal with wicked men and indeed with wicked regimes," Pompeo continued, "But in doing so—in doing so, statesmen representing democracies must never lose sight of the moral truths and human dignity that make democracy itself possible."
He said, "Pope Francis has exhorted the Church to be 'permanently in a state of mission,'" and pointed out that, "To be a Church 'permanently in a state of mission' has many meanings. Surely, one of them is to be a Church permanently in defense of basic human rights."
As such, Pompeo urged the Church to permanently oppose tyrannical regimes and to support, "those who wish to take 'the risk of freedom' of which Pope John Paul II spoke, especially, most especially where religious freedom is denied, or limited, or even crushed."
Such responsibilities are not only limited to Christians and Catholics. Pompeo called on "every faith leader to find the courage to confront religious persecution against their own communities, as well as Father Lichtenberg did against members of other faiths as well."
"We must support those demanding freedoms in our time, like Father Lichtenberg did," he reiterated.