Two Women Beaten for Raising Awareness about Their Faith, One Remains in Brainwashing Center
Oct. 3, 2020 | By a Minghui correspondent in Hebei Province, China
(Minghui.org) Two women in Chengde City, Hebei Province, were arrested and beaten on September 10, 2020, for talking to people at a farmers' market about the persecution of their faith in Falun Gong. One of them is still being held in a brainwashing center at the time of writing.
Falun Gong, also known as Falun Dafa, is an ancient spiritual and meditation discipline that has been persecuted by the Chinese communist regime since 1999.
Ms. Ji Shujun and Ms. Peng Xia went to Tumu Town in Zhangjiakou City, about 180 miles away, on September 10, 2020, to raise awareness about the persecution of Falun Gong.
Police officers noticed and arrested them. Ms. Ji and Ms. Peng were handcuffed together and pushed into the police car. The handcuffs cut deeply into Ms. Peng's wrists and left dark bruises.
At the police station, the women refused to get out of the car. The police dragged them out and into the front yard of the station. Their shoes fell off, their sleeves were torn, and their backs were injured.
When an officer asked Ms. Ji what she was doing at the farmers' market, she replied that she was there to inform people about the persecution. She urged the police not to assist the communist regime to do the wrong thing or to participate in the persecution.
The police refused to listen and verbally abused Falun Gong and its founder. The practitioners tried to stop them and shouted, "Falun Dafa is good!"
As they were shouting, an officer kicked Ms. Ji's arm, slapped her in the face, and hit her mouth with her shoe. Her mouth swelled up. When it began to rain moments later, the police stopped mistreating Ms. Ji.
Ms. Ji and Ms. Peng were taken to Dahuangzhuang Brainwashing Center later that day. They held a hunger strike to protest the persecution.
Although Ms. Ji was released on the afternoon of September 12, Ms. Peng is still in the brainwashing center.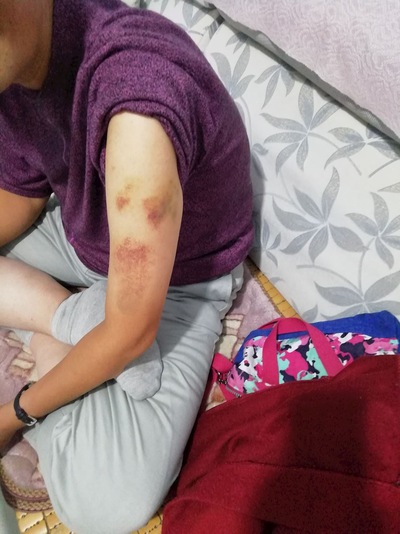 The bruises on Ms. Ji's arm were still very dark 10 days later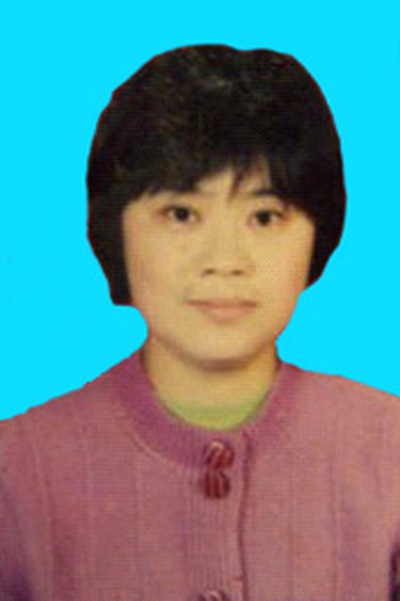 Ms. Ji Shujun
Related reports:
Accountant Ms. Ji Shujun Persecuted Severely in Forced Labor Camps
More Than a Decade of Persecution: Jiangxi Police Continue to Detain Falun Gong Practitioner for Her Belief
Ms. Ji Shujun Tortured in Forced Labor Camps in Hebei Province