Austria: Events in State Capitals Raise Awareness of the Persecution in China
Oct. 15, 2020 | By a Falun Dafa practitioner in Austria
(Minghui.org) Falun Gong practitioners in Austria held information day events in Vienna, and the provincial capitals of Eisenstadt, Graz, and Bregenz, to promote the practice and raise awareness of the persecution in China on October 2-3, 2020.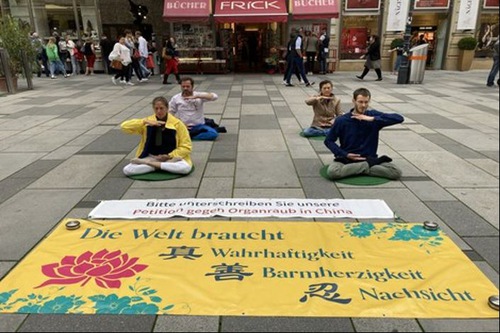 Falun Gong exercise demonstration on the Graben, a famous shopping street in the heart of Vienna's inner city.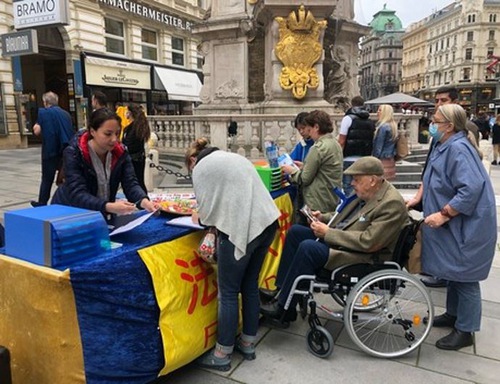 People wait in line to sign a petition opposing the persecution at a Falun Gong information table beside the Plague Column on the Graben, Vienna.
An elderly man approached a practitioner at the Falun Gong information table near the Plague Column in Vienna. The man told the practitioner that the lady accompanying him also practices qigong. He said he had learned of the persecution of Falun Gong a long time ago and was encouraging the lady to learn more about the persecution, and the torture the Chinese Communist Party subjects Falun Gong practitioners to in China.
The lady listened to a practitioner explain the 21-year-long persecution. She thanked the practitioner and took some printed materials.
A couple from Albania were very interested in Falun Gong. They spoke to a practitioner for a while and were delighted to hear about the benefits of the practice and the principles of Truthfulness-Compassion-Forbearance.
The practitioners gave a beautiful paper lotus flower to a little girl, who was admiring it while her father signed the petition opposing the persecution. The father told practitioners that he felt it was important that he sign the petition to express his support.
Two ladies from China accepted lotus flowers from practitioners and appeared very happy to hear a western practitioner speaking Chinese to them. The practitioner told them, "Falun Dafa Hao" and "Zhen Shan Ren Hao." They watched the exercise demonstration and read some fliers.
Eisenstadt, Austria
The information day event in Eisenstadt was held on the day of a local street market. Many local residents and visitors from neighboring Hungary signed the petition to help stop forced organ harvesting in China.
Bregenz, Austria
October 3, 2020, was the 30th anniversary of the reunification of East and West Germany. The Falun Gong information day event in Bregenz reminded people of the evil nature of communism, and raised awareness of the Chinese Communist Party's persecution of Falun Gong.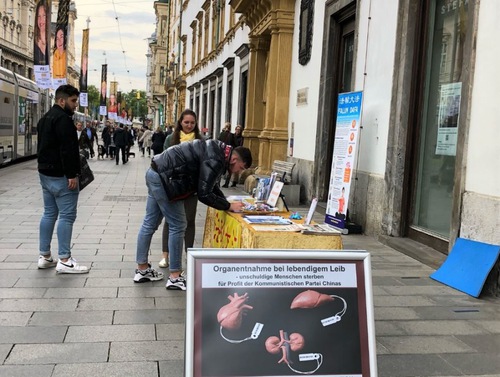 A young man from Turkey had to cancel his wedding because of the COVID-19 virus and said the Chinese regime should be held responsible. He and his friend signed the petition.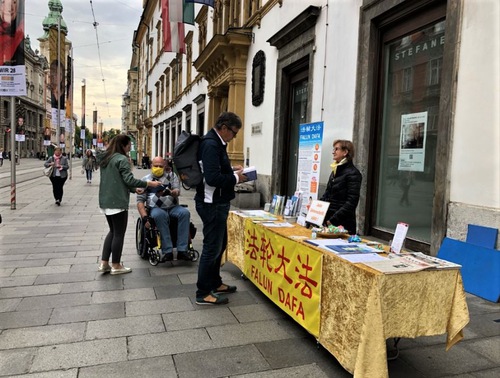 People want to learn more about Falun Gong and the persecution. The man in a wheelchair signed the petition and told practitioners they were holding a good event, and he wanted to contribute.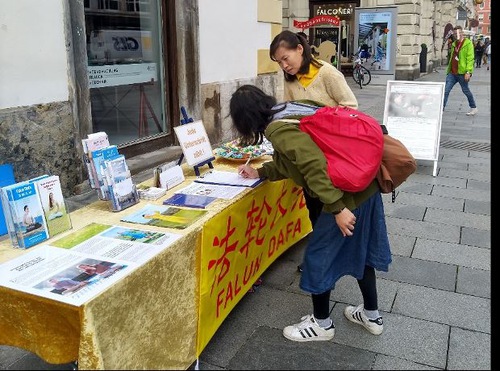 A woman from Taiwan signs the petition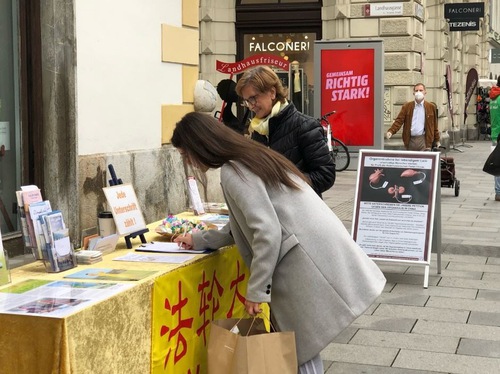 A passerby signs the petition
Graz, Austria
"You are doing a respectable thing," a German couple told practitioners at the Falun Gong information table on Herrengasse Street in Graz, the provincial capital of Styria. Many people signed the petition during the information day event in Graz.