Ms. Xiong Meiying Persecuted in Jiangxi Province Women's Prison
Oct. 11, 2020 | By a Minghui Correspondent from Jiangxi Province, China
(Minghui.org) For upholding her faith in Falun Gong, Ms. Xiong Meiying, a 72-year-old retired nurse, served one year of forced labor and three and a half years in prison. Her husband was also targeted for practicing Falun Gong and passed away.
Falun Gong, also known as Falun Dafa, is an ancient spiritual and meditation discipline that has been persecuted by the Chinese communist regime since 1999.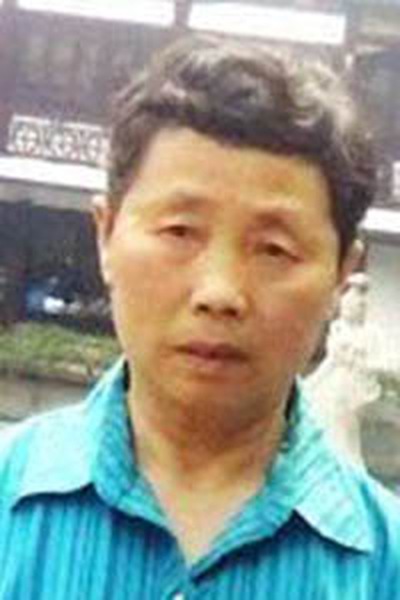 Ms. Xiong Meiying
Husband Passed Away due to Persecution
Ms. Xiong, who used to work at the Shengmi Town Central Health Center in Nanchang City, Jiangxi Province, was a "sent-down educated youth" (a generation of city-dwellers that were sent to the countryside by the government to be "re-educated" by the poor peasants) in the 1970s.
She spent 15 difficult years in the countryside. She and her husband, Mr. Liu Pinshen, had two boys and four girls and struggled just to keep everyone fed. She was not in good health condition and suffered from vertigo. She would often collapse without warning.
In 1998, Ms. Xiong and her husband started to practice Falun Gong. Mr. Liu miraculously quit smoking and drinking. Ms. Xiong's health also improved in a short period of time. Her dizziness disappeared. She has never taken a single pill or been to the hospital since, which has saved her a great deal in medical expenses.
Because she refused to give up practicing Falun Gong after the persecution began, Ms. Xiong was arrested many times, was detained four times, was sent to a forced labor camp for one year, and had a total of 9,000 yuan extorted from her.
In the labor camp, she was subjected to brainwashing and forced to work long hours at unpaid labor every day. By the time she returned home, her black hair had turned grey.
Her husband was detained in Xinjian County Detention Center for more than three weeks in 2010. He suffered physically and mentally and passed away soon after returning home. He was in his 70s.
Sentenced for Her Faith, Tortured Physically and Mentally
On September 24, 2016, Ms. Xiong was arrested again while distributing Falun Gong truth clarification materials outside a vegetable market in the Xinjian District.
The police took her to the National Security Brigade of the Xinjian District and then to the First Detention Center in Nanchang City. She was later sentenced to three and a half years and transferred to Jiangxi Women's Prison on June 27, 2017.
She was placed in the Second Brigade, which had an instructor surnamed Huang and an instructor named Liu Hui in charge of persecuting Falun Gong practitioners.
Forced to Watch Videos Slandering Falun Gong
In prison, Ms. Xiong was forced to watch videos that slandered Falun Gong for a long time every day. When the "Tiananmen Self-immolation hoax" was played, Ms. Xiong pointed out some of the evidence that shows the self-immolation incident was staged. The prisoner responsible for monitoring her hit her in the arm and yelled, "Stand still! You are not allowed to talk!"
Forced to Stand for a Long Time
Ms. Xiong was forced to stand for a long time in the workshop during the day and by the window outside the prison cell at night, usually until midnight and sometimes until 2 a.m. to 3 a.m. That went on for more than two months. Her feet swelled and were sore she could not stand, and the mosquitos tormented her.
Forced to Do Unpaid Labor
Ms. Xiong is in her 70s. Sometimes she did not finish her quota until 9 p.m. There were only two days off each month. High-intensity, long-term labor and lack of sleep caused her eyes to suffer and she felt dizzy again.
Forced to Recite the Prison Rules
The Jiangxi Women's Prison has hundreds of rules. Falun Gong practitioners who refused to recite or who could not memorize them would be insulted and beaten. The guards instigated the prisoners to regard Falun Gong practitioners as "enemies" and promoted conflict between them and the regular inmates.
Other Abuses
There were 12 people in Ms. Xiong's cell, and she was the only Falun Gong practitioner. She was strictly forbidden to contact any other practitioners in the prison.
Her first month there, in order to force Ms. Xiong to give up her faith, the guards did not give her any vegetables, just plain rice, at mealtimes. She was not allowed to take a shower for a long time. Later she could only take a cold, five-minute shower bath in the middle of the night after the long standing was over. She was only allowed to use restroom at the prescribed time. Every week, Ms. Xiong's personal belongings were searched (this was specifically for Falun Gong practitioners), leaving a mess each time.
Related report: