Families of Falun Dafa Practitioners Wish Founder of the Practice Happy Chinese New Year
January 24, 2020 | By a Minghui correspondent
(Minghui.org) Since the public introduction of Falun Dafa in May 1992, hundreds of millions of Chinese have benefitted from the practice. In many cases, the entire family took up Falun Dafa and live in harmony with each other, following Dafa's principles of Truthfulness, Compassion, and Forbearance in their daily lives.
On the grand occasion of the 2020 Chinese New Year, many of these families of practitioners send their heartfelt greetings to Master Li Hongzhi, the founder of the practice, thanking him for teaching the practice and wishing him Happy Chinese New Year.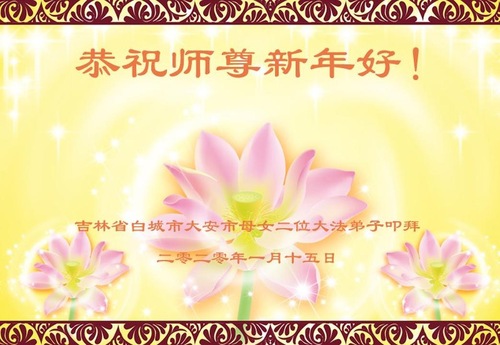 A family of eight in Yantai City, Shandong Province, wrote, "After our family took up Dafa, everyone benefitted. The seniors enjoy good health and the young children adhere to traditional values and are not influenced by society's vices."
A seven-year-old boy in Gong'an County, Hubei Province, wrote, "I'm a little Dafa practitioner. I'm in the first grade in elementary school. I'm studying well and many teachers said I'm very smart and have good manners.
"During the winter break in January, I had a high fever one evening. My mother read Zhuan Falun, the main book of Dafa, with me, sentence by sentence. When I felt bad, I repeated to myself, 'Falun Dafa is good,' and I would feel better.
"After I woke the next morning, the fever was gone. My grandmother cooked breakfast for me. She was grateful to Master for helping me recover so fast! 'It's great to be taken care of by Master!' she said."
A family of nine in Zhaoyuan City, Shandong Province, said, "My mother used to have severe rheumatoid arthritis and most of her joints were deformed. She tried many treatments, but none of them worked. After she learned Dafa, her joints recovered and she was able to stand straight again. Even though she was given two years of forced labor for practicing Dafa, she never thought about giving it up.
"My 93-year-old grandmother also enjoys good health. She still has good vision and hearing. With a rosy complexion, many people comment that she looks like she's in her 70s.
"My husband has been practicing Dafa for a year now. He used to have a severe heart condition and couldn't work. But now he has recovered. He also became more considerate, positive, and peaceful. Thank you for giving him a new life!
"We often study the teachings together with our two daughters, who are five and two. It's Dafa that has made our family a happy one! As the Chinese New Year draws near, our family, including those who don't practice Dafa, would all like to extend our warmest greetings to Master and wish him a Happy New Year!"
Another family of four in Shijiazhuang City, Hebei Province, were also thankful for Dafa, which has taught them to be more considerate and tolerant and led to a peaceful and harmonious family life.
"My mother had a chronic fever last summer and couldn't eat for more than a week. Her abdomen was also swollen. The doctor said she might not have many days left. But with Master's protection, she recovered in a month.
"While educating my son, I always wanted to control him. Our relationship was very tense and I felt I was unable to communicate with him. Because my husband and I didn't agree on how to handle him, I also fought with him. As a teacher, I was very discouraged. I avoided talking to my son and avoided him so that we would not fight. I lost confidence in my family.
"After studying Dafa, however, things have changed. Dafa helped me realize my problems and broaden my heart. When my son shouted at me, I was able to stay calm and look at myself first. For the first time, I could admit my mistake to my son. Our relationship improved tremendously! He stopped playing games on his cellphone and sometimes listened to Master's lectures. His grades also improved.
"My husband also changed. Dafa revealed to me the power of compassion and forgiveness!"
Other greetings came from families in the following regions:
A mother and daughter in BeijingA family of 12 in Baicheng City, Jilin ProvinceA mother and daughter in Baicheng City, Jilin ProvinceTwo families of more than 30 people in Liaoyuan City, Jilin ProvinceA family of three generations in Deyang City, Sichuan ProvinceA family of 11 practitioners and more than 30 members in Zhongjiang County, Sichuan ProvinceA family of three generations in Chengdu, Sichuan ProvinceA family of three generations in TianjinA family of eight in Weifang City, Shandong ProvinceA family of eight in Laiyang City, Shandong ProvinceA family of seven in Sheyang City, Liaoning ProvinceA family of three in three generations in Shenyang City, Liaoning ProvinceA mother and daughter in Qihuangdao City, Hebei ProvinceA mother and daughter in Wuhan, Hubei ProvinceA mother and daughter in Yueyang City, Hunan ProvinceA family of three generations in Jinzhou City, Liaoning ProvinceA family of three generations in ChongqingA mother and two daughters in Harbin, Heilongjiang ProvinceA family of 13 people in Yilan County, Heilongjiang ProvinceSuining City, Sichuan ProvinceHailin City, Heilongjiang Province