London, UK: Practitioners Hold Candlelight Vigils to Commemorate Practitioners in China Who Died in the Persecution
September 04, 2019 | By a Minghui correspondent in the UK
(Minghui.org) Falun Gong practitioners from across Europe held candlelight vigils on Trafalgar Square and outside the Chinese Embassy in London on August 20, 2019, to commemorate the thousands of practitioners who have died in China as a result of the Chinese Communist Party's (CCP) persecution. The vigils highlighted the atrocities that have taken place in China over the past 20 years and called on people worldwide to help stop the persecution.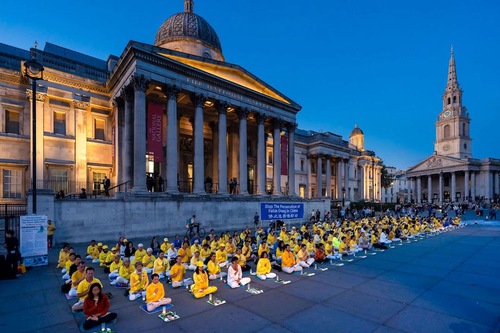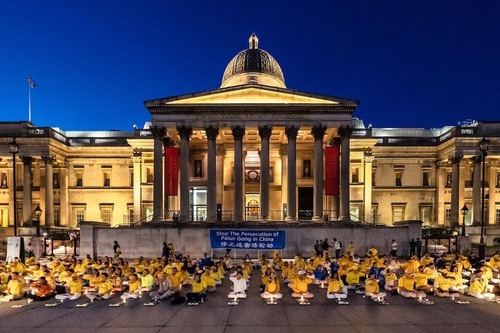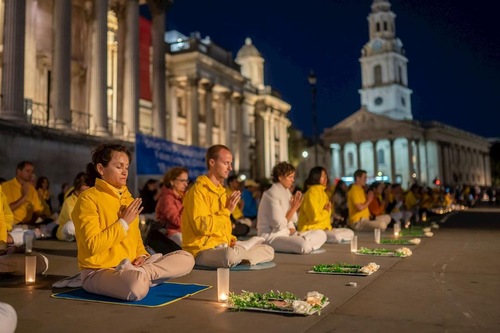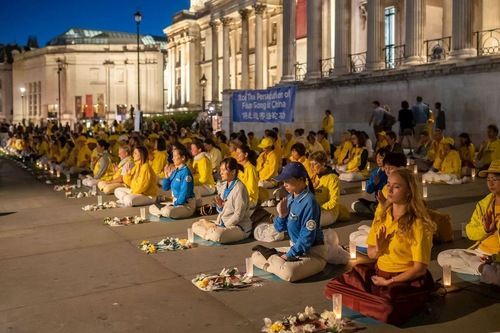 Candlelight vigil on Trafalgar Square
"This Is Absolutely Important"
Caitlin Porter, a university student studying English and philosophy, and Rosie Pender, who works at a London television company, watched the vigil on Trafalgar Square. They signed the petition to protest the persecution. The women were surprised that the mainstream media does little to cover the persecution. They commended Falun Gong practitioners for organizing such activities, which help the public learn about what is actually taking place in China.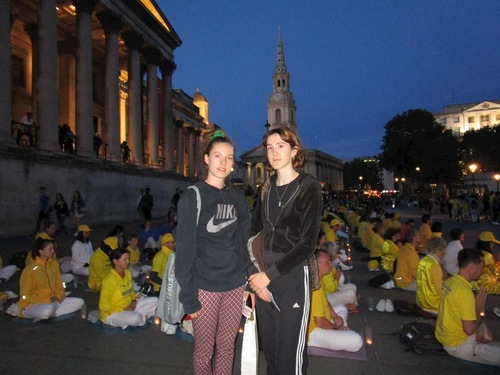 Caitlin Porter and Rosie Pender
Ms. Porter said, "I am really surprised. Before today, I did not know what Falun Gong was about, and what had happened to it. Now, I am very concerned about all this [persecution]. I am very worried. This [persecution] seems to be a crime committed by the government. It makes me feel terrible."
Ms. Pender added, "The main reason for the persecution of Falun Gong is that they [the CCP] are afraid of the benefits that Falun Gong brings to people. This meditation can bring freedom [of the mind] to people. When people experience or gain such freedom, they can no longer be controlled by a dictatorship.
"This [vigil] is absolutely important. People's organs are forcibly removed, and people are silenced. This is the worst kind of abuse."
Ms. Pender concluded, "When things are not happening to oneself, people can easily turn a blind eye. But, people should ask themselves what if such a thing happens to their family members? Everyone should be able to feel happiness and attain freedom."
"My Signature Is One of the Droplets Forming the Ocean"
Shina, an artist, said she had heard about the persecution in China because she had seen the continuous peaceful protest outside the Chinese embassy that has lasted for many years.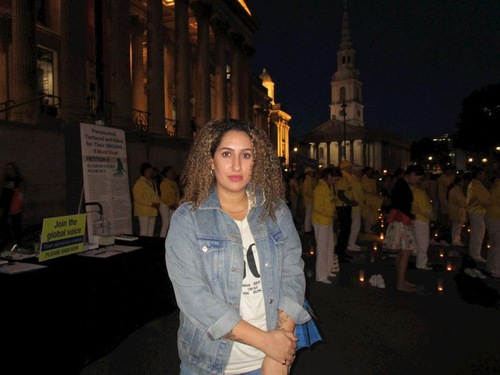 Shina said that the practitioners' group practice makes her feel very peaceful.
"Persecution is wrong," Shina said. "Everyone should have his own beliefs. They [Falun Gong practitioners] just meditate to gain better health and calm their mind. What is wrong with this?"
"They did not harm anyone. No one has the right to stop them from practicing their belief. The actions of the Chinese government are absolutely wrong."
She stated that organ harvesting from living practitioners is unacceptable. Shina signed the petition, then said, "The more people sign it [the petition], the more people get to know about this issue. So things can change. The British government should take action to help stop this persecution. My signature is one of the droplets forming the ocean."
"Freedom of belief is a basic human right. They should be able to stick to their own belief without worrying about their lives being harmed [by the CCP]," affirmed Shina.
"I Support Such a Protest"
Marcello, a university professor from São Paulo, Brazil, was in the UK to attend an aviation science conference when he came across Falun Gong practitioners at the candlelight vigil on Trafalgar Square.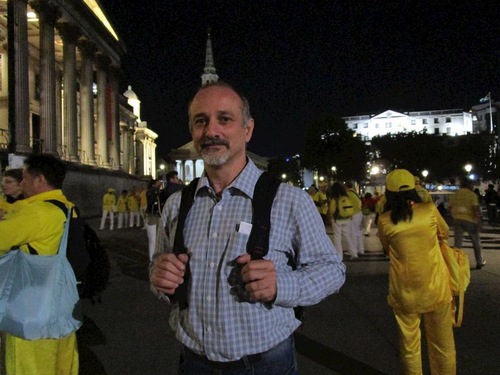 Marcello supports the practitioners' peaceful protest.
Marcello said he had heard about the situation in China. He'd recently seen news about the human rights persecution in China, and he knew that people were held in places like labor camps and treated like slaves.
When he learned about the organ harvesting from living Falun Gong practitioners in China, Marcello said that it was terrible, "Organ harvesting from living people violates human rights. It is completely unacceptable and should be stopped."
"I support such a protest. Such activities are very important. People need to act and do something to stop the persecution. The activities held here today are very important to stop the torture. It is important to let more people know what is happening in China."
Candlelight Vigil Outside the Chinese Embassy
Falun Gong practitioners also held a candlelight vigil outside the Chinese Embassy in London on August 30, 2019, to protest the CCP's 20-year persecution.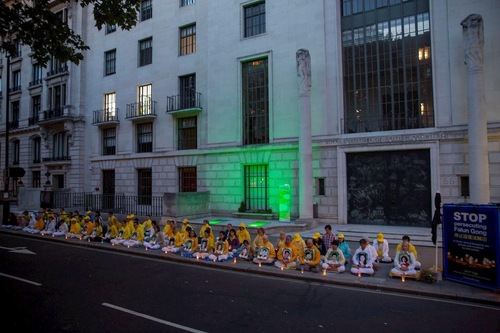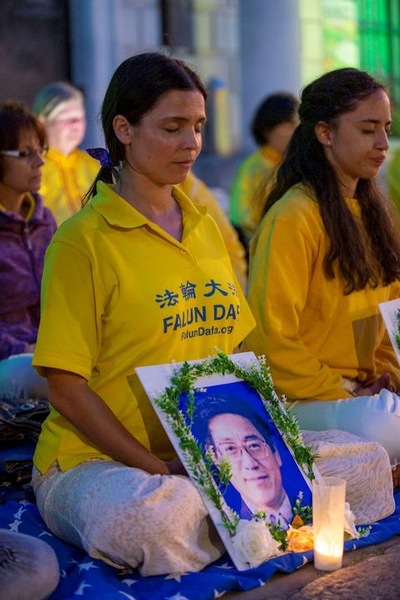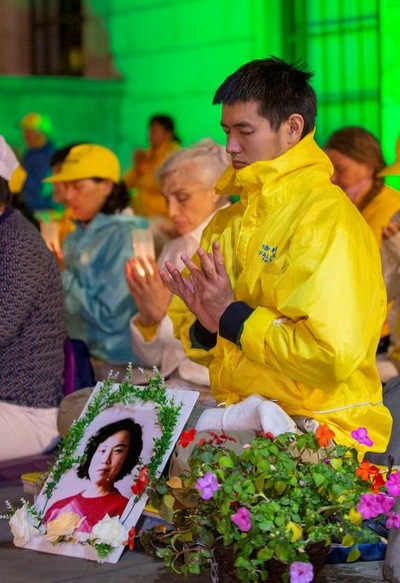 Candlelight vigil outside the Chinese Embassy
The vigil was held at the same location where UK Falun Gong practitioners have been peacefully protesting the persecution around the clock for the past 19 years.