Document Shows 610 Office in Liaoning Province Remains Active in Persecuting Falun Gong Practitioners
(Minghui.org) Falun Gong, a mind-body practice based on the principles of Truthfulness-Compassion-Forbearance, has been persecuted by the Chinese Communist Party (CCP) since July 1999. The 610 Office, an extra-ministerial security force launched on June 10, 1999, has played a critical roles in the past 20 years of persecution through its central and local offices.
According to Minghui 20th Anniversary Report, the 610 Leading Group was renamed "Central Leading Group on Dealing with Heretical Religions" in 2003 and integrated into the CCP apparatus while continuing to suppress Falun Gong as its main target. A document published in March 2018 announced the abolition of the 610 Office and the transfer of its duties to the Central Political and Legal Affairs Commission (PLAC) and the Ministry of Public Security.
Update from Liaoning Province
Despite the above announcements, a recent document received by Minghui.org indicates that local branches of the 610 Office in Liaoning Province are still active. This confirmed early speculation that local 610 Offices are still functioning although the central office has been disbanded. It also helped explain why local police and other government functions have been reported to continually receive orders from 610 Office as in many persecution cases reported by Minghui.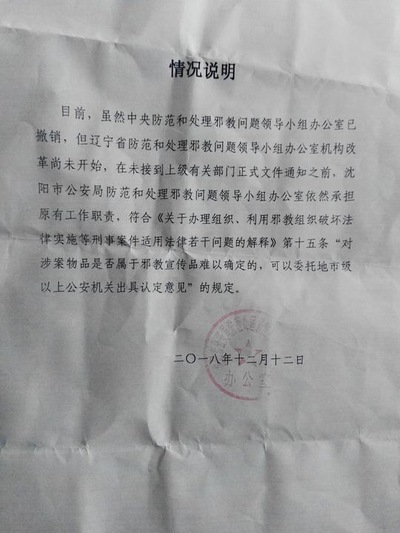 One document from Liaoning Province shows local 610 Offices are still active in persecuting Falun Gong practitioners.
Below is English translation of this document:
Situation Statement
Although the Central Leading Group on Dealing with Heretical Religions has been discontinued, reorganization of the Liaoning Province Leading Group on Dealing with Heretical Religions has not yet started. Until receiving official notice from higher officers, responsibilities of the Leading Group on Dealing with Heretical Religions within Shenyang City Police Department remains the same. Please refer to Article 15 of the Judicial Interpretation on Criminal Cases Related to Heretical Religions, "If items involved are difficult to determine whether they are propaganda materials for heretical religions, police departments at prefecture-level city or higher can decide."
(with seal from the Leading Group on Dealing with Heretical Religions within Shenyang City Police Department)December 12, 2018
The Interpretation mentioned in the document was issued by the Supreme Court and Supreme Procuratorate, with a publishing date of January 25, 2017 and an effective date of February 1, 2017. The Interpretation gave police departments extrajudicial authority to persecute Falun Gong practitioners beyond China's Criminal Law and Criminal Procedure Law.
In addition, the Interpretation went into effect over a year before the Central 610 Office ceased to operate. This allows the persecution to continue even without the 610 Office. The fact that local 610 Offices are still active further ensures the continuation of the 20-year-long persecution policy.
Large Number of Practitioners Arrested in Liaoning Province
Since 1999, the 610 Offices at each level have operated under the PLAC of that level. Similarly, reported persecution cases in Liaoning Province in 2019 also showed the important role of the PLAC.
Li Wenzhang, former PLAC secretary of Liaoning Province, often slandered Falun Gong during provincial meetings and gave instructions to suppress practitioners. After he left in January 2019 to head the Political Department of the National Security Ministry, Yu Tianmin, 55, was appointed in March 2019 as PLAC secretary and a member of provincial Party Committee.
After Yu spoke at a Liaoning Province PLAC conference on April 13, 2019, 44 Falun Gong practitioners were arrested in May alone in Liaoning Province, making it one of the provinces with the most arrests of practitioners.
In the first six months of 2019, at least 160 practitioners in Liaoning Province were arrested, with the oldest being 83. In addition, 44 practitioners (the oldest being 81) were sentenced to as many as 7 years in prison and fined 83,000 yuan in total. Furthermore, 7 practitioners were tortured to death in police custody. These figures reflect only cases submitted to Minghui after overcoming online censorship in China, and the true numbers may be much higher.
In the name of celebrating the 70-year anniversary of the CCP's rise to power, officials arrested more than 20 practitioners and ransacked their homes in July in the provincial capital of Shenyang. According to information received by Minghui, 91 practitioners were arrested province-wide in July 2019, among whom 41 were from Shenyang.
Related Article in Chinese: