Taiwan: Local Officials Welcome the Return of Shen Yun Symphony Orchestra
Sept. 24, 2019 | By a Minghui correspondent
(Minghui.org) The Shen Yun Symphony Orchestra kicked off its 2019 season in Kaohsiung, Taiwan, on September 18. Prior to the orchestra's 10-city, 11-concert Taiwan tour scheduled for September 18 to October 2, 33 local officials extended greetings to welcome the New York-based company.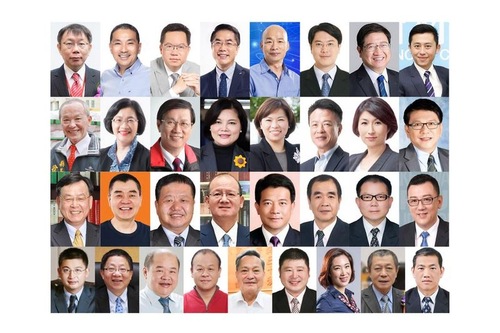 Officials in Taiwan extended greetings to welcome Shen Yun Symphony Orchestra's fourth concert tour in Taiwan.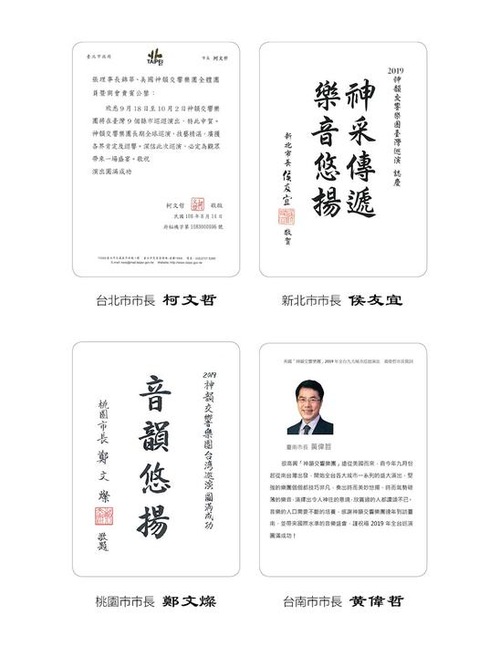 Congratulatory remarks from Mayor of Taipei Ko Wen-je, Mayor of New Taipei Hou You-Yi, Mayor of Taoyuan City Cheng Wen-tsan, and Mayor of Tainan Huang Wei-cher welcome the world renowned orchestra.
Ko Wen-je, the mayor of Taipei, wrote, "Shen Yun Symphony Orchestra has toured the world. Their skills and talents are exquisite and excellent. They have been widely recognized and acclaimed by people in various fields. I deeply believe that during this tour, they will bring audiences a grand feast."
Huang Wei-cher, the mayor of Tainan, wrote, "I'm very happy that Shen Yun Symphony Orchestra will come here all the way from America... The performances present an enchanting realm. People that have attended all highly praise it."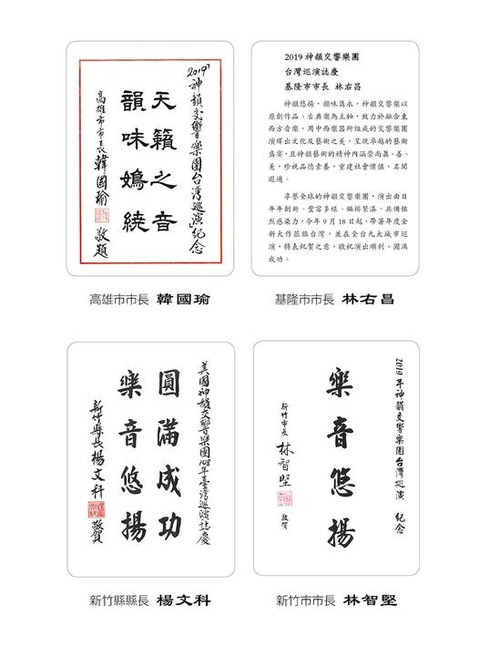 Recognitions from Mayor of Kaohsiung Daniel Han, Mayor of Keelung Lin Yu-chang, Magistrate of Hsinchu County Yang Wen-ke, and Mayor of Hsinchu City Lin Chih-chien.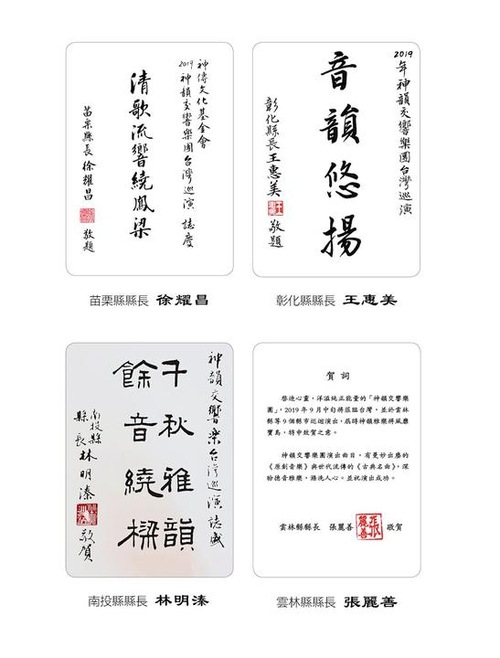 Remarks from Magistrate of Miaoli County Hsu Yao-chang, Magistrate of Changhua County Wang Huei-mei, Magistrate of Nantou County Lin Ming-chen, and Magistrate of Yunlin County Chang Li-shan.
Mayor of Chiayi City Huang Min-hui, Magistrate of Chiayi County Weng Chang-liang, Magistrate of Taitung County Rao Ching-ling, and Magistrate of Pingtung County Pan Men-an all sent greetings to welcome the Shen Yun Symphony Orchestra.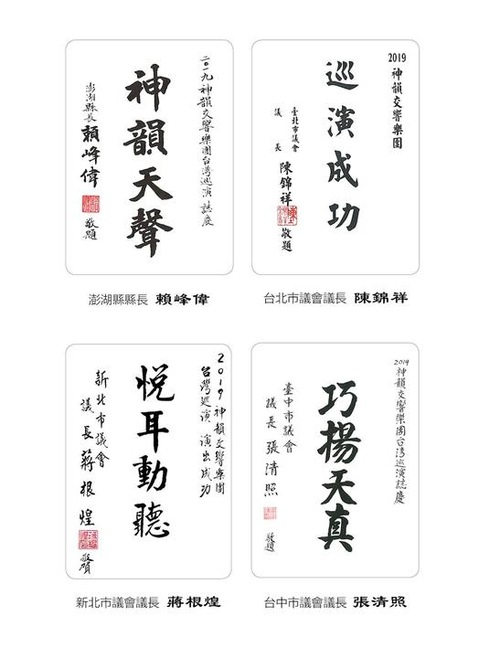 Greetings were sent by Magistrate of Penghu County Lai Feng-wei, Speaker of Taipei City Council Chen Ching-hsiang, Speaker of New Taipei City Council Chiang Ken-huang, and Speaker of Taichung City Council Chang Ching-chao.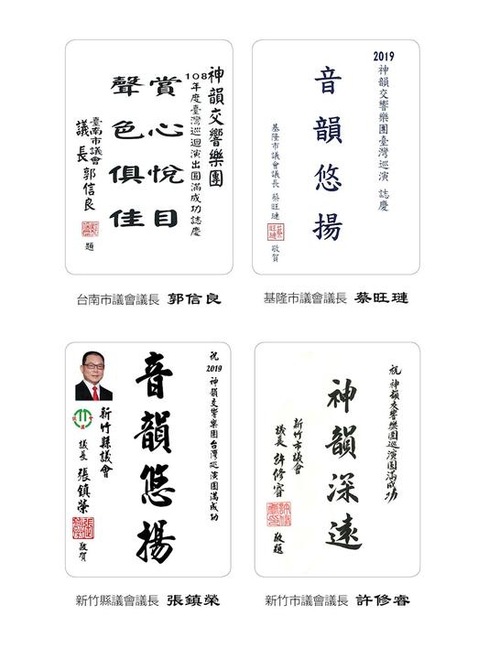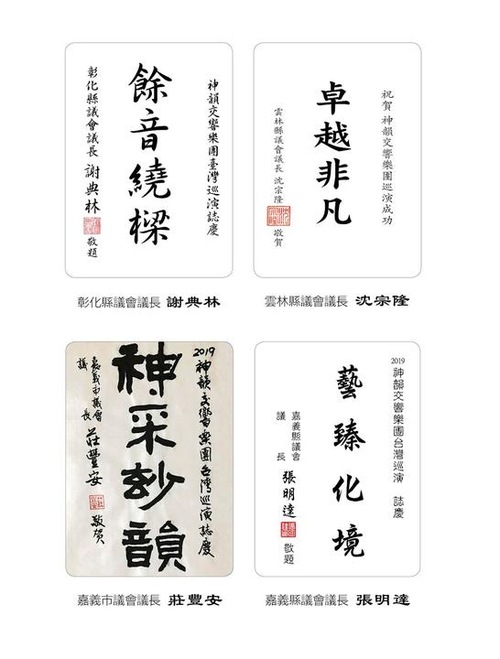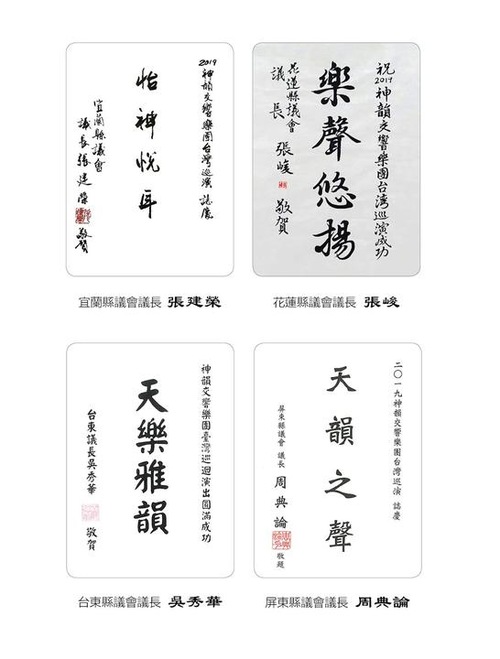 Speakers of the Tainan City Council, Keelung City Council, Hsinchu County Council, Hsinchu City Council, Changhua County Council, Yunlin County Council, Chiayi City Council, Chiayi County Council, Yilan County Council, Hualien County Council, Taitung County Council, and Pingtung County Council also sent greetings to welcome the world renowned symphony orchestra.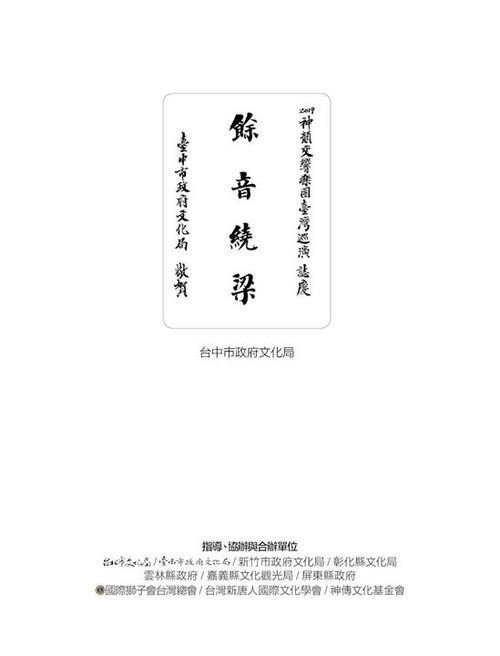 The Cultural Affairs Bureau of Taichung City Government recognized the orchestra's great contribution to the world's culture.