Amsterdam, Netherlands: In-depth Reports on Falun Gong on Major Public TV Station
September 02, 2019 | By Falun Dafa practitioners in the Netherlands
(Minghui.org) AT5 (Amstel Television 5) is a popular television station in Amsterdam, the capital of the Netherlands. A reporter from the station often saw practitioners doing the exercises at a local practice site, and was drawn to the peaceful nature of the practice. As the reporter learned more about Falun Gong and the brutal persecution in China, he suggested doing a series of in-depth reports, to tell people about the meditation practice and to expose what is happening in China.
AT5 broadcast a program on Falun Gong on the evening of August 19, 2019. Practitioners were filmed doing the exercises in a park, and a few who experienced the persecution in China were interviewed. The TV station also published an article about Falun Gong on its website.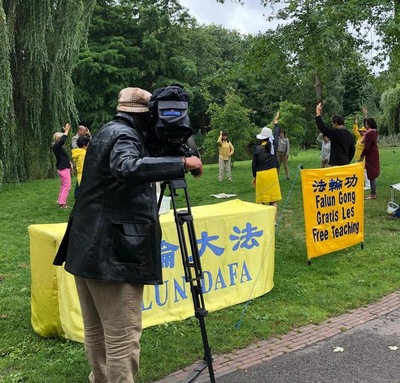 AT5 TV filmed and interviewed Falun Gong practitioners for an evening news report.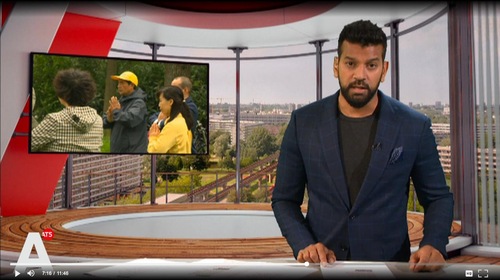 AT5 News broadcasts a program about Falun Gong.
Screen shot of a report on Falun Gong published on AT5 News' website (Headline: "Forbidden, Chinese group meditates in Amsterdam's park – But what is it all about?")
Practitioners Recount Horrors of the Persecution
Falun Gong practitioner Mr. Wu was interviewed for the program. He introduced the practice, and said that practicing Falun Gong improves one's physical wellbeing and helps one to relax. In China many people used to practice it, but the communist regime was afraid that its growing popularity would be a threat to its power and launched a brutal campaign to suppress the movement.
Several practitioners shared their experience of being persecuted in China for their belief. A man who used to work in upper management in a large company said his drink was poisoned by the police. Another woman revealed that she was sentenced to four years in prison, and was separated from her young child.
Another woman spoke of her experience of being detained in a labor camp for two-and-a-half years. She said she was physically and mentally tortured, held in a dark cell, and deprived of any sunlight.
Several Westerners have taken up the practice after seeing practitioners do the exercises in local parks. A Dutch woman said that her friend told her that it was Falun Gong that she needed. She gave it a try, and found it indeed to be true.