Seattle, WA: Falun Dafa Float Highlighted in Seafair Torchlight Parade
August 05, 2019 | By a Falun Gong practitioner in Seattle
(Minghui.org) Falun Dafa practitioners participated in the 70th Seafair Torchlight Parade, which kicked off in Seattle at 7:30 p.m. on July 27, 2019. This is the 15th time practitioners have joined this event, and they received warm applause from spectators for their banners, waist drum performance, and well-designed float.
Since its debut in 2005, the Falun Dafa float has appeared in more than 30 parades in the region and has won more than 10 awards. The director of the Seafair Torchlight Parade has praised Falun Gong practitioners as the first participating group to design and produce their own float. Because of that, several other groups also began to make their own floats, rather than relying on float building companies.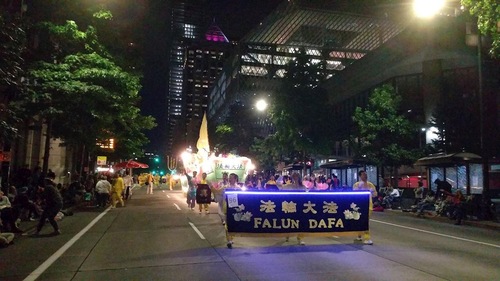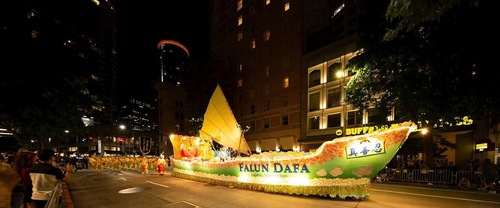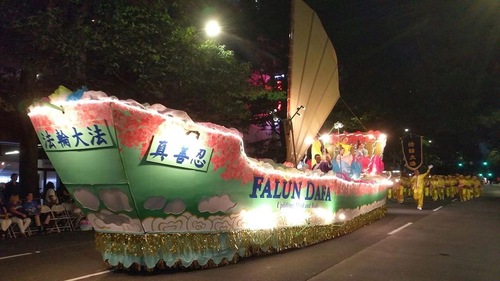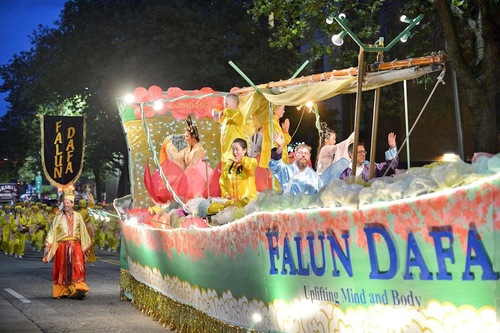 Falun Dafa practitioners join the celebration at Seafair Torchlight Parade in Seattle on July 27, 2019.
Flanked by two men dressed as generals from the Tang Dynasty, the practitioners' float is 47 feet in length, 12 feet wide, and 10 feet high. The sail reaches up to 25 feet. A practitioner commented that the elegance and beauty of the float represent the practitioners' determination in their spirituality, despite the harsh suppression in China.
Stories During Lineup
Impressed by the design, some spectators came up during the lineup for a glimpse of the float. A man talked with practitioners and said that he had heard about Falun Dafa. "I have been following a YouTube channel which talks a lot about this," he said, "The situation there [suppression in China] is really terrible."
A woman had also heard about Falun Dafa from YouTube. She felt sorry for what practitioners have experienced in China for their belief. "The practice is so nice, and I think I will give it a try," she added.
Waist drum performance by practitioners
The waist drum team also drew much attention. One spectator said that she could feel the excitement and joy in the melody. A practitioner explained to her that the music reflected the Chinese people's delight for the spiritual freedom they gained after breaking away from the totalitarian regime.
Exquisite Design
The parade had 300,000 spectators and was broadcast live to 700,000 viewers through KIRO 7. "Here comes Falun Dafa, also known as Falun Gong, a mind and body self-improvement practice," the TV host introduced during the broadcast, "It is based on the principles of Truth-Compassion-Forbearance, and five sets of easy-to-learn exercises that reduce anxiety."
He told the viewers that about 100 million people are practicing Falun Dafa and that he could feel the peace by watching the performance.
One practitioner said the green color of this year's float represents spring and hope. More than 1,000 hand-painted plum blossoms on the float were representative of the practitioners' perseverance in their belief despite the harsh persecution. Next to the colorful clouds and lotus flowers on the deck, four practitioners sat dressed in costumes for group meditation. Eight practitioners of varying ethnic backgrounds, professions, and age groups rode upon the float.
Warm Feedback from Spectators
The float and 40-member waist drum team drew lots of excitement and applause from spectators. Many people took pictures or videos, and some followed the practitioners' exercise movements. A woman named Belle thanked practitioners for the beautiful and memorable performance. Her friend said that he had traveled to many places and knew that Falun Dafa is practiced around the world.
Adele, a professional photographer interested in traditional Chinese culture, said that she supports practitioners for their belief.
A man from India told practitioners that he knew people that practice Falun Dafa in India too, and he would like to know more about it.
'A Wonderful Moment'
Chinese residents and tourists were so glad to see the float and the practitioners' waist drum performance. Ms. Zhang, a tourist who came with her husband, said the float was magnificent. She was proud of what practitioners do to promote traditional Chinese culture.
A man who had emigrated to the U.S. more than 20 years ago said he knows about the situation in China. "I have already quit the Chinese Communist Party (CCP) organizations," he added.
Influenced by propaganda from the CCP, two Chinese men were initially hostile to practitioners. After talking with a Western practitioner, who answered their questions, they accepted materials and said they would read them.
As the parade concluded, a spectator came over and greeted the practitioners. "Thank you for bringing us such a wonderful moment," she told the group.