Munich, Germany: German Lawmaker, Human Rights Activists Publicly Call For an End to the Persecution of Falun Gong
July 31, 2019 | By Minghui correspondent De Xiang
(Minghui.org) Falun Gong practitioners held a rally at Marienplatz in Munich on July 19, 2019, to commemorate the 20th anniversary of Falun Gong's peaceful resistance to the persecution in China. A German lawmaker, a former Chinese doctor, a journalist, and human right activists spoke in support of the peaceful resistance.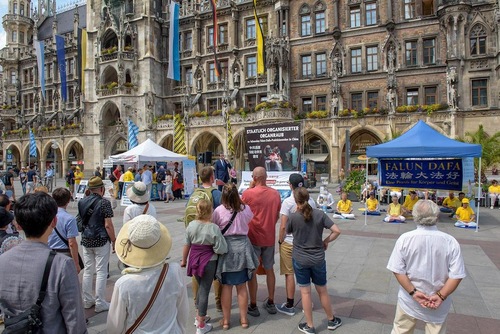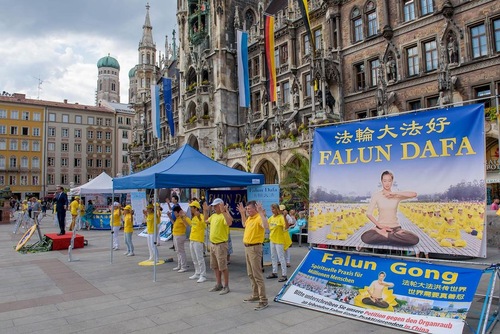 Falun Gong exercise demonstration at a rally on July 19, 2019, in Munich.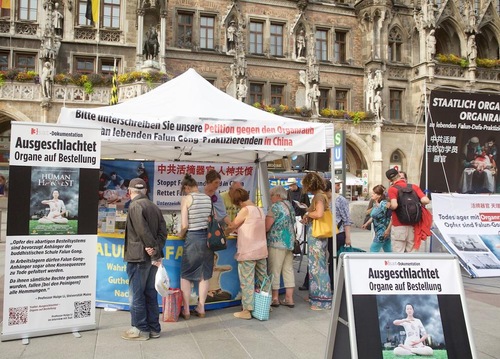 Tourists sign the petition condemning the persecution.
The host of the rally introduced Falun Gong and how the practice has spread throughout the world. He then discussed the main facts of the 20-year persecution in China, and about the state-sanctioned forced organ harvesting from detained practitioners in China.
Parliament Member: Politicians Should Speak Out for Falun Gong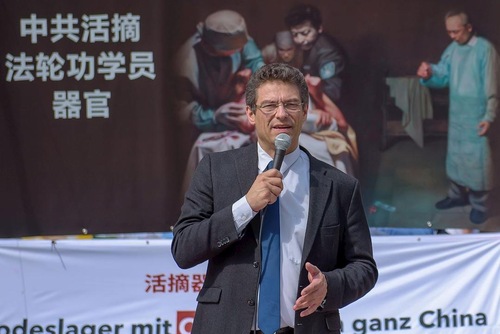 PM Wolfgang Wiehle speaks at the rally.
German Federal Parliament Member Wolfgang Wiehle said at the rally: "Today Falun Gong practitioners and supporters gather at Marienplatz in Munich. I hope everyone pays attention to this."
PM Wiehle believes that the persecution should generate more attention and that politicians should also speak out for Falun Gong publicly.
He said that the German Alternative Party (AfD) is concerned about this issue and that the party addressed the persecution at their recent Human Rights Committee hearing. The party asked the federal government to pay close attention, and report on the persecution of Chinese Falun Gong practitioners. They believe that German government officials should bring up human rights issues with their Chinese counterparts when visiting China.
PM Wiehle added that it is extremely important to pay attention to the persecution of Falun Gong and the Uighurs. But, sometimes the media keeps silent. He believes that it is important to hold rallies and hopes that more people will pay attention to these major human rights issues.
After the rally, PM Wiehle gave an interview. He said that he often hears about China's violations of human rights of Falun Gong practitioners and other people, which deeply disturbs him.
He pointed out that these stories are rarely covered by the German media, and he hopes that this will change.
"The persecution has lasted for 20 years. We have no reason to be tired of mentioning it. On the contrary, it cannot be ignored, and must not be accepted by anyone," he said.
PM Wiehle praised the peaceful spirit of Falun Gong. "[Falun Gong] is very peaceful. I can't imagine that it would pose any aggressive threat," he said.
Doctor/Human Rights Activist: Do Not Cooperate with Evil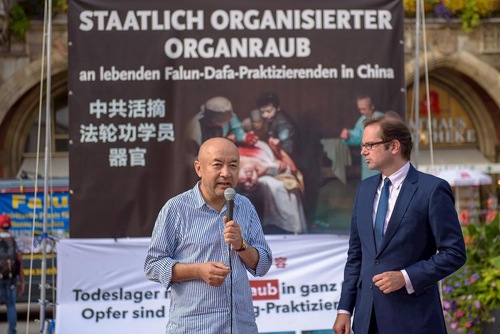 An Hua, former Chinese physician from Xinqiang, spoke at the rally.
An Hua, a former Chinese physician from Xinqiang, spoke of witnessing organ harvesting in China. He called upon the public to help stop the persecution of Falun Gong.
"If you are not happy with the situation in China, you should talk to Falun Gong practitioners, because they have found the true nature of being human, and they are the hope and future of China," he said.
Dr. An said that the Chinese Communist Party (CCP) is the origin of the disasters that have befallen China. He called upon the international community not to cooperate with the evil.
Independent Journalist: Urgency of Stopping the Persecution
Ethan Gutmann, independent journalist and author of the book The Slaughter: Mass Killing, Organ Harvesting, and China's Secret Solution to Its Dissident Problem, recalled that his Chinese co-workers cried when they watched the announcement of the launch of the persecution on television at their office in Beijing 20 years ago. He didn't realize that a 20-year-long human rights crisis had started.
Over the last 20 years, Mr. Gutmann has collected a great deal of evidence detailing the persecution and the forced organ harvesting.
Mr. Gutman said that now we know that organ trading is a $2 billion business in China. He pointed out that behind the organ harvesting is the blood and flesh of thousands of Falun Gong practitioners.
He said that such a tragedy should have ended long ago, and it is extremely urgent to stop this human rights atrocity.
Head of the International Human Rights Association in Munich: Falun Gong's Peaceful Resistance Is Admirable
Jürgen Thierack, head of the International Human Rights Association (IGFM) Munich Division, believes that the key issue for the ongoing persecution is that for a number of reasons many people do not believe, nor do they want to believe, when faced with the truth.
Mr. Thierack said that he has known Falun Gong practitioners for many years. "Their courage to pursue spiritual freedom and the peaceful resistance is admirable. The persecution is particularly harsh and bloody. As a human rights organization, we will continue to support Falun Gong and hope that the persecution will end soon," he said.
Director of the International Human Rights Association: Recognize the Nature of the Chinese Communist Party, and Do Not Be Deceived
Mr. Manyan Ng, director of the International Human Rights Association, said that over the last 70 years, the victims of the persecution by the Chinese Communist Party (CCP), have changed, but the nature of the CCP's persecution has not changed at all.
Mr. Ng believes that Falun Gong practitioners have been spreading the truth for 20 years, just as farmers plant seeds – one day there will be a harvest. He believes that this moment is getting closer.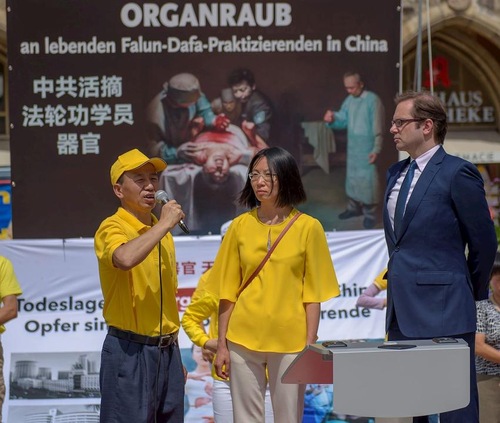 Falun Gong practitioner Luan Xiangcheng told of being tortured in China for his belief. He was fired from his workplace, forced to get a divorce, became homeless, was spied on, as well as harassed by law enforcement because of his belief in Falun Gong.
Passerby: Ending Forced Organ Harvesting
"Everybody has dignity – the persecution should not happen," said retired teacher Anna Cubin, who watched the rally and the speeches. "This shocks me. I will try my best to help stop it."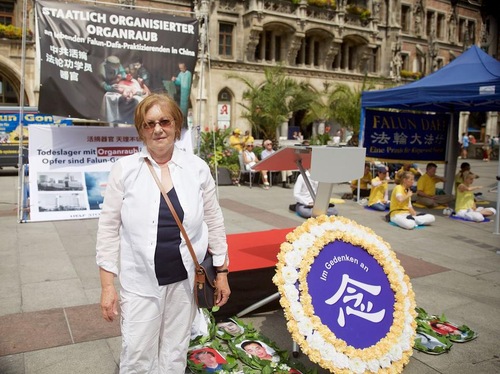 Retired teacher Anna Cubin
She believes that Falun Gong's principles of Truthfulness-Compassion-Forbearance are very important, for they can bring a stable and happy life. She experienced that the Falun Gong exercises bring peacefulness.
"God is compassionate," she said. "Compassion is a great word, one that I need to keep in my heart."
Ms. Cubin knows much about the communist party. She said that many priests were executed without trial in former Yugoslavia.
"We respect individual lives. The organ harvesting shocked me. Everyone should help stop it. The government should also take action," she added.
Like Ms. Cubin, many other passersby condemned the persecution and expressed support for Falun Gong's peaceful resistance.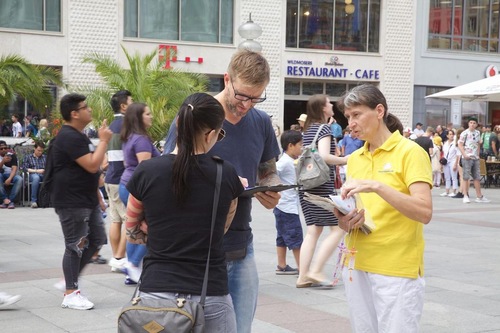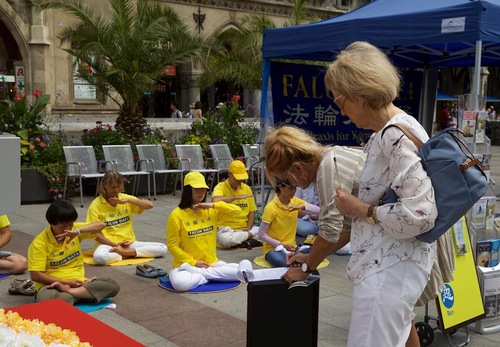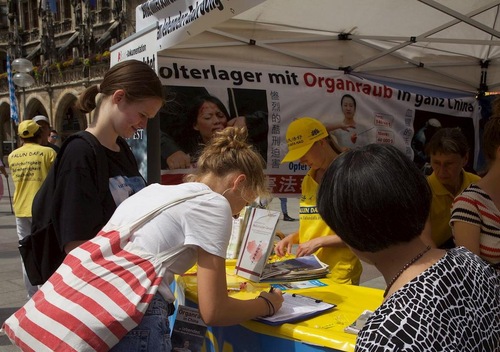 Passersby on Marienplatz sign the petition condemning the persecution.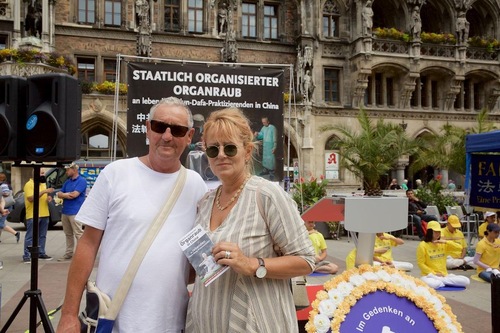 Reneeg Trachsel and Gabriela Bonfiglioli signed the petition to support the resistance. The couple expressed sadness that such a human rights crisis is still going on in China.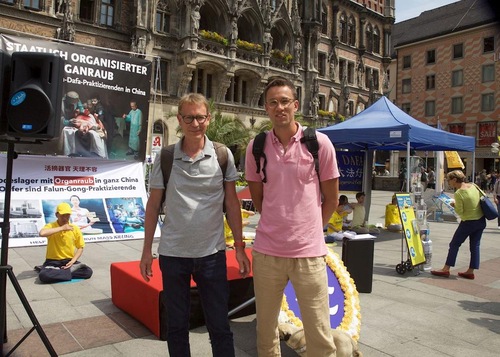 Social worker Stefan Schmider (right) and his co-worker signed the petition. Stefan has heard about the forced organ harvesting in the media.
Social worker Stefan Schmider believes that the persecution of a group of people who follow the principles of Truthfulness-Compassion-Forbearance is a disaster, and should be ended now.
He found it important for practitioners to expose the persecution publicly. "We need everybody's help. Joining forces can be powerful," he said.