Minghui.org Launches Polish Version of Website
July 28, 2019 | By a Falun Gong practitioner in Poland
(Minghui.org) The Republic of Poland is a country located in Central Europe. Established in the 10th century, the Polish state has had a long and turbulent history. Poland became a large and influential European country, but was also ruled by outsiders for more than a hundred years.
With a population of about 38 million, Poland ranks ninth in population in Europe. Throughout the history of Poland, the Polish people have made outstanding contributions in many fields, including the areas of science and music.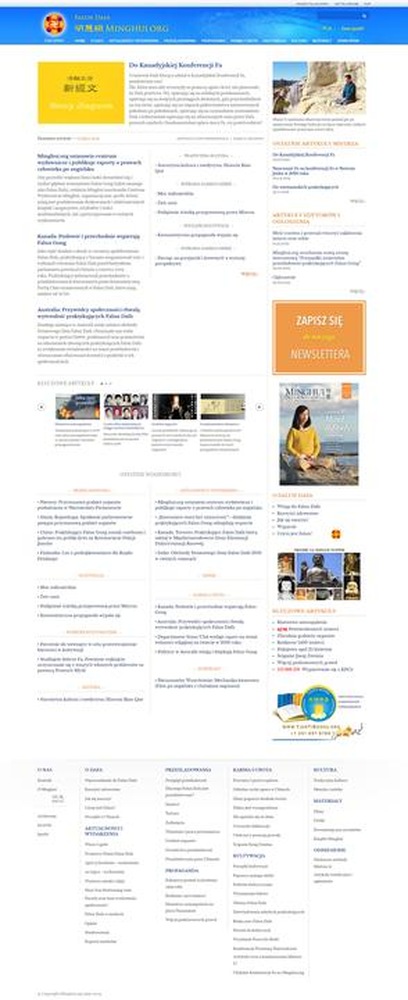 Screenshot of the Polish Minghui.org website
Falun Dafa was introduced in Poland in 2001 and has been picked up and passed along enthusiastically ever since. Today, there are Falun Dafa practitioners in more than 20 cities in Poland, including Warsaw, Cracow, Skierniewice, Gliwice, Gdynia, Szczecin, and Katowice.
Polish practitioners are involved in many truth-clarification projects. They hold activities regularly to raise awareness of the persecution of Falun Dafa in China. The Polish "Golden Dragon" dance team takes part in parades in Poland and other European cities, such as Vienna, Prague, Berlin, and Paris.
In 2017, the polish-language version of The Epoch Times was launched. Polish practitioners often visit elected officials to introduce Falun Dafa, raise awareness of the persecution in China and seek support for bringing about its end. Shen Yun performed in Łódź, Poland in 2009, 2010, and 2015. In 2008, Poland hosted the European Falun Dafa Experience Sharing Conference.
In July 2019, the Polish edition of Minghui.org (https://pl.minghui.org/) was inaugurated. We hope that it will benefit the further spread of Falun Dafa in Poland and help fulfill the mission of saving more people.