Toronto and Vancouver, Canada: March, Rally, and Candlelight Vigil Mark 20th Anniversary of Protesting the Persecution
July 27, 2019 | By the Minghui correspondent station in Toronto and a Falun Gong practitioner in Vancouver
(Minghui.org) Falun Gong practitioners around the world have organized peaceful marches, rallies, and candlelight vigils to mark the 20th anniversary of protesting the Chinese Communist Party's (CCP) persecution.
On July 20, 1999, Jiang Zemin, former head of the communist regime, launched the persecution of Falun Gong practitioners using all of China's state apparatus, including the media, army, and police. Falun Gong, also called Falun Dafa, is a peaceful cultivation practice that benefits both body and mind and is based on the principles of Truthfulness-Compassion-Forbearance.
The Minghui website has confirmed the deaths of more than 4000 Falun Gong practitioners caused by the persecution over the past 20 years. However, because of the strict censorship of information in China the actual number is suspected to be much higher. Hundreds of thousands of practitioners have been imprisoned and tortured for their faith, and concrete evidence shows that the CCP has been harvesting organs from detained practitioners.
The following reports are from a march, rally, and candlelight vigil in Toronto and in Vancouver, Canada.
March in Toronto
Falun Gong practitioners held a march after practicing the exercises together and holding a rally in front of Toronto City Hall, on July 20, 2019.
The march consisted of seven groups, including the Tian Guo Marching Band, a float, the "Falun Dafa is good" section, models of the book Zhuan Falun, the exercises, commemorations, and advising Chinese to withdraw from the CCP and its affiliated organizations.
The march passed through Chinatown. Though it was very hot, the procession drew the attention of many people. Many spectators took photos or videos.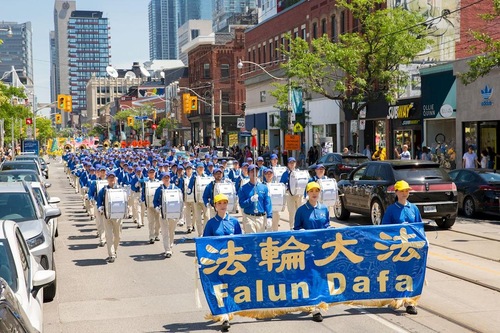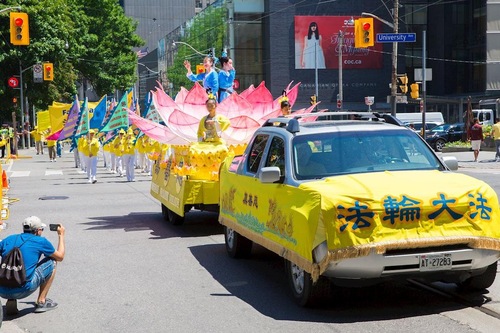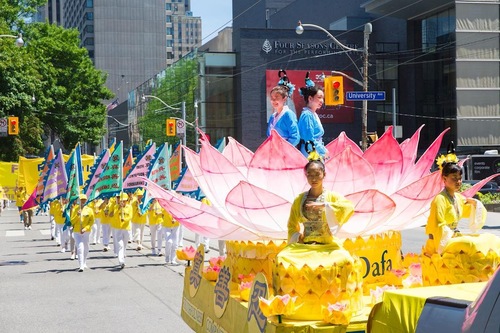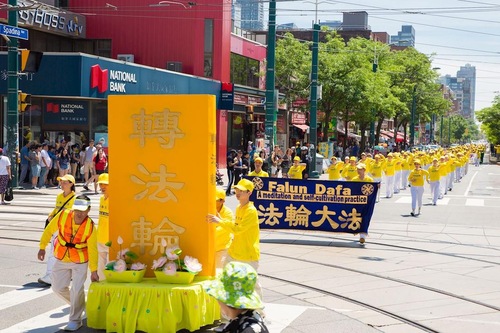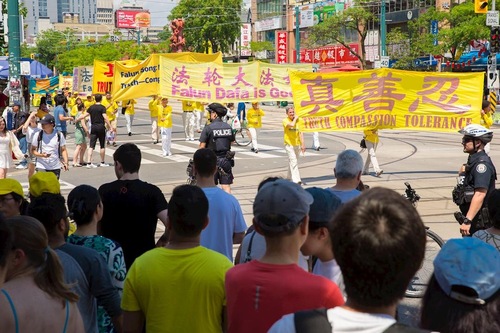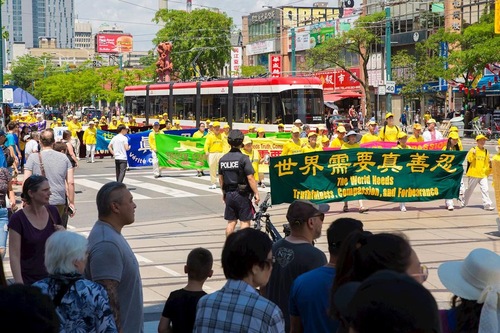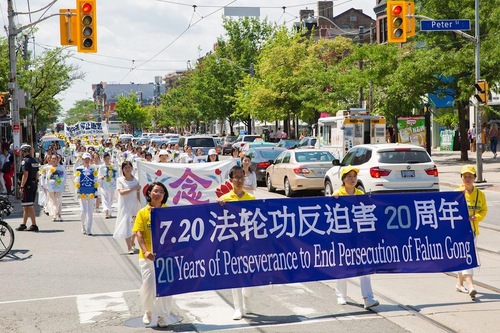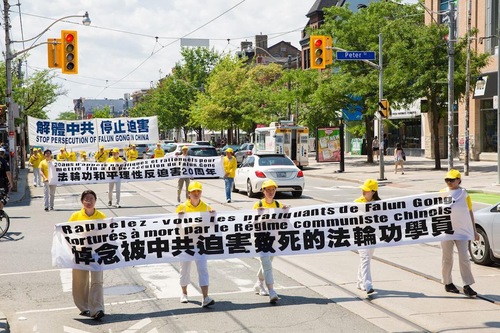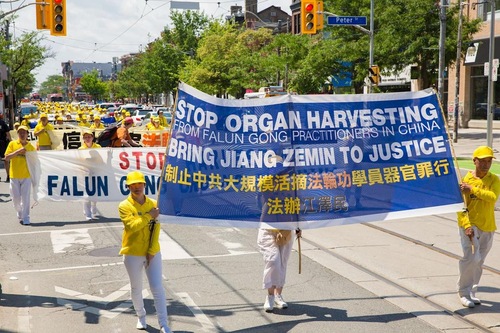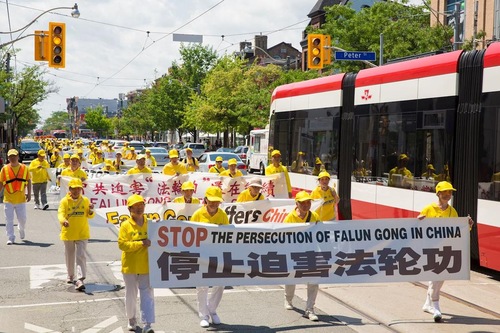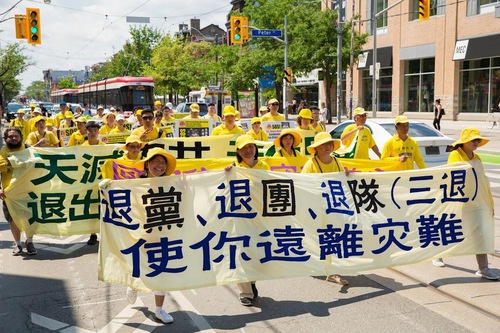 March in downtown Toronto on July 20, 2019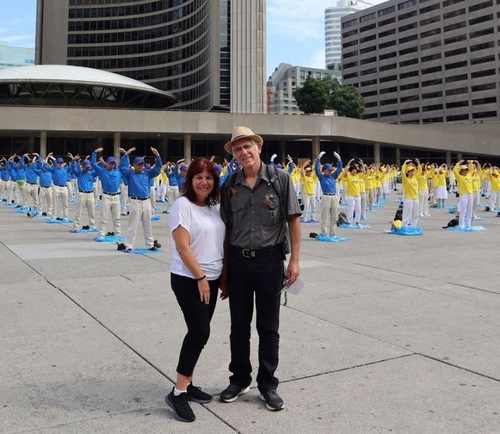 Nava and her husband from the Middle East
Nava and her husband from the Middle East went on a tour of City Hall and came across the group practice. After learning that the CCP has persecuted Falun Gong for 20 years, Nava said, "This is really too bad. We have heard about the persecution in China. We are from the Middle East, but we read a lot of news about what's happening in China, and we know how bad the CCP is. On the other hand, many countries are still economically cooperating with the Chinese communists."
When being told that Falun Gong is good for health, she said, "Where can I learn Falun Gong? I'd like to try it. I will read Zhuan Falun after going home."
Kasn from Japan
Kasn, who has been in Toronto for just six months, said, "I am from Japan. It is not my first time to hear about Falun Dafa. I have heard about it in my own country, but I know little about the persecution."
When he learned that the CCP had persecuted Falun Gong practitioners for 20 years, Kasn said, "I know that the CCP censors information, and the Chinese people cannot see real news. People in China cannot use the social media of other countries. The CCP fears that people will get real information. I now know that the CCP is completely bad and there are no human rights in China."
Toronto: Falun Gong Event Touches Mainstream Society
Falun Gong practitioners had a group practice, rally, and march in Toronto on July 20, 2019. Their perseverance, peace, and courage touched tourists and local residents alike.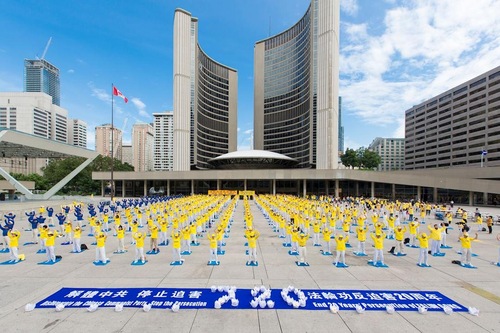 Falun Gong practitioners practice the exercises in front of the Toronto City Hall.
Rally in front of the Toronto City Hall on July 20, 2019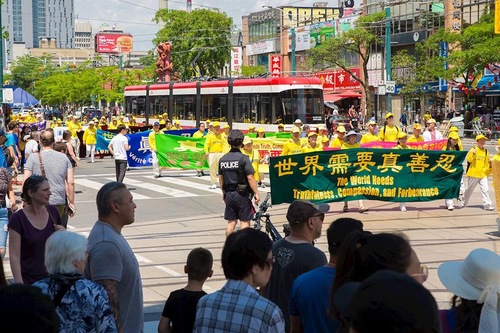 March in downtown Toronto on July 20, 2019, calling for an end to the persecution
Byron MacDonnell, a supporter of Falun Gong
Byron MacDonnell, a consultant with Toronto Integrated Energy Solutions, is a long-time supporter of Falun Gong. He deliberately rushed to the scene to express his support. "It's a privilege and pleasure to be part of this, and it's just a small way of trying to bring consciousness to my friends and families of what is happening. The persecution of Falun Gong is a global human rights issue," he said.
He strongly condemned the CCP's atrocities of live organ harvesting from Falun Gong practitioners. He said that it was absolutely horrific. He could hardly believe it when he learned about it for the first time. He expressed great sympathy to families of the victims. He thought it was time for the world to raise this concern and stop these atrocities.
Joe, a local resident, said during an interview that he had heard of the CCP's live organ harvesting. He said that Falun Gong's activities were very meaningful.
"If you can get your message across, reach out to the people," Joe said, "It is always nice. You can bring awareness to people in another country. I have seen similar activities in the past few years. Thank you very much for taking the time to organize events."
He continued, "In any country, people are free to talk about what they believe in, as long as they are peaceful. Persecution is absolutely wrong."
Candlelight Vigil in Vancouver
Falun Gong practitioners held a peaceful protest event in front of the Chinese Consulate in Vancouver on July 16, 2019. They had candlelight vigil in front of the Vancouver Art Gallery on the evening of July 18, 2019.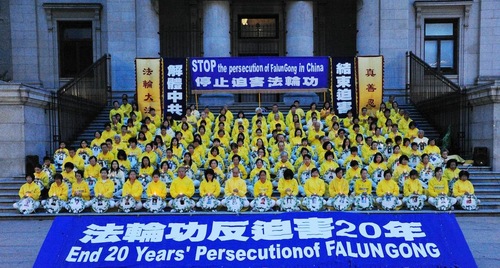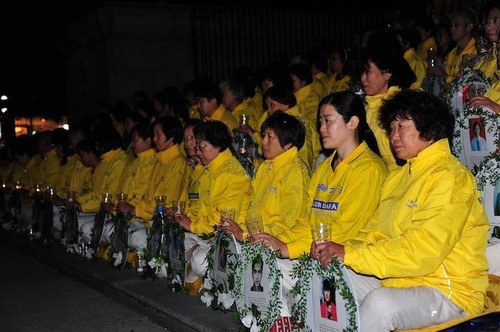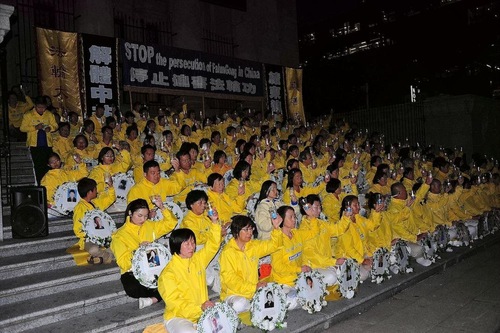 Falun Gong practitioners gather in front of the Vancouver Art Gallery on July 18, 2019.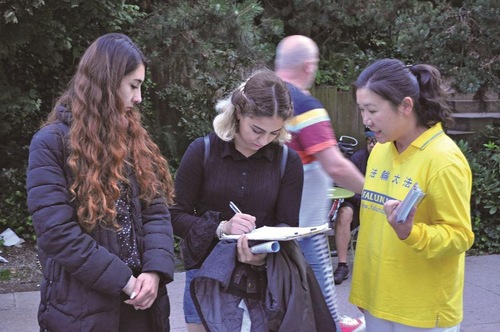 A passerby signs the petition protesting the persecution.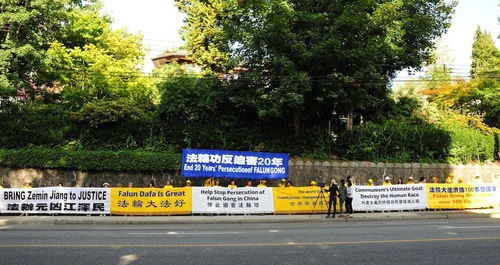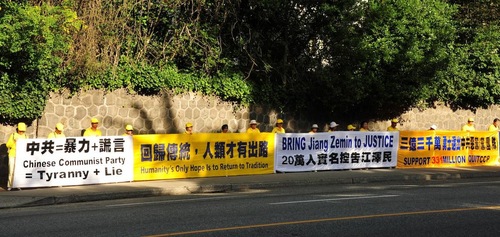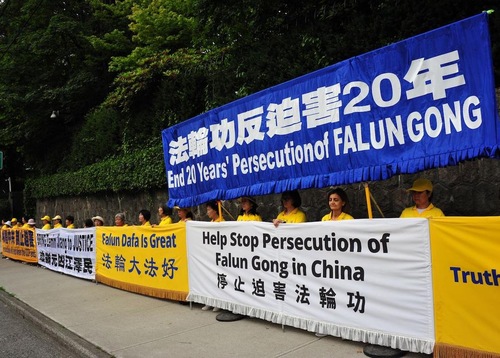 Falun Gong practitioners line up banners along the street in front of Chinese Consulate on July 16, 2019.
Relevant articles in Chinese: Toronto, Canada; Vancouver, Canada.