Shandong Man, 70, Held Incommunicado for Eight Months, Secretly Sentenced to Prison
July 26, 2019
|
By a Minghui correspondent in Shandong Province, China
(Minghui.org) A 70-year-old resident of Laiyang City, Shandong Province, has been denied family visits since his arrest in December 2018 for not renouncing his faith in Falun Gong. His family recently learned that he was secretly tried and sentenced to 15 months in prison. He has appealed the verdict.
Falun Gong, also known as Falun Dafa, is a spiritual discipline that has been persecuted by the Chinese communist regime since 1999.
Mr. Gai Guangsheng was arrested on December 21, 2018, at his flower shop in Laiyang City. The police ransacked his home and confiscated his Falun Gong books and materials. They tore off all the Falun Gong pictures he had put up.
The police never gave him a list of confiscated items, and Mr. Cai's family didn't know what else they'd taken during the raid, which took place when only Mr. Cai's son, who has mental disabilities, was present.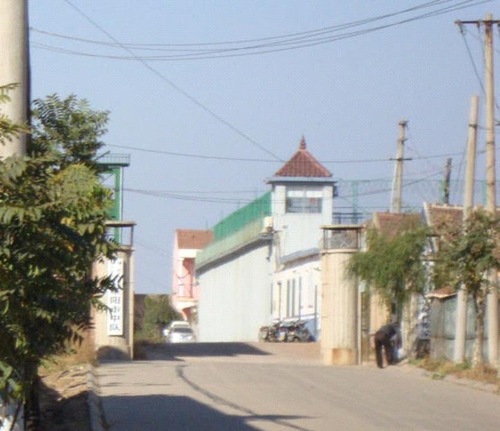 Laiyang City Detention Center
The police informed Mr. Gai's family on January 7, 2019, that his arrest had been approved and that he was being held at Laiyang City Detention Center. They refused to disclose any other information about his case.
His family visited the detention center multiple times over the past eight months, but their requests to meet with Mr. Cai were denied each and every time. The guards also refused to accept the winter clothes and bedding that his family brought for him.
Mr. Gai's family said they even begged Wei Haibo, the head of local Domestic Security Division, who is in charge of the persecution of Falun Gong in Laiyang City, to release him.
Wei admitted that he personally sent Mr. Gai to the detention center, but he insisted that he was handling the case according to the law. He threatened to arrest Mr. Gai's daughter if she continued to try to obstruct him from working on her father's case.
In fact, this was the second time that Wei was involved in persecuting Mr. Gai and his family. In 2008, Wei ordered the arrest of Mr. Gai's younger brother, Mr. Gai Guangqi, who developed high blood pressure and hardening of the arteries in his brain after being tortured in Jinan Forced Labor Camp. He suffered a stroke shortly after being released and was bedridden for years.
Mr. Gai Guangsheng's family later learned from sources that he was scheduled to appear in court. They contacted the presiding judge, surnamed Zhang. She was very rude to the family and said she wasn't responsible for telling them when his hearing would be held. When the family called her again, she didn't pick up the phone.
The family next talked to the chief of Jiangtuan Police Station, who was responsible for Mr. Gai's arrest. He said that he was just following orders from above to arrest Mr. Cai. When pressed by the family for information about Mr. Cai's court date, he grew impatient and threatened to have Mr. Gai sentenced to prison.
Related report:
Details of Mr. Gai Xiulong's Mistreatment at the Laiyang City Detention Center in Shandong Province