Minghui.org Establishes Publishing Center and Publishes Human Rights Report in English
(Minghui.org) To enable more people to learn about and gain a deeper understanding of Falun Gong (also known as Falun Dafa), the Minghui Editorial Board has launched the new Minghui Publishing Center, a nonprofit organization whose mission is to produce printed and electronic books, magazines, articles, and multimedia content, as well as to participate in relevant events.
These publications will center on 1) the benefits of practicing Falun Dafa, including improvements in physical health and spiritual well-being; 2) first-hand accounts of the persecution of Falun Gong by the communist regime in China; 3) and elements of traditional culture conducive to personal growth.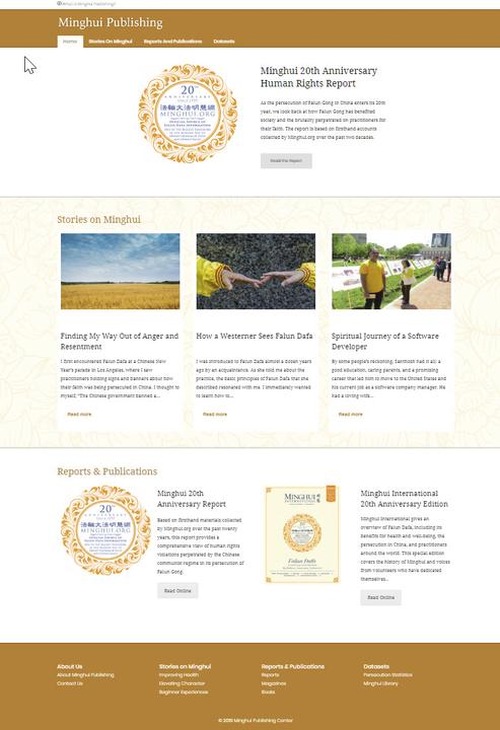 Screenshot of websiteThe Minghui Publishing website (https://www.mhpublishing.org)
Minghui Publishes English Edition of 20th Anniversary Human Rights Report
Minghui Publishing Center has produced the English edition of the Minghui human rights report, which comprehensively covers the persecution by the Chinese Communist Party that Falun Gong practitioners have endured to uphold their faith. The report is based on data and firsthand accounts collected by Minghui.org over the past two decades.
The English report is organized into six parts:
Part I: Persecution Report (characteristics, methods, severity, and human rights violations)Part II: Current Status of Falun GongPart III: Key Perpetrators of the PersecutionPart IV: 250,000 Lawsuits Filed Against Jiang ZeminPart V: Countering the CCP's Misinformation CampaignPart VI: Organ Harvesting: An Unprecedented Crime
We hope this report will help more people understand the persecution and human rights violations perpetrated against Falun Gong by the Chinese communist regime.