Quebec, Canada: Falun Gong Warmly Received During FestiVal-Morin
June 05, 2019 | By a Falun Gong practitioner
(Minghui.org) Falun Gong practitioners participated in the FestiVal-Morin held in the Laurentian area of Quebec, May 25 - 26, 2019. The festival's theme is health and included artistic and spiritual activities designed to help people integrate with nature and find spiritual peace. Many people were attracted to the Falun Gong booth and wished to learn more about the traditional spiritual practice.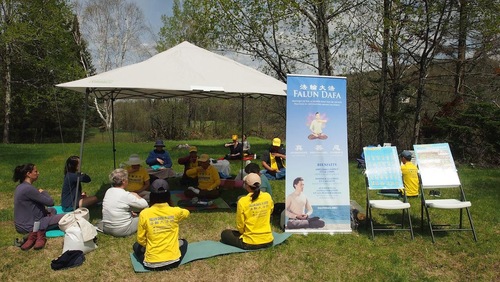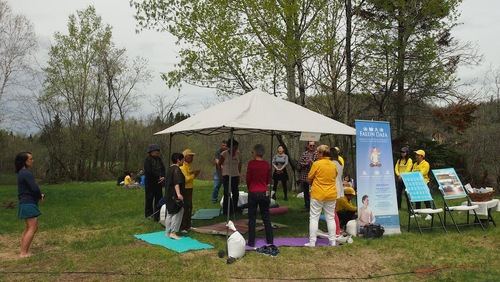 Practitioners demonstrate the Falun Gong exercises during the FestiVal-Morin May 25-26.
The festival organizer provided a large, spacious space near the river for practitioners to demonstrate the Falun Gong exercises. Event organizer Marc A. Bourbonnais came to the stand to thank practitioners for their participation. He praised them for bringing an atmosphere of peace and said, "Thank you for coming. I was very nervous this morning, but I can feel your energy. I now feel relaxed."
Many people were interested in Falun Gong. Some asked where they could learn the practice, and others said that they would download the book Zhuan Falun from the Internet. People were happy to learn that there were practice sites in several towns near Laurentian. Others invited practitioners to come to nearby towns to hold workshops and demonstrate the exercises.
One of the event organizers learned the Falun Gong exercises and said that she wishes to join the local group practice.
People were naturally drawn to the paper lotus flower folding demonstration, and several children and their parents learned to make the lotus flowers. As they made flowers the practitioners explained about the Chinese Communist Party's (CCP) persecution of Falun Gong in China.
Many people were very moved. One mother reminded her six-year-old daughter that since her birthday party would be in a few days, they should invite her guests to make paper lotus flowers.
The retired principal of a well-known local private middle school, Collège Laurentian, brought his three-year-old grandson to participate in making lotus flowers. After he finished, he said in amazement, "This is a miracle!"
He said that he was never good at making things by hand. After he saw his little grandson learn to meditate and sit quietly for nearly ten minutes, he thought that Falun Gong was amazing.
When he and his grandson returned the next day, he told practitioners that he shared the Falun Dafa website with the teachers and students at his school on social media. They also planned to come to the local group practice site.
After the event, practitioners received additional feedback from the festival organizer. He remarked that the practitioners' display was peaceful and harmonious and he invited them to participate in the festival next year.