Shanghai Engineer, 79, Sentenced to One Year in Prison for Giving Out Falun Gong Calendars
June 25, 2019 | By a Minghui correspondent in Shanghai, China
(Minghui.org) A 79-year-old Shanghai resident was sentenced to one year in prison and fined 2,000 yuan on June 6, 2019, for practicing Falun Gong, a meditation and spiritual discipline persecuted by the Chinese communist regime since 1999.
Mr. Cao Hongru, who had been out on bail since he became critically ill in December 2017 after being force-fed in detention, was allowed to return home after the trial.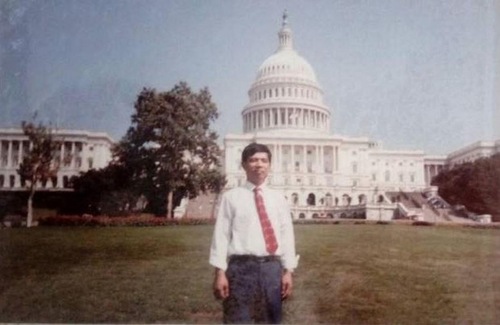 Mr. Cao during a business trip to the U.S. in 1990
Mr. Cao, an award-winning textile manufacturing engineer, was arrested on December 4, 2017, for giving his neighbors calendars with information about Falun Gong and the communist regime's persecution of the practice.
Officers force-fed him after he held a hunger strike to protest the arbitrary detention. With his hands and feet restrained to a chair, four officers held his limbs and a fifth one held his head while the detention center doctor force-fed him.
The violence caused injuries and tremendous mental trauma for Mr. Cao. His physical condition declined quickly after the forced feedings, and he was released on bail on December 25, 2017.
Upon returning home, he felt stiffness in his head and neck and had frequent headaches and dizziness. He couldn't move and had to lay in bed for long hours each day.
The police submitted his case to the Changning District Procuratorate on March 5, 2018. The prosecutor indicted him on April 20 and forwarded his case to Fengxian District Court.
While awaiting trial, Mr. Cao began to throw up and had loose bowels starting on May 31, 2018. He couldn't eat or drink for four days. He became incontinent, and his weight dropped from 160 to 145 pounds.
When his family took him to the hospital on June 5, 2018, he was diagnosed with brain atrophy, cerebral calcification, and kidney failure.
Despite his condition, the judge ordered him to appear in court the next day.
Mr. Cao testified in his own defense, including how practicing Falun Gong improved his health in his 50s and that no law in China criminalizes Falun Gong.
The judge announced the one-year sentence at the end of the trial. Mr. Cao has appealed to Shanghai City No.1 Intermediate Court.
For not renouncing his faith in Falun Gong, Mr. Cao has been repeatedly arrested and twice imprisoned for a total of seven years since the communist regime began the persecution in 1999.
He was beaten, forced to take unknown drugs, deprived of sleep, and forced to stand or sit on small objects with an uneven surface for long hours while detained.
Related report:
Senior Citizen Persecuted Since 1999, Faces Yet Another Illicit Trial