Disabled Single Mom on Hunger Strike to Protest Sixth Arrest for Her Faith, in Serious Condition After Being Force-fed
June 19, 2019 | By a Minghui correspondent in Shandong Province, China
(Minghui.org) A disabled woman from Longkou City, Shandong Province was arrested for the sixth time in April 2019 because she refused to renounce her faith in Falun Gong. Ms. Wang Hongyu went on a hunger strike in protest and was force fed.
The 48-year-old woman became very weak and had symptoms of dizziness, nausea, and vomiting. Her family is extremely concerned about her well being.
This is not the first time that Ms. Wang has been targeted for holding firm to Falun Gong, which she credits with returning her to health. Ms. Wang was disabled after suffering a spinal injury while trying to escape from a brainwashing center in 2001. Her husband, unable to withstand her being repeatedly arrested, divorced her. Ms. Wang's latest arrest came seven years after she finished serving five years in prison for her faith.
Falun Gong is a mind and body improvement system based on the principles of Truthfulness, Compassion and Forbearance. The practice was first introduced to the public in China in 1992, and the Chinese communist regime began to persecute it in July 1999.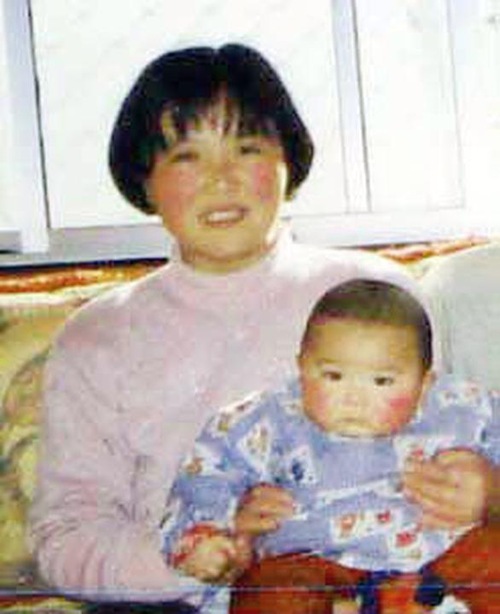 Ms. Wang Hongyu and her son before the persecution began
Latest Arrest
On April 18, 2019, about a dozen officers from Beima Police Station arrested Ms. Wang and two other practitioners while they were telling people about Falun Gong and the persecution. The three practitioners were taken to the police station and interrogated.
The police later ransacked the practitioners' homes without them being present.
The police sent Ms. Wang to a hospital for a routine physical checkup. When she was found to have chest pain and disqualified for detention, the police still sent her to Yantai Detention Center. Her arrest was officially approved on May 18, and she is now facing indictment for her faith.
Five Prior Arrests
In 2001, Ms. Hong jumped from a building trying to escape from Xiadingjia Brainwashing Center in Longkou City. Her spinal cord was fractured and as a result her legs were crippled.
She was given three years of forced labor in Wangcun Forced Labor Camp in Zibo City in 2003. The labor camp guards forced her to sit on the damp concrete floor day and night for over 40 days. Her buttocks festered and she was released on medical bail.
Her third arrest took place on October 13, 2006. While she was detained in Longkou City Detention Center, she went on a hunger strike to protest the arrest and the in-house doctor force-fed her.
She was arrested a fourth time and sentenced to five years in prison on April 12, 2007 for exposing the persecution. Even though she failed the physical exam, the authorities still put her in Shandong Province Women's Prison. She was tortured to near-death.
Ms. Wang was telling people why the persecution was wrong on June 21, 2013 when officers from Longgang Police Department arrested her. She was locked up in Longkou City Detention Center once again.