Falun Gong Practitioners Share Cultivation Experiences and Understandings in Hong Kong
May 08, 2019 | By a practitioner from Hong Kong
(Minghui.org) Falun Gong practitioners from Hong Kong, Macao, Taiwan, and Japan held a cultivation experience sharing conference last Sunday in Hong Kong. Eighteen speakers told their stories and discussed their understandings of cultivation.
According to Hong Kong Falun Dafa Association spokesman Kan Hung-Cheung, the last cultivation experience sharing conference in Hong Kong was held in January 2016. Due to interference from the Chinese Communist Party (CCP), practitioners have had a hard time finding a conference hall since then. This time, the organizers again ran into difficulties and had to postpone the date.
"We thank people from all over the world for their support," Mr. Kan said. "We believe that in the near future, the persecution will end, and Falun Gong activities will not be interfered with anymore."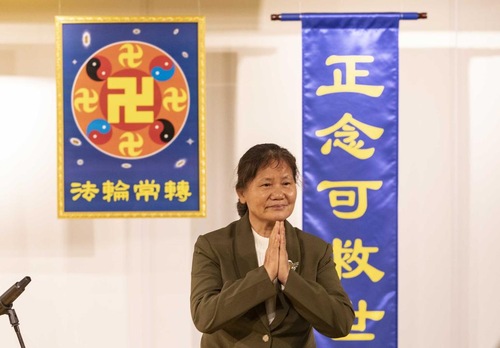 Ms. Shi has told people about Falun Gong for over 10 years.
Over the past 10 plus years, Ms. Shi has told people about Falun Gong at different events. In 2016, a few thugs, under the CCP's direction, confronted her when she set up Falun Gong display boards in downtown Hong Kong. They eventually filed a lawsuit against her.
Ms. Shi was able to show that these same agent provocateurs have called police more than 90 times in the last three years, targeting Falun Gong activities. The judge concluded that these people "provoked Falun Gong purposefully," "are hostile to Falun Gong," and therefore cannot serve as reliable witnesses. Ms. Shi won the case.
Ms. Shi also talked about the changes in her husband. He was deceived by the CCP's propaganda against Falun Gong initially, but he started to practice it when he fell ill. "It helped him a lot, and now he believes that Dafa is powerful," Ms. Shi said.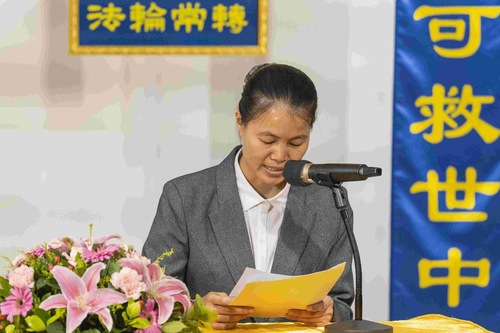 Ms. Liang Jinyou shares her experiences
Ms. Liang Jinyou started to practice Falun Gong in 1999 in mainland China. During the persecution, she was arrested and sent to a labor camp. Since she refused to give up her belief, she was shocked with electric batons, locked up, and subjected to sleep deprivation. Her husband Wang Bin was also arrested and tortured for practicing Falun Gong.
Ms. Liang moved to Hong Kong in 2013 and participated in various activities exposing the persecution. She has filed a lawsuit against Jiang Zemin, the former head of the Chinese Communist Party (CCP), for his leading role in the persecution. She also joined peaceful protests that called for the release of her husband.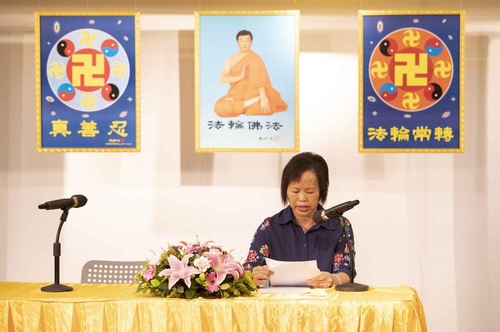 Ms. Lin talks about her experiences of passing out Falun Gong materials in public.
Ms. Lin and a few other fellow practitioners have been passing out Falun Gong materials in three areas that have a population of 1.2 million in total.
"Twice a week we go around those areas, and we can visit about 70 sites in three weeks. Many people have received our materials," she said.
"All we need is patience and compassion," she added, "If we are not afraid of the interference, we are able to improve the environment and change people's attitudes towards Falun Gong. Recently we have run into many people who praise us and support Falun Gong. Our efforts are not in vain."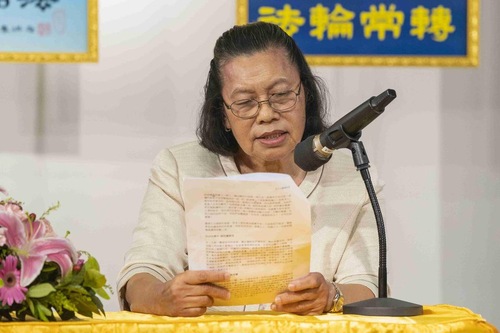 Ms. Yip talks about how she helps the Chinese tourists quit the Communist Party.
Ms. Yip regularly goes to famous tourist spots and tells Chinese tourists about Falun Gong and the persecution in China. One of her goals is to help them to recognize the evil nature of the Chinese Communist Party and then quit it.
"I tell them how brutally the party persecutes Falun Gong and how they make up lies to slander Falun Gong. I show them a lot of evidence," Ms. Yip said, "I also focus on the state-sanctioned organ harvesting. Many tourists were touched and shocked. Some told me that they support our peaceful resistance, and some believe that these murderers should be brought to justice. I have helped a lot of Chinese people quit the party."
She continued, "I always try to be nice to everybody, including the thugs who are directed by the party to harass us. It is a big challenge. But as a cultivator, I need to follow the principles of Truthfulness-Compassion-Forbearance. I believe that my righteousness can suppress the evil and minimize the interference."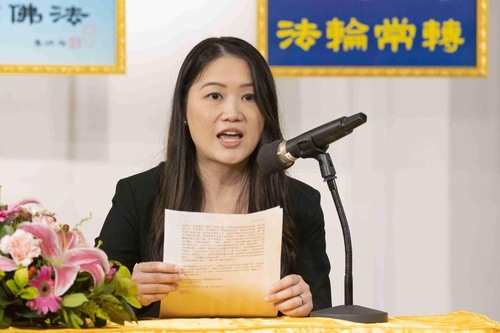 Jasmine talks about how she balances school work and cultivation.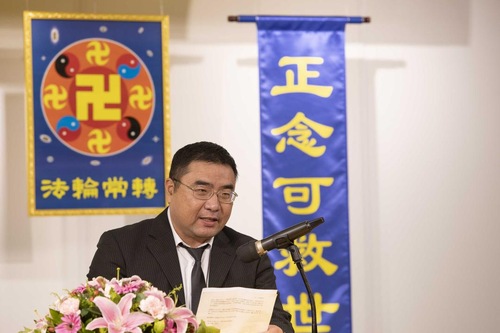 Mr. Yang from Taiwan believes that Hong Kong is tightly controlled by the Chinese regime, and holding Falun Gong activities here greatly helps the local residents know the truth about Falun Gong and the persecution.
Ms. Tam, the emcee of the conference, shared her experience of telling the public about Falun Gong. "We give chances to people to think about Falun Gong and make the right decision. People have come to trust us, and know that we are using our own time to hold these activities and tell them the facts."