Australia: Peaceful Protests and Candlelight Vigils Mark 20th Anniversary of the April 25 Appeal in Beijing
May 02, 2019 | By Minghui correspondents
(Minghui.org) On April 25, 1999, a peaceful appeal in Beijing surprised the Chinese leadership and the international community when 10,000 Falun Gong practitioners gathered near the State Council Appeals Office to request the release of fellow practitioners who had been illegally arrested for their belief.
The gathering was peaceful and without incident, and the Tianjin practitioners were released following the appeal. Three months later, however, on July 20, 1999, Jiang Zemin, then-head of the Chinese Communist Party (CCP), launched a nationwide persecution campaign against Falun Gong that continues to this day.
To commemorate the April 25 appeal, Falun Gong practitioners across the world hold events each year to raise awareness of the CCP's ongoing persecution, especially the state-sanctioned live organ harvesting of prisoners of conscience. The following are reports of activities in Sydney, and Canberra, Australia.
Sydney: Meditation and Candlelight Vigil at Historic Customs House and at Chinese Consulate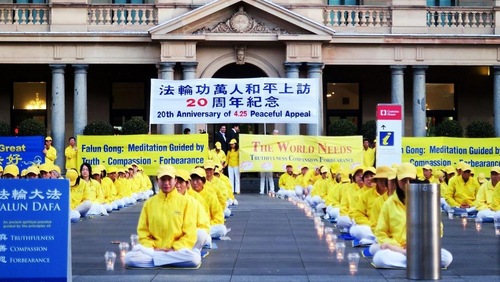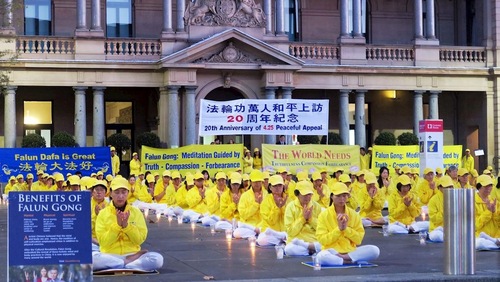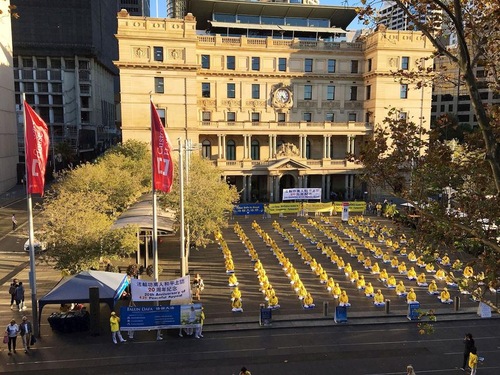 Falun Gong practitioners from Sydney meditated and peacefully protested against the ongoing persecution in China in front of the historic Customs House in downtown Sydney on April 24, 2019.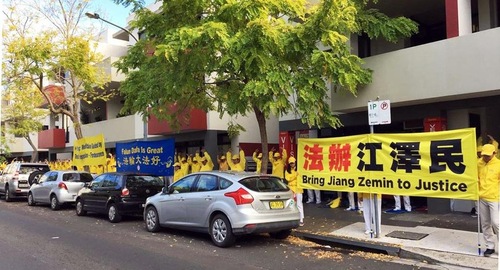 Falun Gong practitioners protest in front of the Chinese Consulate in Sydney on April 25 to commemorate the 20th anniversary of the April 25 Appeal in Beijing.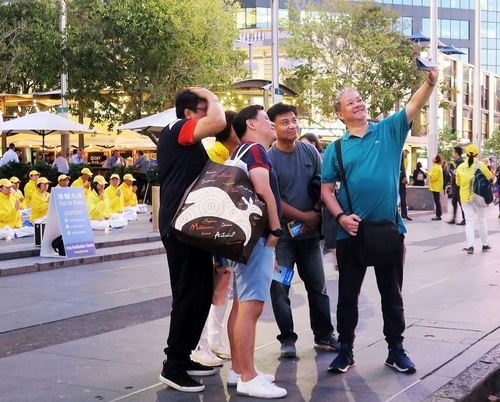 Several passersby stopped to take photos of the activities commemorating the April 25 peaceful appeal.
Public Support for Candlelight Vigil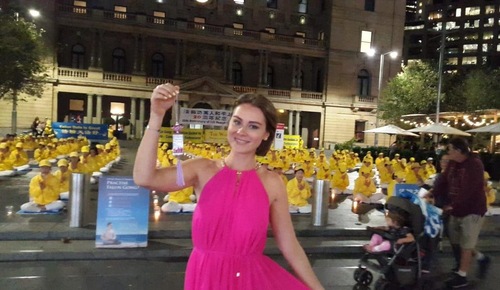 Sofia Fominova feels that Falun Gong's principles – Truthfulness Compassion Forbearance – are very important for the world's people.
Sofia Fominova was drawn to the candlelight vigil. While she was recording the scene, a message popped up on her phone reminding her to go to a dinner party, but she didn't want to leave.
Sofia said, "The candlelight vigil is very moving and beautiful. There's such a peaceful energy field here. I want to sit with them and melt into this energy field."
She said that she works in technology but is interested in a more spiritual life. "I often meditate and search for my true self. I feel it's important and it enables me to harmonize with the people around me," she added.
When her mother stopped by and saw the large group of practitioners meditating, she said excitedly, "I saw Falun Gong practitioners meditating in Geneva and I sat with them. I will post this activity on my Facebook account. I wish you success!"
Energy trainer Zoe Lindsay watched the candlelight vigil for a long time. She left briefly and returned with her boyfriend. She hadn't heard of Falun Gong before but said that she was drawn by the energy she felt. "I can feel it – the energy is positive," she said. "I'm very moved that they are doing this here today.
"I feel their energy field. It's so serene and beautiful. I believe Truthfulness-Compassion-Forbearance is good and it's changing the world. If everyone could pass on the values of Truthfulness-Compassion-Forbearance, it would start a chain reaction. If a million people did this, it would change the world."
Zoe and her boyfriend were moved by practitioners' persistent efforts over the last two decades and said that practitioners were courageous. "They're having a big and positive impact on the world," Zoe said. "Their contribution to the world is important and great."
Her boyfriend said that while he was in China on a business trip he felt the regime's tight control on people. "Because of what I experienced, I think Falun Gong practitioners in China are extremely courageous and I feel it is because they have faith in Dafa."
He added, "I believe the values of Truthfulness-Compassion-Forbearance. And I also believe that if everyone could follow them, it will be a force to change the world.
"They (practitioners) have been through an extremely hard twenty years. I believe if they can persist another twenty years they will create a miracle."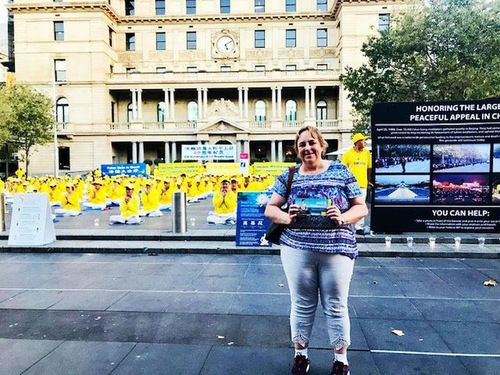 Julie from Adelaide said, "Everyone has the right to choose one's belief."
Julie had traveled from Adelaide to visit her child. She said, "I believe everyone has the right to choose one's belief. It is very wrong that the Chinese government systematically kills Falun Gong practitioners in China."
She said, "It's the same as the massacre of those students who appealed on Tiananmen Square. Their persecutors attacked them with tanks."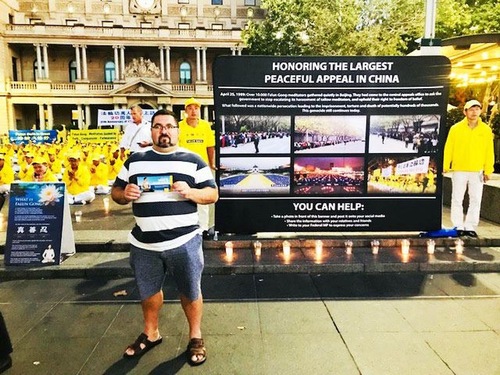 Louis from Argentina remarked, "The Chinese government must immediately stop the persecution of Falun Gong."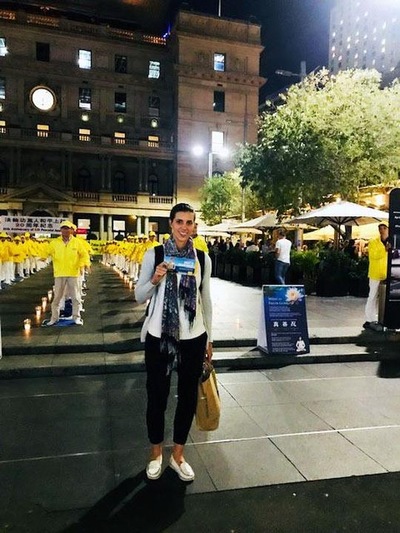 Ms. Ali from Sydney said, "I like the peaceful meditation. I feel surrounded by a positive energy field! The Chinese government's persecution of Falun Gong is inhuman and must stop immediately. Many people don't know the communist regime is harvesting organs from living Falun Gong practitioners. We must spread information about this crime on social media."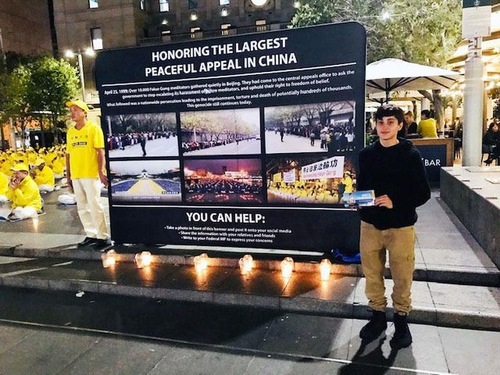 Melaine Ato was drawn to the scene and remarked, "A peaceful meditation is a very good way to inform people because it shows the beauty and peace of Falun Gong."
Many passersby stopped to watch the candlelight vigil, read the information and expressed their support for Falun Gong practitioners' persisting in their belief despite the brutal persecution.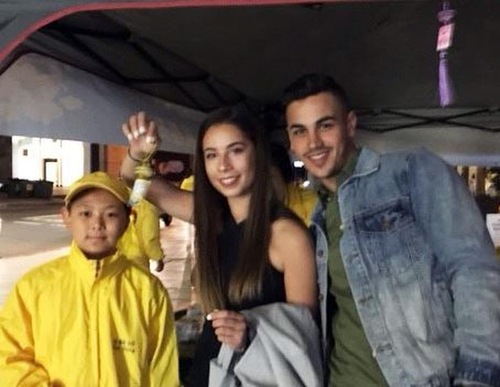 Jaz Demetri and Alex Somentino both signed the petition condemning the persecution. Jaz said, "We believe it is a very good way to tell people the facts of the persecution using meditation. We support you."
Canberra: Candlelight Vigil at Chinese Embassy
On the evening of April 25, Falun Gong practitioners in Canberra held a candlelight vigil outside the Chinese Embassy. They raised awareness of the brutalities taking place in China and called on the Chinese Communist Party to end the persecution and immediately release all imprisoned Falun Gong practitioners.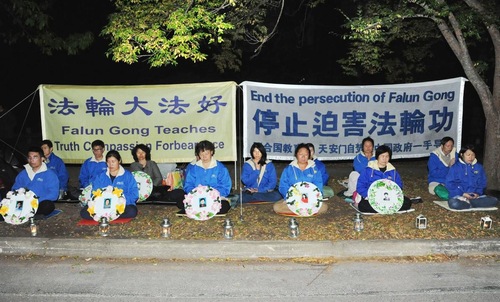 Falun Gong practitioners in Canberra hold a candlelight vigil outside the Chinese Embassy on April 25.