Australian Resident: Persecution Needs to be Stopped Immediately
May 02, 2019 | By Minghui correspondent in Melbourne, Australia
(Minghui.org) Falun Dafa practitioners held activities at Princes Bridge and City Square in Melbourne, Australia, on April 25, 2019 to commemorate the 20th anniversary of the peaceful appeal that took place in Beijing on April 25, 1999 and to raise awareness of the ongoing persecution of Falun Dafa in China.
On that day in 1999, approximately 10,000 Falun Dafa practitioners traveled to Beijing to appeal to the Chinese regime's leadership after practitioners in Tianjin were illegally arrested for their belief. The Tianjin practitioners were released following the peaceful appeal, but three months later on July 20, 1999, then Chinese leader Jiang Zemin launched a nationwide persecution campaign against Falun Dafa practitioners that continues to this day.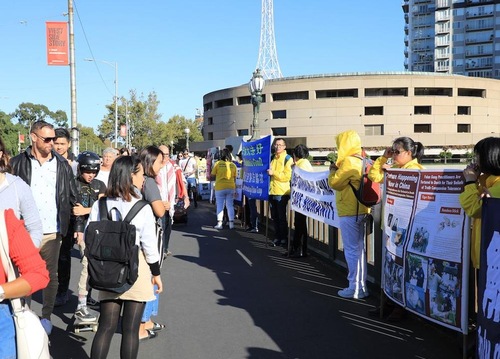 Falun Dafa practitioners display posters and banners at Princes Bridge in Melbourne on the evening of April 25, 2019.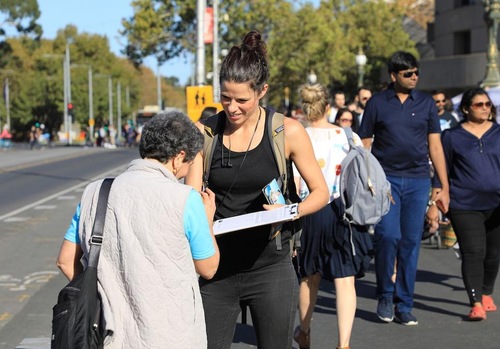 People in Melbourne sign a petition calling for an end to the persecution in China on the evening of April 25, 2019.
Practitioners held a candlelight vigil at City Square in Melbourne on the evening of April 25, 2019, to mourn the practitioners in China who have lost their lives at the hands of the Communist Party for refusing to renounce the principles of Truthfulness-Compassion-Forbearance. Many local citizens and tourists stopped to learn about Falun Dafa.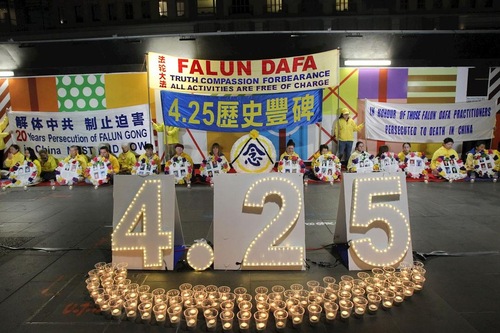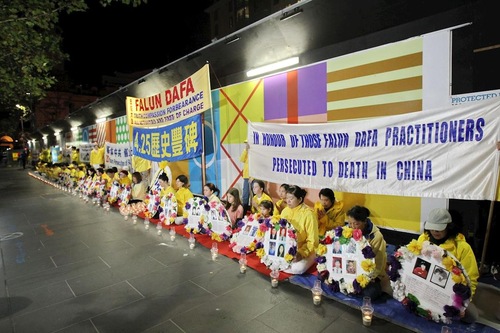 Candlelight vigil at City Square in Melbourne on April 25, 2019.
People learn about the persecution of Falun Dafa in China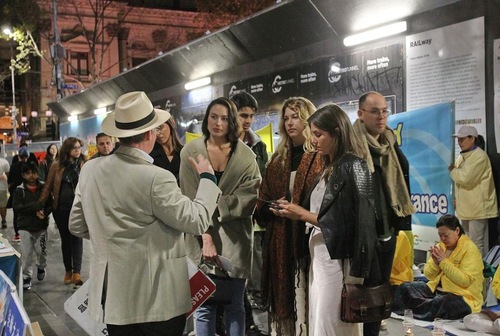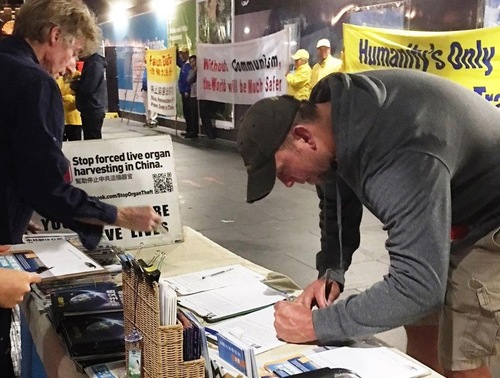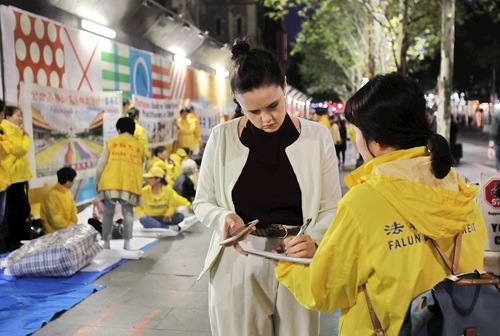 People sign a petition supporting the efforts to end the persecution.
Persecution Needs to be Stopped Immediately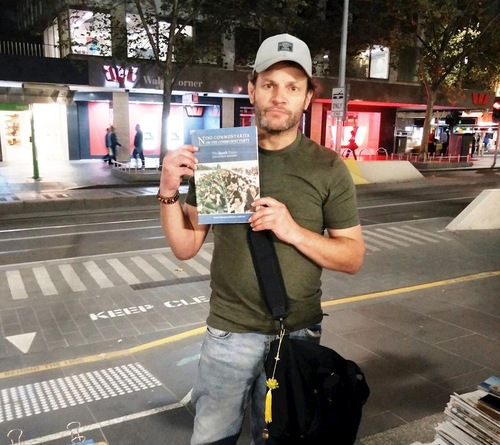 Renold Robin from Brisbane appreciates practitioners' peaceful efforts to raise awareness of the persecution.
Renold Robin used to live in Melbourne and now lives in Brisbane. He and his wife were visiting friends in Melbourne during their vacation. It was their first time to see practitioners' activities to raise awareness of the persecution in China.
Mr. Robin said the candlelight vigil is a good initiative because the more people spread the word about it and the more people talk to each other and make each other aware of it, the more quickly the situation will change.
"You can't really put a price on human life," he said, "and I think we live in a world where everybody should have a right to express their own feelings and do whatever they want to do. There shouldn't be any restrictions on that. It's really sad to see. I didn't know much about it until now. It's pretty horrifying to know what these people would have gone through for their own belief and to better their lives. I think it [the persecution] needs to be stopped immediately."
So Peaceful, It Demonstrates Falun Dafa's Spirit
Clint Deacon is an assistant to an architect and also a photographer. He was impressed by the serenity and peacefulness at the candlelight vigil held by Falun Dafa practitioners. He said that an energy drew him to stop to find out more.
"You can see the people sitting here, totally still, very humble, very peaceful," he said. "They're demonstrating exactly what the practice is all about, what the spirituality is all about, and there's a very beautiful way about it. I think if people, particularly in Western culture, like Australia, can see this sort of thing demonstrated a lot more often, there's an energy about it that I think naturally draws people to be curious about it."
He was sad that Falun Dafa practitioners in China have been persecuted to the point of having their organs harvested by the Chinese communist regime.
"People who practice this spiritual way of life are being persecuted and murdered, and having their organs harvested, all because they have a spiritual belief. I think it's absolutely barbaric. It's not even something I can properly fathom that people are being murdered without anesthetic, and having their organs stolen from them, all for wanting to be peaceful and righteous in the world. It absolutely breaks my heart.
"These practices are not hurting anybody. All they're doing is helping everybody. There is nothing negative about this practice. I just cannot believe that people are being persecuted for being so passive and just so kind to humanity.
"It just sounds to me just like a totalitarian operation, the communist way of life. They would fear anybody for thinking original thoughts, for having their own independent way of thinking. I don't think they want people being independent. They're afraid that you become independent in your ways of thinking, and you'll think outside of their structured way. And that's just evil. Everybody in the world has a right to spirituality."