Australian and New Zealand Practitioners Celebrate Falun Dafa Day
May 17, 2019 | By Minghui correspondents
(Minghui.org) Falun Gong practitioners in Sydney, Melbourne, and Canberra in Australia, and Auckland, New Zealand, held a series of activities over the weekend to celebrate the 27th World Falun Dafa Day and the 68th birthday of Master Li Hongzhi.
Practitioners held marches, rallies, performances, and exercises demonstrations to celebrate. They also passed out flyers and exhibited photos about the persecution of Falun Gong in China, and called for help to end it.
Sydney, Australia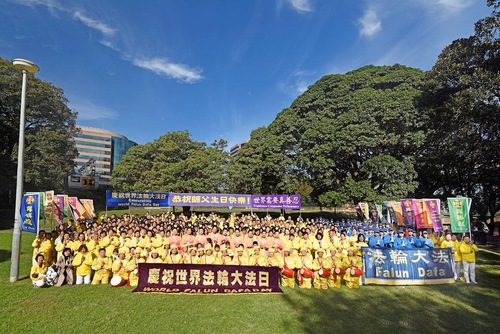 Practitioners in Sydney, Australia, wish Master Li a happy birthday.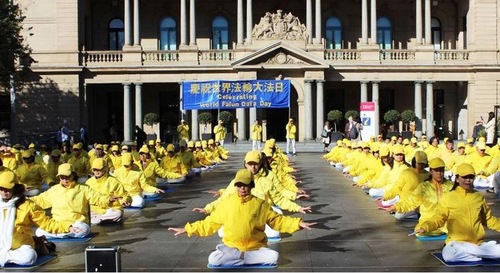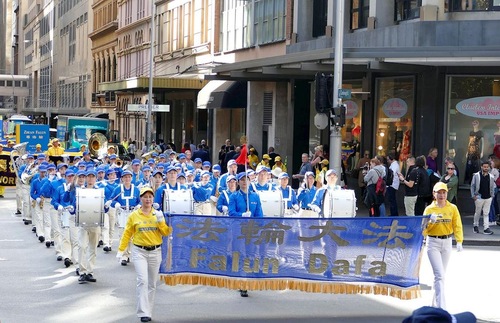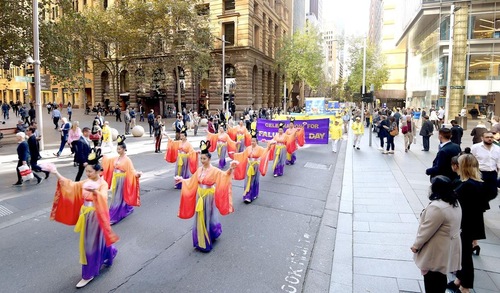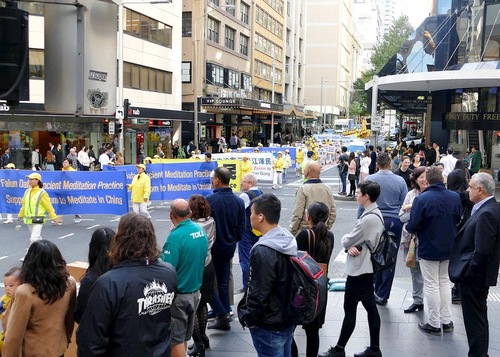 The march in Sydney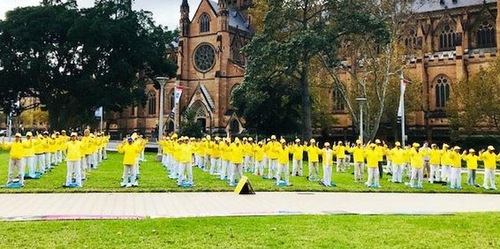 Group exercises in Sydney, Australia.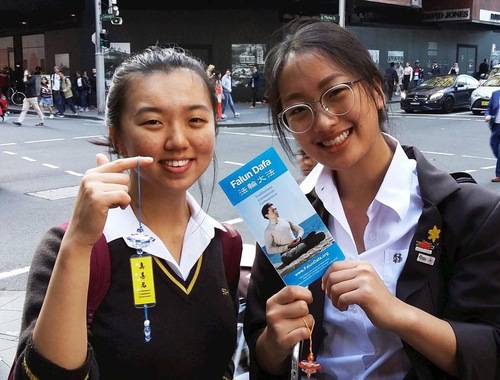 Janet and Ashley felt lucky to see such a beautiful parade.
Practitioners in Sydney celebrated Falun Dafa Day in Belmore Park on May 9, 2019. They then held a parade from the park to the city center.
Janet and her friend Ashley liked the parade very much. "It is peaceful and attractive," Janet said. "We were talking about finding a meditation method for relaxation this morning and we see this. This is exactly what we need."
The girls were shocked when they learned about the persecution, especially the state-sanctioned organ harvesting in China.
"Living in Australia, we don't know about this at all," Ashley said. "This march conveys the message to people and will make them think about how to help end the persecution."
Janet said that it is evil to persecute such a peaceful group. "Falun Gong has done great. The peaceful resistance is the bravest and encouraging action that I've ever seen. We will look for more information about Falun Gong and tell our friends what we have seen today," she said.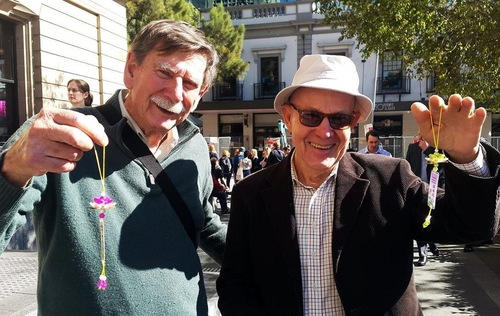 John Bueell (right) and his friend Roger Hennesy were impressed by the performances of the Falun Gong's Tian Guo Marching Band. "I think everyone should follow the principles of Truthfulness-Compassion-Forbearance," John said.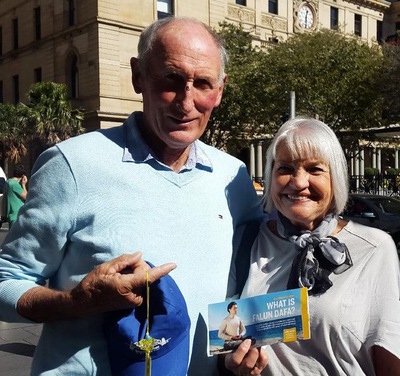 Psychologist Tia Houston and her friend Ian Blakemore
Psychologist Tia Houston is from New Zealand. She liked the positive energy from practitioners.
"I support their peaceful resistance and the message they convey. We cannot tolerate such persecution," Tia said. "We will look for more information online, and we will sign the petition. This Saturday we will go to the Falun Dafa Day celebration at Hyde Park. Actually, we try to follow the principles of Truthfulness-Compassion-Forbearance every day, and more people should support it, because it is universal."
Her friend Ian Blakemore was touched by the beauty demonstrated by the practitioners. "I hope more good things will happen in China, and the communist party will be disintegrated soon. I hope more people, especially the media, will support Falun Gong, and I hope practitioners will be rewarded with the best," he said.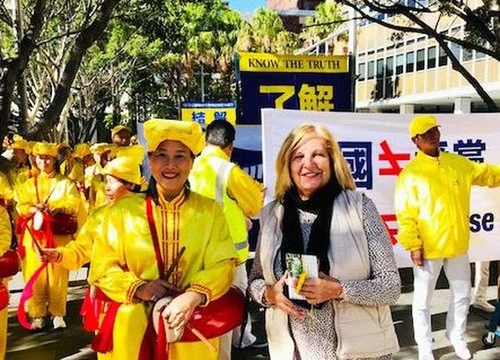 Lida from Ukraine believes that more people should know the truth about Falun Gong, and everybody should help spread the information.
Melbourne, Australia
The celebration in Melbourne took place at Queensbridge Square on Saturday, May 11, 2019. Lawmakers and community leaders attended the celebration and gave speeches.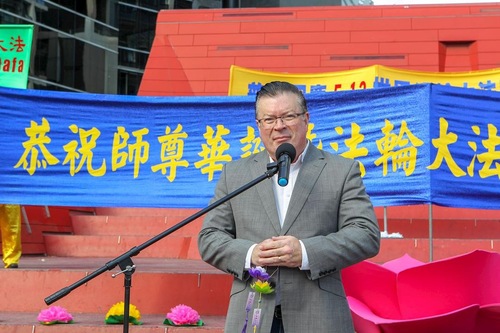 Bernie Finn, a member of the Victorian Legislative Council, condemned the persecution and praised the peacefulness of practitioners in his speech. He called out the communist party as a coward power that treats its own people as the enemy. He told practitioners that he stands with them, and every Australian who loves freedom stands with them to fight for freedom.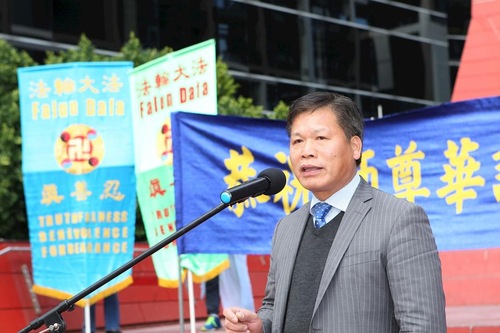 Ruan Jie, a human rights activist, and the chief editor of the Tiananmen Times told attendees that supporting Falun Gong is supporting the future of China because the communist party has tried to destroy traditional Chinese culture, whereas Falun Gong practitioners are trying to restore the culture.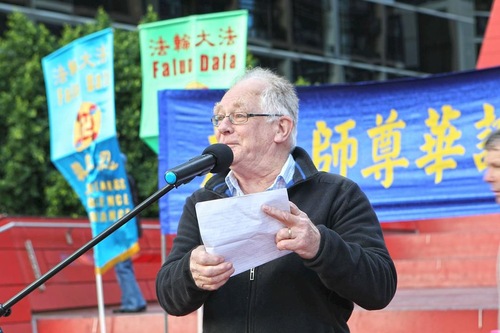 Gerard Flood, the former vice chair of the Democratic Labor Party in Victoria, believes that the principles of Truthfulness-Compassion-Forbearance are the highest achievement in human history, and are the foundation of modern society and cannot be replaced. He called for help to protect these principles.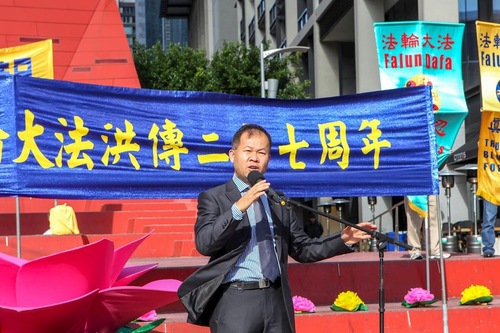 Bon Nguyen, an Australian-Vietnamese community leader, praised practitioners, saying they were as beautiful and pure as lotus flowers. He also strongly condemned the forced organ harvesting in China.
Other federal lawmakers and public officials sent letters of congratulations for the practitioners' events, including Tim Wilson, Richard Di Natale, Janet Rice, Cindy McLeish, Maree Edwards, Russell Northe, Clifford Hayes, Mayor of Greater Bendigo Margaret O'Rourke, Port Phillip City Council Member Ogy Simic, and Peter Westmore.
Canberra, Australia
Practitioners in Canberra held a cultivation experience sharing conference to celebrate Falun Dafa Day and Master Li's birthday.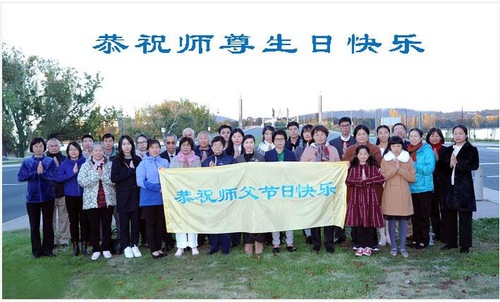 Practitioners wish Master Li a happy birthday.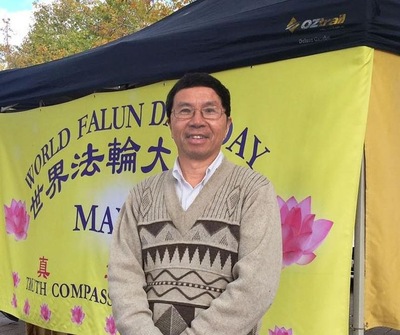 Liu Songfa, a federal government employee, has practiced Falun Gong for 20 years. During his experience sharing, he said, "Giving up attachments and looking within when running into conflicts, these teachings of Falun Gong, give me freedom and happiness."
Auckland, New Zealand
Practitioners from Auckland demonstrated the exercises and had traditional Chinese dragon dances and waist drums performances at Mission Bay to celebrate the holiday. The Tian Guo Marching Band also performed at the celebration.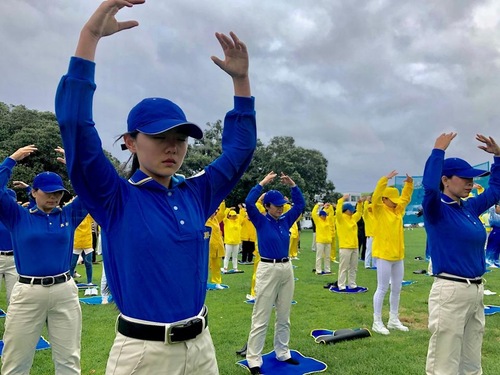 Demonstrating the exercises at Mission Bay, in Auckland, New Zealand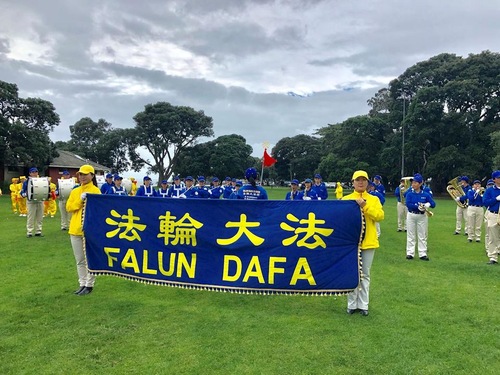 The Tian Guo Marching Band performs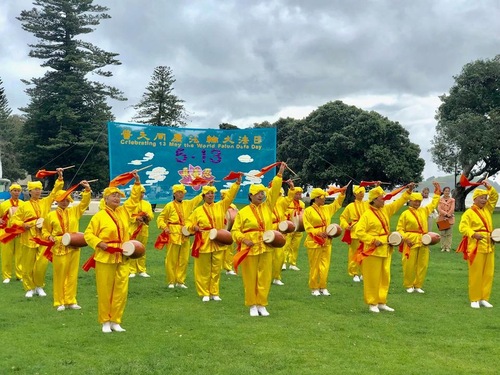 The waist drums.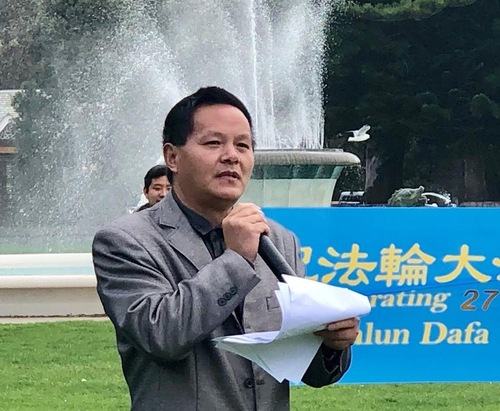 Mr. Jiang, a guest speaker, pointed out that the communist party has destroyed Chinese people's beliefs, and this has caused the decline of morality in China. He praised Falun Gong for the teachings of Truthfulness-Compassion-Forbearance, which he said are the hope of China.
Trevor Wagstaff passed by the event. He learned the exercises and felt a positive energy. "The teaching of Truthfulness-Compassion-Forbearance is great. I will continue practicing," he said.
Practitioners also recalled their experiences of cultivating Falun Gong and expressed their appreciation to Master Li Hongzhi for his guidance and protection during their cultivation.
http://www.minghui.org/mh/articles/2019/5/12/悉尼盛大游行-庆祝世界法轮大法日(图)-387015.html