Falun Dafa Practitioners and Supporters Send Greetings to Celebrate the 27th Anniversary of the Spiritual Discipline's Public Introduction
May 14, 2019 | By a Minghui correspondent
(Minghui.org) "We've understood the facts about Falun Dafa, it is great! It's the pure-land in this degenerating world! With tremendous reverence, we long for the day that we can welcome Master Li back to China. With his teachings, the morality of the Chinese people will rise again!" wrote one supporter of Falun Dafa in his greeting to celebrate the 20th World Falun Dafa Day, which is also the 27th anniversary of the practice's public introduction.
On this grand occasion, many Falun Dafa practitioners and supporters are sending their heartfelt wishes to the Minghui website to express their deep gratitude to Master Li for introducing this life-changing practice.
"Every practitioner is enjoying a peaceful mind. They are happy, positive and kind. The principles of Truthfulness, Compassion, Forbearance have brought so much beauty to this world!" another person said.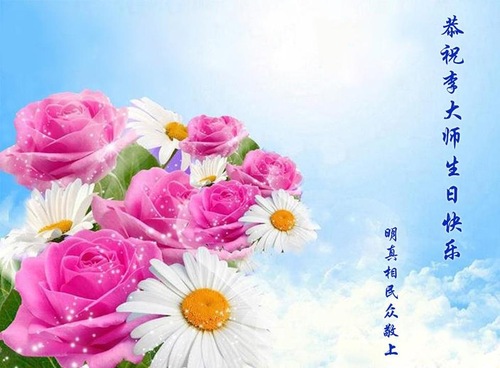 "I grew up watching my parents practicing Dafa. They follow the principles of Truthfulness, Compassion, Forbearance in their daily lives and underwent dramatic changes. After I graduated from school and entered society, I was shocked to find how people's morality has degenerated. The corruption of the communist regime has led to a rapid decline of people's hearts. Only now did I realize how precious Dafa is to society!" wrote a young man in Beijing.
The practitioners from Gongzhuling City, the hometown of Master Li in Jilin Province, said: "Thank you, Master, for your compassionate salvation. You've done so much for us. You awakened our souls and the kindness buried deep down in our hearts; you helped us understand the real meaning of life; and you are protecting us each and every day and enabling us to mature on our spiritual path."
Another practitioner in Yantai City, Shandong Province said that she once met a person who became very excited when she mentioned Falun Gong. He told her that he received a copy of Zhuan Falun while he was hospitalized due to serious ailments. He related so much to the principles in the book and said, "Everyone will become a good person if they all learn Falun Dafa. It's a shame that the communist regime persecutes such a great practice."
Other greetings were received from the following regions:
Tongzhou District, BeijingChangchun City, Jilin ProvincePengzhou City and Renshou County in Meishan City, Sichuan ProvinceTongling City, Anhui ProvinceQixia City, Zibo City, Weifang City and Liaocheng City, Shandong ProvinceShanxi ProvinceHaifeng County, Shanwei City, Guangdong ProvinceWuxi City, Jiangsu ProvinceQuzhou County, Handan City, Tangshan City, Hebei ProvinceNanyang City, Shangqiu City, and Xuchang City, Henan ProvinceDongxihu District, Wuhan City, Hubei ProvinceNanming District, Guiyang City, Guizhou ProvinceBenxi City, Dalian City and Shenyang City, Liaoning Province