Shanghai Engineer Files Motion to Reconsider His Case After Court Upholds Prison Sentence for Practicing His Faith
April 03, 2019 | By a Minghui correspondent in Shanghai, China
(Minghui.org) A senior engineer in Shanghai filed a motion to reconsider his case after an appeals court secretly ruled to uphold his prison sentence for practicing Falun Gong, a spiritual discipline that has been persecuted by the communist regime since 1999.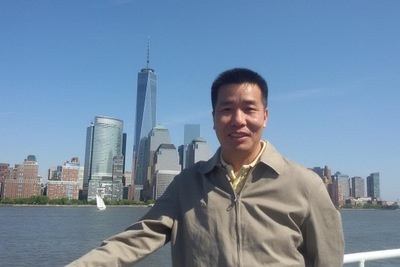 Mr. Xu Yongqing
Mr. Xu Yongqing, 55, was arrested on November 29, 2017 by police in Yangzhou City, Jiangsu Province, after they suspected him of mailing letters about Falun Gong from Shanghai to Yangzhou. He was taken to Miaozhen Detention Center in Yangzhou City.
The Hangjiang District Procuratorate in Yangzhou approved his arrest on January 5, 2018, and submitted his case to Hangjiang District Court in early July 2018.
Mr. Xu appeared in court on September 18, 2018. When his lawyer argued that no law in China criminalizes Falun Gong, the judge stopped him and kept emphasizing that he didn't want to discuss whether there was a legal basis for the persecution. The judge sentenced Mr. Xu to two years in prison with a 5,000 yuan fine at the end of the trial.
Mr. Xu filed an appeal against the verdict to Yangzhou City Intermediate Court on September 29, 2018.
Guo Jinyong, the prosecutor from Yangzhou City Procuratorate, visited Mr. Xu at the detention center on November 5 and said that the intermediate court would have a hearing of his case.
Guo also met with Mr. Xu's wife on November 12. When she asked him to uphold justice for her husband, prosecutor Guo began to recite the communist regime's "Four Cardinal Principles," which require all Chinese citizens to adhere to the socialist agenda and the regime's dictatorship. Guo said that the trial and verdict against Mr. Xu didn't violate the four principles and should be acknowledged.
He repeated to Mr. Xu's wife that the intermediate court would hold a hearing of the case soon and asked her to prepare for it.
Shortly after Guo talked to Mr. Xu and his wife, judge Chen Shengyong from the intermediate court called Mr. Xu's lawyer on November 23 and demanded to read his legal opinion on this case before he decided whether to hold a hearing.
The judge's assistant Wang Yilin also visited Mr. Xu at the detention center on December 5. Mr. Xu requested a public hearing of his case again.
On December 21, 2018, Mr. Xu received the intermediate court's decision to uphold his verdict. The ruling stated that the two-year sentence was too light, but as the appeal court couldn't increase the verdict issued by the trial court, the judge didn't make any changes to it.
The ruling, dated December 12, was final. Neither Mr. Xu nor his lawyer was informed by the judge when the decision was issued.
Mr. Xu was taken to Hongzehu Prison in Jiangsu Province on January 3, 2019. He had asked his lawyer to file a motion to reconsider his case to the intermediate court on March 7, 2019. A judge surnamed Shu received the motion but didn't provide a receipt to the lawyer. Shu only asked the lawyer to check the status of the case by calling their office in the future.
Related reports:
Shanghai Engineer Sentenced to Two Years for Speaking Out for His Persecuted Faith
Shanghai Engineer Facing Trial for Requesting Information Disclosure
Shanghai Practitioners Detained 30 Days for Challenging a Propaganda Attack on Falun Gong
Mr. Xu Yongqing in Shanghai Detained Again after Police Interview