AZ Business Magazine: 'How Forced Organ Harvesting in China Affects the U.S.'
(Minghui.org) AZ Business Magazine, which is owned by the Arizona-based group AZ Big Media, published an article on April 10, 2019 titled "How forced organ harvesting in China affects the U.S." The article introduced an upcoming panel discussion on organ harvesting in China that will be held at the University of Arizona College of Medicine – Phoenix.
The expert panelists will include international human rights lawyer David Matas, who has co-authored several investigative reports into organ harvesting from Falun Gong practitioners in China; Winston Hewitt Jr., MD, co-chair of the Standards in Organ Transplantation Committee of the American Society of Transplant Surgeons; G. Weldon Gilcrease, MD, assistant professor of oncology at the University of Utah School of Medicine and deputy director of Doctors Against Forced Organ Harvesting; and Torsten Trey, MD, PhD, executive director of Doctors Against Forced Organ Harvesting.
The panel will be held on Friday, April 19 at 1 pm and will be moderated by David Beyda, MD, chair of the college's Department of Bioethics and Medical Humanism. Students at the College of Medicine are being encouraged to attend.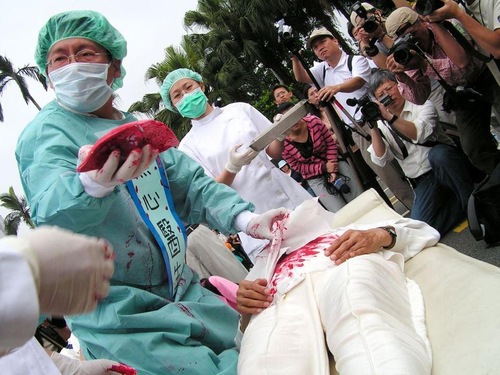 Falun Gong practitioners re-enact the Chinese communist regime's harvesting of organs from prisoners of conscience to raise awareness of the killings in China.
Dr. Beyda told AZ Business Magazine that the event is being held to raise awareness of the unethical practices of China's organ transplantation industry and to provide a forum for a discussion on medical ethics. He hopes that the public, local physicians, and medical students will learn about the issue and the ethical concerns of traveling to China for transplant tourism.
Dr. Gilcrease suggested that due to ignorance, the American public and the American medical profession were at risk of being complicit in these crimes. He told AZ Business Magazine that medical schools in the U.S. had been training Chinese surgeons in transplant medicine and that these surgeons had then returned home to participate in these unethical practices.
The author of the AZ Business Magazine article wrote that Doctors Against Forced Organ Harvesting has appealed to both the United Nations and the U.S. Congress for action to end forced organ harvesting in China.
The author wrote that Congress had passed House Resolution 343 in June 2016, which called for an end to forced organ harvesting in China and recognized "persistent and credible reports of systematic, state-sanctioned organ harvesting from non-consenting prisoners of conscience in the People's Republic of China, including from large numbers of Falun Gong practitioners and members of other religious and ethnic minority groups."