London: Evidence Exposes CCP's Organ Harvesting at Public Hearing of China Tribunal
April 14, 2019 | By Fang Yuan, a Minghui correspondent in London
(Minghui.org) Following a three-day public hearing in December 2018, the second public hearing of the Independent People's Tribunal/China Tribunal was held in London on April 6-7, 2019.
Twenty-three witnesses attended the tribunal, including researchers, medical professionals, journalists, and survivors of the atrocities committed by the Chinese communist regime from around the world. They gave testimonies before the tribunal regarding allegations of state-sanctioned organ harvesting targeting persecuted groups in China. Chaired by Sir Geoffrey Nice, QC, the panel consisted of seven experts tasked with conducting the world's first-ever independent analysis of forced organ extraction in China.
The second public hearing of the Independent People's Tribunal/China Tribunal was held in London.
The witnesses came from the U.S., Canada, France, Japan, Korea, and Turkey. Six Falun Gong practitioners and three Uyghurs recounted their experiences of being abused while imprisoned, and undergoing blood tests and CT scans. Medical experts, investigators, and investigative journalists gave testimonies of their findings.
The tribunal is due to release its final judgment on June 17, regarding whether the international crimes of forced organ harvesting in China have been committed, and if they are still being committed.
Falun Gong Practitioners Present Evidence of CCP's Persecution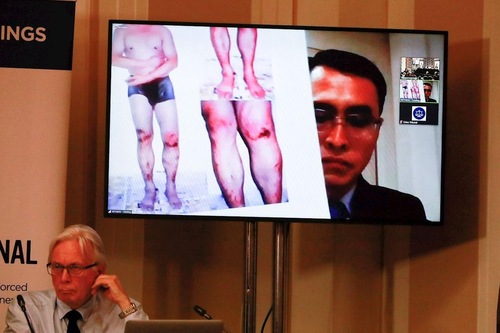 Falun Gong practitioner Yu Ming presents pictures and videos of the Chinese Communist Party's (CCP) persecution to the tribunal via video link. (Picture source: endtransplantabuse.org)
Falun Gong practitioners Yang Jinhua, Yu Ming, Yu Jing, Wang Chunying, Tang Lijuan, and Zeng Zheng recounted their personal experiences in the persecution.
Yu Ming had been imprisoned by the communist regime for practicing Falun Gong for a total of 12 years, since the persecution was launched in 1999. He gave his testimony to the tribunal via video link on April 6. He had exposed the CCP's persecution in a press conference in the U.S. a month ago.
Zeng Zheng recounted her experience of being persecuted and forced to go through X-ray exams and blood tests without any explanations. She told the panelists that the communist system had trampled on Chinese citizens' rights and disregarded integrity.
Killings on Demand
Mr. Xia Yiyang of the Human Rights Law Foundation gave his testimony on the CCP's genocide persecution against Falun Gong practitioners, by using its ultimate power and violence.
The CCP established the 610 Office, a Gestapo-like security agency created especially to carry out the persecution of Falun Gong, with power over establishing laws. It has committed hideous crimes against innocent people.
Dr. Charles Lee, head of the World Organization to Investigate the Persecution of Falun Gong (WOIPFG), and who had been involved in an investigation on China emergency liver transplants, told the tribunal that the investigation concluded that organ harvesting from living people was the source of organs used in the emergency liver transplant surgeries.
Maya Mitalipova, director of Human Stem Cell Laboratory at Whitehead Institute for Biomedical Research at MIT, testified through a video link about her research regarding the relationship between China's large-scale collection of DNA samples from Uyghurs and organ harvesting from living people.
South Korean TV journalist Mr. Kim gave his testimony on April 7 about his undercover mission to interview Korean patients in Tianjin Number One Central Hospital who were waiting for kidneys and pancreas. His findings clearly pointed out the short waiting period that Korean patients had experienced, and that their health data was analyzed only after they arrived in China.
Investigator: No Hesitation or Doubt about Investigation Conclusion
Canadian human rights lawyer David Matas, former Canadian Secretary of State David Kilgour, China analyst Ethan Gutmann, and Dr. Torsten Trey, founder and Executive Director of the international NGO Doctors Against Forced Organ Harvesting (DAFOH), testified about the background, process, and conclusions of their investigation.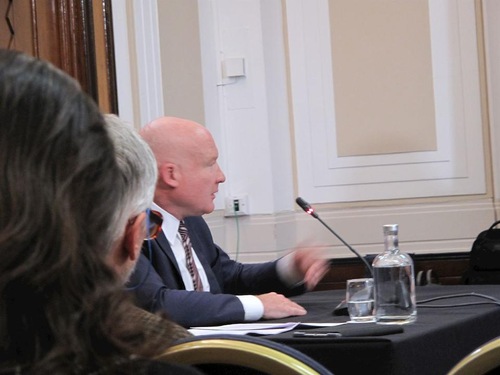 Testimony by Mr. Ethan Gutmann at the China Tribunal
Mr. Gutman also expressed his worry of a present-day "speeded up version of the Falun Gong persecution" because Beijing now had a complete Uyghur database.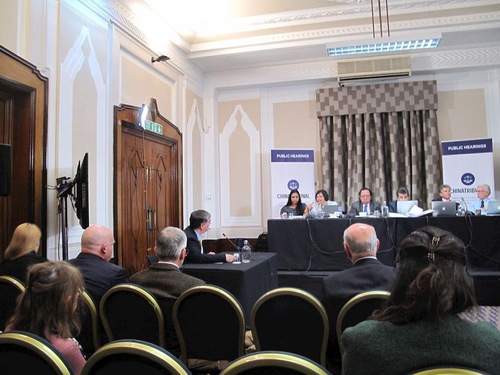 Testimony by Dr. Torsten Trey on April 7
Dr. Trey said he had found a steady and startling growth of transplant infrastructure in the hospitals he studied in detail. He urged the international society not to waste precious time on "hard evidence," but to take action to stop the organ harvesting. He added that the transplant business should be transparent. "Knowledge has increased in China, and it is being built on the blood and bodies of prisoners of conscience," he said.
David Matas responded to the accusations by British government minister Mark Field at a recent debate on organ harvesting in the British Parliament, of less than rigorous research techniques and lack of incontrovertible evidence. Matas maintained that he had no hesitation or doubt about the conclusions in their report.
"We had a rigorous protocol," he said, "we examined all data streams, we cross-checked everything. We didn't simply rely on hospital data or one piece of evidence. We have an accumulation of data that points to our conclusions."
David Kilgour expressed his deep disappointment at the comments made by Mark Field in parliament, and expressed hope that the world's democratic governments would face it with courage and wisdom and not close their eyes in fear of having to assume responsibility.
Professor Matthew Robertson and Mr. Raymond Hind presented their investigation report, "Analysis of Official Deceased Organ Donation Data Casts Doubt on Credibility of China's Organ Transplant Reform." They had discovered glaring inconsistencies in the China Organ Transplant Response System (COTRS) statistics and the local China Red Cross figures. Mr. Robertson said the statistics had pointed to "manual manipulation."
Seeking Truth with Utmost Integrity
Dr. James Shapiro, a Canadian organ transplant surgeon, told the reporter that he turned down an opportunity of working in the organ transplant field in China after he heard about the CCP's organ harvesting. He was surprised and couldn't understand how the international organ transplant circles had reacted to the CCP's conduct. He held that a doctor must follow medical ethnics.
Ms. Susie Hughes, executive director and co-founder of the International Coalition to End Transplant Abuse in China (ETAC), hopes that more people will be able to see the facts through the China Tribunal. She said the expert panelists of the tribunal would study the evidence through a series of professional views, and that they were seeking the truth with the utmost integrity. She believes the evidence to be overwhelming, and anyone who has spent time inspecting the issue, not just eyeing it, will agree that organ harvesting from prisoners of conscience has been going on in China, and is now happening on a large scale.