Canada: Parliamentary Committee Passes Bill S-240 to Counter Organ Trafficking
March 04, 2019 | By Minghui correspondent Ying Xin
(Minghui.org) The Standing Committee on Foreign Affairs and International Development of the Canadian Parliament passed Bill S-240 on February 27, 2019 after a two-day hearing. It will go for its final reading in the House of Commons and the Senate before becoming law.
The bill, which originated in the Senate, includes two aspects of law. One amends the Criminal Code to make it illegal for Canadians to obtain organs abroad without the consent of the donor. The other amends the Immigration and Refugee Protection Act to provide that people involved in forced organ harvesting anywhere in the world are inadmissible to Canada.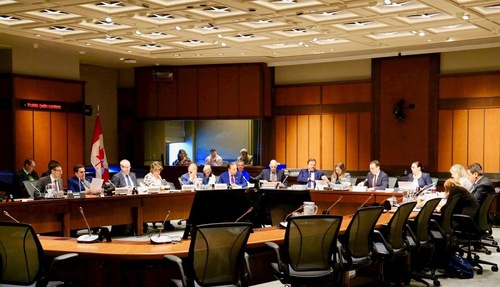 Hearing of the Standing Committee on Foreign Affairs and International Development of the Canadian Parliament.
Bill Targets China's State-Sponsored, Industrial-Scale Organ Trafficking
Conservative MP Garnett Genuis, who introduced the bill, said during the hearing on February 26, "[The bill] seeks to respond to the situation in China where they're taking vital organs from living and often awake political prisoners, and is a state policy.
"It also responds to situations where organs are taken through coercion and exploitation beyond the reach of even well-meaning local authorities."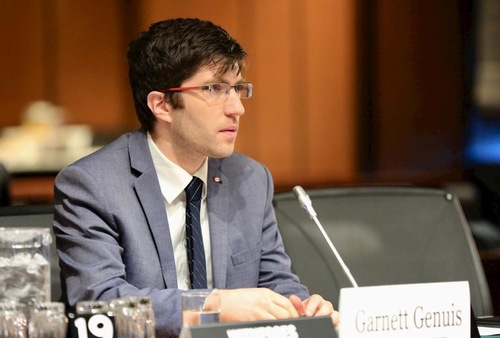 Conservative MP Garnett Genuis
In the first debate on November 20, 2018, MP Genuis cited the findings of two Canadians, David Matas and David Kilgour, who found through painstaking research that between 60,000 and 100,000 human organs were transplanted every year in Chinese hospitals and there was almost no voluntary donation system. Most organs come from prisoners of conscience, mainly Falun Gong practitioners.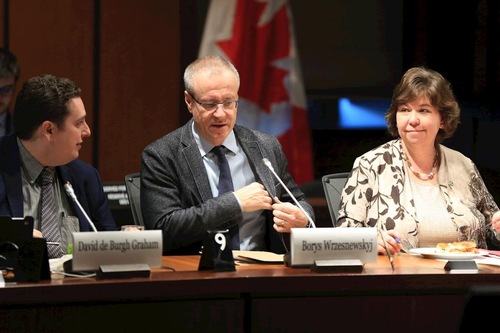 Liberal MP Borys Wrzesnewskyj (middle)
Liberal MP Borys Wrzesnewskyj, who introduced a similar bill eleven years ago, said that forced organ harvesting is "the darkest of evils of our current times." He said to the committee, "It hasn't been since World War II that we have seen human atrocities on an industrial scale perpetrated by a state – a government – China."
Stopping Another Holocaust
MP Genuis's grandmother, a survivor of the Nazi Holocaust, said that she avoided being arrested, taken to and tortured in concentration camps because of the protection and assistance of her community.
MP Genuis said he hopes the bill passes in this Parliament "so that we can look our children in the eyes and tell them that we didn't just talk about the issue, but actually stopped atrocities from being committed."
Wrzesnewskyj said that Bill S-240 is rare in that it has support from all parties and both chambers of Parliament, making it "a demonstration of the legislature, and legislators doing their work, and more importantly, vital work."
He specifically mentioned at the press conference on November 20, 2018, that most of the victims of forced organ harvesting came from vulnerable groups, such as prisoners of conscience, and that the Falun Gong group is the most persecuted.
Citing the short timeline before the next federal election coming up in October, NDP MP Tracey Ramsey said the New Democrats hope for swift passage of the bill. Should the bill not pass, it will be scrapped, and proponents would have to start anew after the election.
She said, "We strongly oppose the trafficking and the abhorrent treatment of those who are manipulated and abused and exploited for their organs globally."
Liberal MP Anita Vandenbeld thanked Genuis and other members for their work at the hearing. She said that she was 100% supportive of the bill and that illegal organ trafficking is one of the most savage and inhuman crimes in the world. In opposing organ harvesting, she said, Canada should become a global model. She also highlighted the urgency of passing the legislation.
Matas: Countries That Have Enacted Similar Legislation Effectively Reduced Organ Trafficking
The committee also heard from David Matas, a Canadian human rights lawyer, via telephone. He said that countries that have enacted similar legislation to prevent their citizens from traveling abroad for illicit organ transplants have seen dramatic declines in organ tourism to China.
"After the Israel legislation was passed, it went from being very common to disappearing altogether, or almost altogether," Matas said. "Now that [Taiwan has] legislation, it has had a sharp downturn on transplant tourism to China. So the legislation in those two countries is very influential."
He said that other countries that have passed similar legislation, including Spain, Italy, and Norway.
MPs Have Persisted in Calling for Legislation for Over Ten Years
Genuis noted that MPs from different parties have introduced similar legislation for over a decade. Thus, he is hopeful that this time the bill will become law.
"There have been four bills on this over the past ten years," he said. "This represents the culmination of the work done by some of the best human rights minds in the world, people like [former justice minister] Irwin Cotler, David Matas, and David Kilgour."