Stockholm Audience Touched by the Documentary "Letter from Masanjia"
March 19, 2019 | By Minghui correspondent in Stockholm
(Minghui.org) Letter from Masanjia, a documentary about the persecution of Falun Gong practitioners in the Chinese Communist Party's (CCP) forced labor camps, was screened at the Blackeberg movie theater in Stockholm on March 9 and March 12, 2019. The documentary explains how an American woman found a SOS note in a Halloween decoration she purchased. The story behind the note is the true experience of Mr. Sun Yi, a Falun Gong practitioner who was imprisoned and tortured for his belief in Truthfulness-Compassion-Forbearance.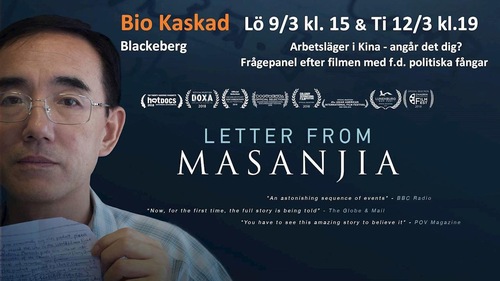 Documentary poster in a movie theater in Blackeberg, Stockholm.
After the screening, four local Falun Gong practitioners shared their personal experiences of being persecuted in China, and answered questions from the audience.
A member of Amnesty International told a Minghui reporter in tears, "I'm saddened and touched by what I saw in the film. I thank the filmmakers for telling us the truth. Everyone in the world should watch it and find out what is happening in China. It's completely unacceptable."
She also expressed appreciation for the Falun Gong practitioners on site who had the courage to step forward and expose the CCP's persecution.
A local resident named Marcus cried from his seat, "What shall we do to China? These stories are sad, but thank you for sharing your experiences. You should tell your stories again and again in European countries until people learn what's happening in China. We can't allow these crimes to continue. They must stop."
Marcus is an architectural engineer and a human rights activist. He had seen a documentary about the CCP's organ harvesting and said he sympathized deeply with Falun Gong practitioners' experiences. He said the CCP was the most wicked entity in the world.
Ric, a freelance reporter, said he has been following news about human rights and wanted to find out which types of products could have been made in Chinese prisons and labor camps. After watching the film, he realized that many products were made in these dark places. He said he would like to make a TV program to tell more people about what is happening in China under the CCP's rule.
Movie theater employees and their manager were also moved by the film. They suggested screening the documentary in more theaters.